Creating the Limca Book Record for riding the longest distance in a foreign country wasn't enough for Vamini Sethi, as she is now set to climb and scale seven highest peaks across seven continents. Apart from being the only civilian woman in the Indian Army batch to scale the world's harshest terrain of Siachen Glacier (Kumar Post) in 2016, Vamini is also a full time VP with an MNC who is setting an exceptional example for women in terms of following a passion whilst managing career with family. In a very energetic conversation with Her Zindagi, Vamini told us about her passion for mountaineering and what does being a woman mean to her.
What made you turn to mountain biking and trekking?
Till 2010, my life was confined to working, spending time with family and socialising with friends in between. I was never into sports in a big way. I just happened to participate in a bike race in 2011, I wasn't sure how I would fare. But I won second position in the women expert category, and that's when I realised my potential.
And this was the point when my life started changing.
What prompted you to undertake the seven-summit expedition? Do you have your sights set on anything special after this?
Every sport has it's proving ground. For skiing, it is Alaska. For surfing it is Jaws and for Mountaineering , it is the Seven Summits. I have already done 3 of the 7 summits including Kilimanjaro in Africa, Elbrus in Russia and Aconcagua in Argentina. I have my eyes set on Mt. Everest now.
What's your piece of advice for fellow women trekkers?
My biggest advice is to believe in yourself and in your own limits. Start with smaller treks and slowly graduate to higher peaks. Observe how your body performs at every level.
What's the best part of following your passion? What's the worst part?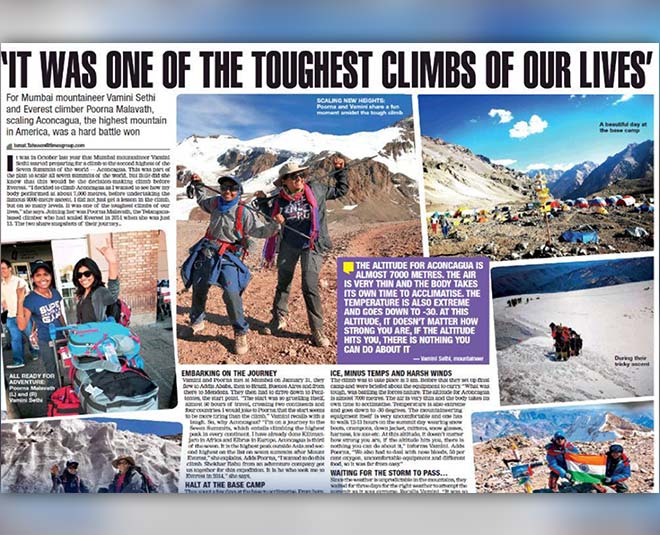 The best part is that is it very fulfilling. It makes me feel accomplished and happy with my existence. There is no worst part, though there is a struggle involved in following a passion that is demanding physically, emotionally and financially.
What has been your toughest adventure till date? Share your experiences.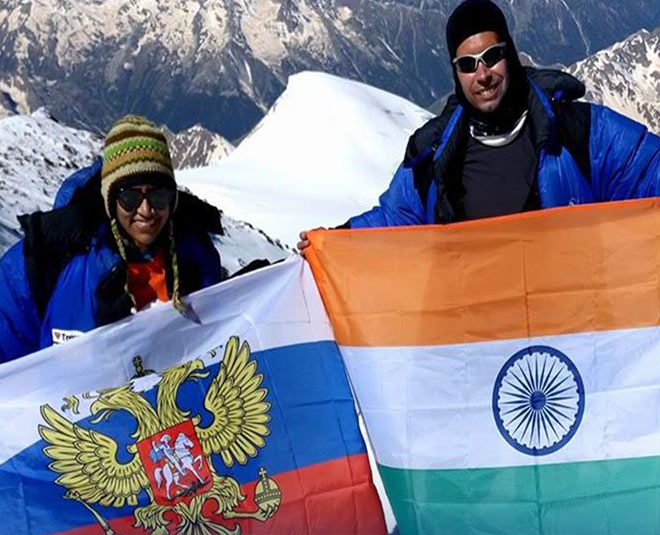 Every summit push has been hard and has a story of its own. But if it was easy, then everyone would be doing it. High altitude climbing is an extreme sport. Starting from bone chilling temperatures of -30 to -40 degrees, cold winds at 120 kms/ hour, no bed to lie on, no proper food for days, no toilets, wrapped up in uncomfortable clothes and carrying heavy equipment, fighting with your body to adjust to 60% lesser oxygen, dealing with massive headaches and nose bleeds. Your life is at threat and you hang on by a thin thread.
What's your fitness routine like?
I give 3-4 hours in the morning to training every day. These climbs are very tough and one cannot take up such expeditions without training. I have been training from past several months and following a scientific training program. This program is based on Heart Rate Monitoring and will provide a Training Stress Score (TSS) to each workout. It has helped me improve my performance and endurance levels.
Women have so many roles to play – a wife, a career woman, a daughter. How do you juggle these roles while having a life of adventure?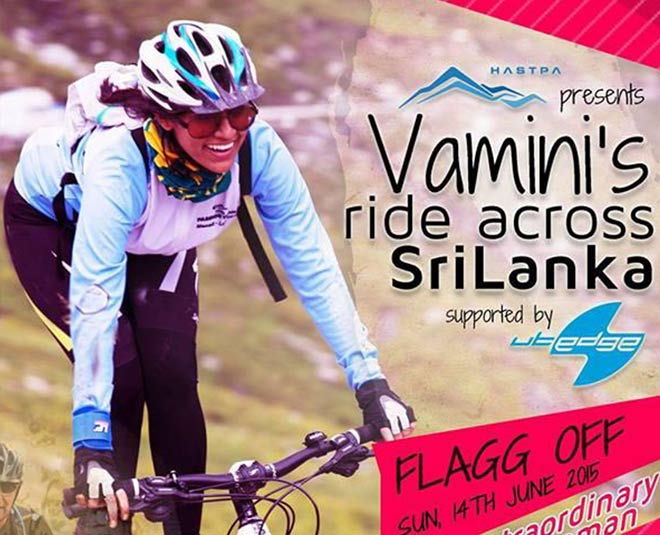 Life is all about the choices we make. In my 14 years of work experience, I have been able to achieve most of what I wanted to. I can confidently say that you can have it all, provided you are willing to work for it. Work, marriage, family or even money cannot be an excuse of not doing what you really want to do.
Don't Miss This: Gul Panag Inspires Us To Live Life On Our Own Terms
Who's your pillar of support? What sort of opposition have you faced while pursuing your passion?
My father and my husband have been the biggest pillars of support. Just like they say, behind every successful man, there is a woman. The quote can be reversed in my case. Mountaineering is a male dominated sport. It has taken me a while for the community to accept me as women in general are considered to be physically weak as compared to men.
What does being a woman mean to you?
Being a woman is about being yourself, believing in yourself & in your own limits. It's about creating a positive change and helping other women around you.
What's your motto in life?
I go by a quote by Marilyn Monroe - We should all start to live before we get too old. Fear is stupid. So are regrets.
Vamini lives in Mumbai with her husband and mother-in-law. Her success is partly due to her dedication and partly because she believes in executing the idea as soon as possible. But scaling seven summits is something that requires a lot of emotional, physical and financial investment. While Vamini is giving her 100% emotionally and physically, arranging the finances should not become a roadblock for a go-getter like her. If you liked her inspirational journey, spread the word about her so that she can attain her goal to make us all proud! To read more stories about inspirational women like her or information to empower yourselves, keep reading Her Zindagi.
Did you like this article ?