Self-growth, self-empowerment, self-love and celebrating womanhood- This Women's Day HerZindagi salutes inspiring women at "Stree: The Woman" event. With International Women's Day around the corner On March 8, HerZindagi has collaborated with Sipping Thoughts for the third edition of "Stree: The Woman" on 6th March, at JW Marriott Hotel in Aerocity, New Delhi.
It is an initiative taken up by Sipping Thoughts in collaboration with Humans for Humanity, presented by BusinessWorld and in partnership with Ferns N Petals.
"Stree: The Woman" which bears the underlying thought of 'Let's Initiate A Dialogue' will have a distinguished panel of inspiring women who will be discussing various topics keeping the women of today in mind.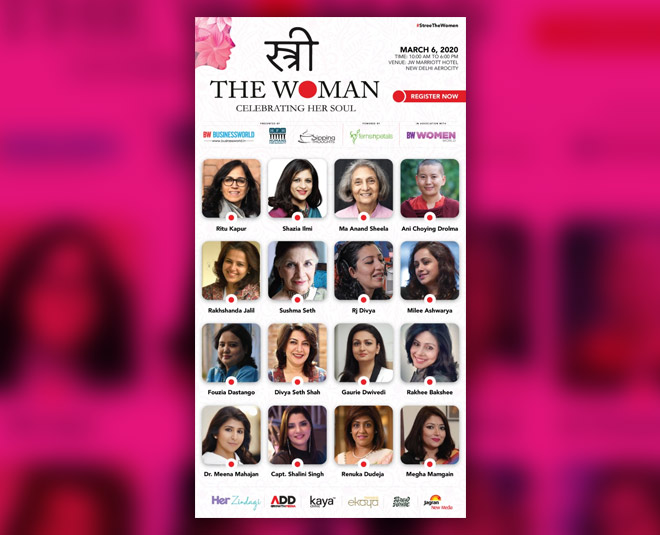 The event is packed with a stellar speaker line up. The headline speaker of the event is well known YouTuber and social media influencer Prajakta Kohli.
The panel at the event includes veteran actress and theatre personality Sushma Seth, Osho's erstwhile secretary Ma Anand Sheela, acclaimed singing nun Ani Choying Drolma, the first female dastango Fouzia Dastango, actress Divya Seth Shah, Dr. Meena Mahajan, BJP leader Shazia Ilmi. HerZindagi's Content Head and veteran journalist, Megha Mamgain will also be a part of a panel on women in media.
"With this event we want to create a network of 'women inspiring women'. We wants to bring forth strong, inspirational REAL women who wish to share their experiences, views, and thoughts, and want to encourage others to do the same," revealed Sukirti Gupta, Co-Founder, Sipping Thoughts.
Speaking on the idea behind the event, Ms. Meeta Gutgutia, Director of Ferns N Petals & Co-Founder of Sipping Thoughts, said, "A woman's voice is rarely considered as an opinion. She thinks she doesn't need to speak as others are speaking on her behalf, whether it is the father or the husband or the son. This is an initiative to create the need to speak up. And, not only to speak up when you need to be heard. It has to start with everyday conversations. Every small dialogue and small opinion matters!"
Don't Miss: HZ Exclusive: Social Media Influencer, Dr. Chinna Dua On Gender Equality, Women's Rights And More
Anurag Chauhan, Co-presenter of "Stree: The Woman" and Founder of Humans For Humanity, NGO, added: "Stree for me is not someone I am looking outside, it's within me, I have my mother's genes! We are just not celebrating women but each one of us. Our very existence is because of a woman."
The event will be a celebration of women in every which way with dialogues, discussions, conversations, and inspiring stories. HerZindagi will bring it's readers the stories from these conversations.
The event is the brainchild of Sipping Thoughts, a women-centric media platform founded by Meeta Gutgutia and Sukirti Gupta. It focuses on real women with real voices. You can participate in this incredible celebration of women power on the 6th of March. Just register here!
For more information, please visit: https://www.townscript.com/e/stree-festival-331112