We all love how our favourite Bollywood divas manage to make a fashion statement even when off-duty. It's not that they wear fancy, designer clothes all the time. Most of them opt for simple and comfortable clothes on days they are not working.
Recently, Sonakshi stepped out to take the first shot of the COVID-19 vaccine. The actress was papped outside the hospital in casual wear.
All those who follow Sonakshi Sinha's off-duty fashion know that she likes to keep it comfy and casual. This time, her pick was a cami top and a denim.
View this post on Instagram
We are completely crushing over her chic look. If you are someone who was hunting for casual at-home wear then take inspiration from the Dabangg girl.
Also, we hunted for the outfit online so that you can recreate this stylish look. You can buy this look under INR 2000. Read on.
Sonakshi's Black Cami Top
Get It For - INR 200-500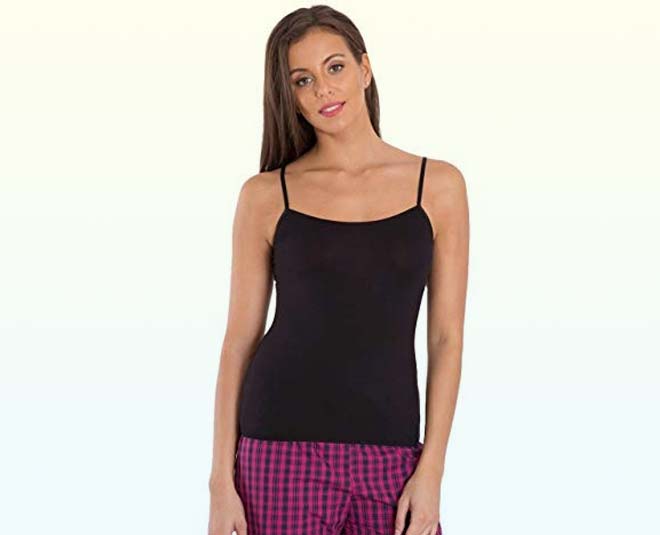 Image Courtesy: Amazon
A black cami top is super versatile. You can team it with baggy denim like Sonakshi or with pyjamas or hot pants depending on your preference. You can also layer it with a jacket or shrug if you want to.
The best part about wearing a cami top during these hot summers is that they are soft and breathable, just something that you need to beat the heat. If you love comfort over everything then you must invest in a camisole top for sure. You can buy a similar black cami top between INR 200 to 400 easily.
Wide-Leg Jeans
Get It For - INR 800-1000
Image Courtesy: Amazon
Baggy, wide-leg jeans are the hottest trend of the season. They look super chic and you can team them with just anything, be it a shirt or kurta. Sonakshi Sinha stepped out in an ankle length baggy, light blue denim. You can get baggy denim like this one on Amazon for something around Rs. 836.
Don't Miss: Sonakshi Sinha's Cotton Suit Are Comfy & Stylish, Add These To Your Everyday Closet
Dual Tone Sneakers
Get It For - INR 450-850
Image Courtesy: Amazon
If you don't have a pair in your closet already, you should invest in one. Sneakers are super comfortable and you can carry them with just anything. Sonakshi Sinha was seen wearing a pair of grey and white sneakers. If you are on a budget, you can get a regular pair of sneakers from Amazon or any other brand online for around INR 450.
Black Cap
Get It For - INR 200-600
Image Courtesy: Amazon
If you follow Sonakshi Sinha's sartorial picks while she is off duty, you must have spotted her wearing this cap quite often. During these scorching summers, a cap like this one is an essential. It also adds to your casual look. From plain caps to embroidered ones like Sonakshi's you get a variety online. Dupes of Sonakshi's New York cap are also easily available and you can get one for something around INR 500.
Don't Miss: Sonakshi Sinha' Boho Look Are Steal-Worthy!
Sonakshi Sinha's choice of accessory with the look was a smartwatch and not to forget, the very essential, a face mask.
Coming back to recreating Sonakshi Sinha's casual look, you can do it even on a low budget, you can find a lot online. Also, you can go for bigger brands if you have a better budget. We hope this guide helps you recreate Sonakshi Sinha's casual and stylish look. Tell us what do you like the most about her chic look. For more stories around celebrity fashion, stay tuned!