After a painfully long and depressing 2020, what the world needs the most right now is the colourful festival of Holi. And lucky for us all, it is right around the corner. Before the arrival of any festival, the first thing that comes to our mind is the biggest confusion of what to wear.
Not like there are any set rules or anything, but there definitely are some trends that people love to follow. And, fret not! We, like always, are right here to help you pick the trendiest outfit for you to rock this Holi.
HerZindagi exclusively spoke to Sreyashee Halder, VP Design, Brand W (TCNS Clothing Co. Ltd). She gave an insight into the current fashion and trends that will assist you in making statement on the festive eve.
To begin with, there is nothing like a traditional colour for Holi. However, after a zillion Bollywood movie showing main leads wearing white outfits to celebrate the festival of colour with the love of their life, white has somehow become the official shade to wear on Rangwali Holi.
Pastels Are The New Big Thing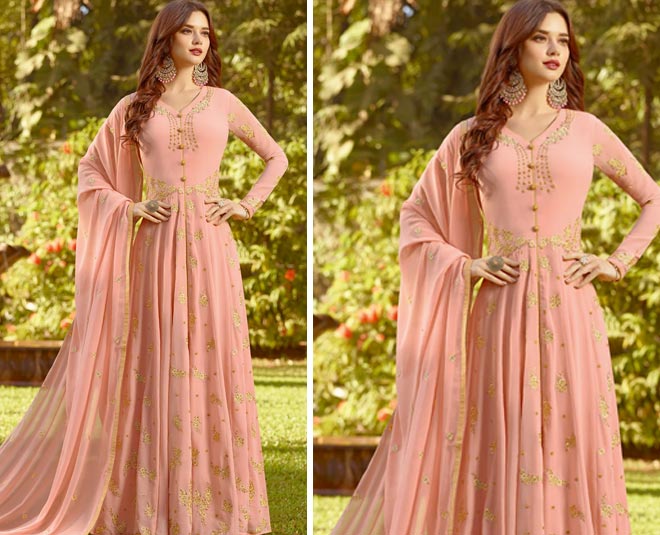 "Over the years, it has become a popular trend, and we know it will continue to be that, this year, as well. In whites, you can wear anything from an all-white palazzo suit, to a straight cut embroidered kurti, paired with pastel cigarette pants or leggings in a pastel shade. But pastels are the new big thing in Holi outfits. You can always add a hint of any pastel shade to your white outfit, and own a cool vibe instantly," said Sreyashee Halder.
Why Pastels Are Best For Holi?
If our years of experience in playing Holi during the day has taught us something, it is the fact that it gets super tiring, and everyone is left with little enthusiasm to dress up extravagantly for the Milan parties, but still want to look the best.
"This should not be an issue anymore, as I have already shared the secret to look gorgeous by doing the least. Yes, the pastels! On top of complementing every skin tone, one of the best things about pastels are their pleasant tone shades that are very soothing to the eyes. Also, it is easily pair-able with a variety of colours, and it never fails to look stunning," she said and told us about some of the trendiest pastel outfit ideas to wear this Holi:
Neutrals
For the beginners who want to hop on this trend, you should start with neutrals. Take any subtle shade such as white or beige, and pair it with your favourite pastel kurti. You can also go for a salwar suit, or a skirt and a top in the same colour combination, to look the prettiest among the crowd. It is one of the simplest, but quintessential look to try this Holi.
Monochrome Magic
This is something bold, but if pulled off perfectly, it has the biggest potential to make heads turn. Choose any from your favourite pastel shades, and create an entire outfit in the same shade. For example, take a mint green straight-cut kurti and wear it with a cigarette pant or palazzo in the same colour. Also, do not forget to finish the look with a pair of stilettos, and oxidized jhumkas, to look your sophisticated best.
Pastel On Pastel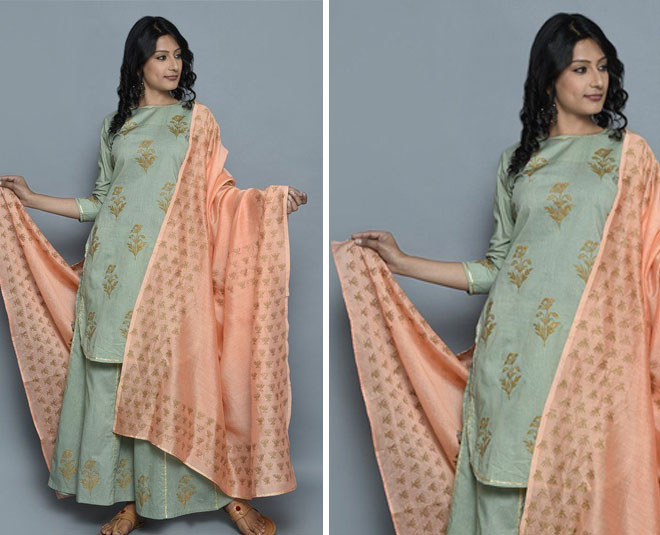 A very few people can actually rock this trend, even fewer chances for beginners. Just kidding! It's true that pastel on pastel is a more challenging trend, as compared to many, but we have got you covered with ideas to ace this trend.
Pick out the prettiest kurti set in yellow, and pair it with a contrasting shade like pink or green. Finally, to get that soft, yet structured look, and nail this look further, accessorize it with bold earrings and juttis in the colour of the dupatta.
Add Bright Hues
If you are one of those experimental types, who usually goes for an edgy look, you should definitely try pairing those mild pastels with some bright hues. Take anything from a long skirt, to palazzo, leggings, dupatta in any bright color, and pair it with a soft pastel top or kurti, or you can just reverse the shades with the tops in darker shades.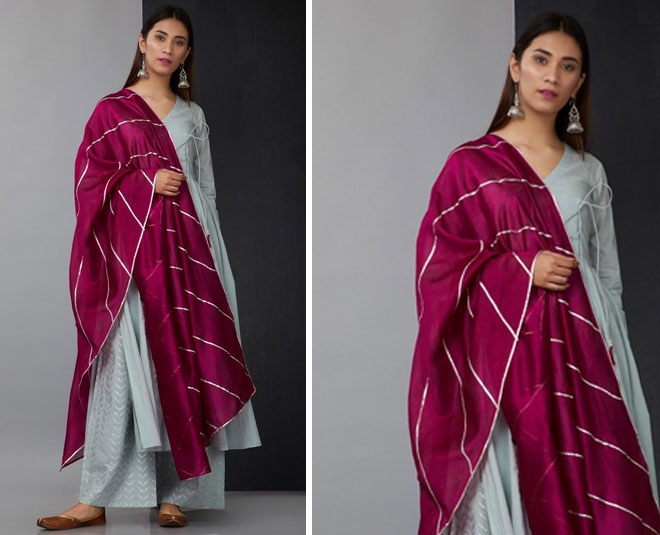 The outfit can be made even edgier by including vibrant earrings or any other statement jewellery piece. With this combination, you will not only look outwardly creative and playful, you can also own an intriguing aura for yourself.
Don't Miss: 5 Effortless Home Remedies To Get Rid Of Dark Holi Colours
One-Piece Wonder
It's natural to feel exhausted after playing with colours all day, and not feel the excitement to slip into another ethnic outfit for the parties. Now, you have got nothing to worry about, as that problem has also been covered. As an alternative for heavy ethnic suits, you can always wear a gorgeous one-piece maxi dress, and slay at every party with a flair.
Choose one in the soft shades of blue, pink or yellow, with pretty embroidery or floral prints (Katrina Kaif floral outfits). It is not just effortless, and chic, it is also one of the most comfortable dress to wear anywhere.
"No matter what you wear, I am sure you are going to rock every bit of it. However, do not forget to wear a mask, and take care of yourself. Happy Holi!," concluded Sreyashee Halder, VP Design, Brand W.
Don't Miss: Hunting White Outfits For Holi Party? Take Notes From These Celebrity Looks
Do let us know which among these you donned on Holi by commenting on our Facebook page. Stay tuned to HerZindagi for more such stories.