It is Katrina Kaif's birthday and as the diva turns 38 today, we thought of taking you through some of our favourite airport looks she donned in the past. If you follow Katrina Kaif's airport looks, you know she likes to keep it laid back all the time but still manages to look fabulous every single time. If you are hunting for casual wear inspiration or just want to have a look at some of Katrina's most stylish airport looks, have a look at our favourite 10 picks. Read on.
1Bright Blue Sweatshirt And Black Leggings
If you don't know already, let's tell you that Katrina Kaif is obsessed with sweatshirts and is often seen sporting them when off duty. Here, she opted for a bright blue Powerpuff Girls-inspired sweatshirt which she carried with a pair of black leggings and black shoes. Her only choice of accessory with the look was a pair of grey sunglasses.
2Denim On Denim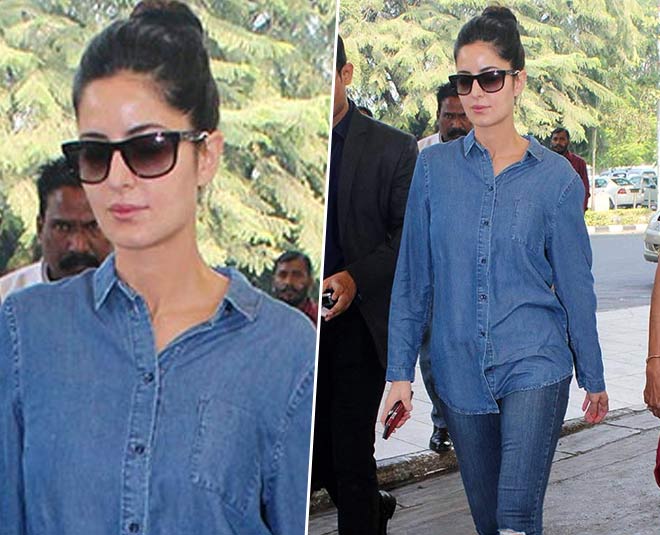 Katrina Kaif clearly doesn't like going OTT. How simple yet chic is this airport look? She carried a simple denim shirt with denim jeans. Katrina tied her hair in a messy bun. She rounded off her look with a pair of black sunglasses.
3All Black Look
If you think you can't step out in casuals and make a statement then take cues from Katrina's look. She was spotted wearing a black tee with black joggers and a black fur jacket. Just the perfect outfit for a long-haul flight. Katrina Kaif rounded off her look with a pair of black shoes and cat eyeglasses.
4Nude Coloured Camisole Top And Light Blue Denim
Another super laid-back look donned by Kaif, a nude coloured camisole top, and light blue denim. This one can be just the perfect pick for a casual day out with friends. Katrina Kaif completed her look with a pair of white sneakers. She rounded off the look with a pair of black sunglasses.
5White Off Shoulder Top And Blue Denims
On days you don't want to overdress and just keep it stylish, you can pick an outfit like this one. Katrina Kaif wore a white off-shoulder top with regular blue denims. Again, she kept her accessories minimal and just wore a pair of aviators.
6Slogan Tee, Shrug And Denim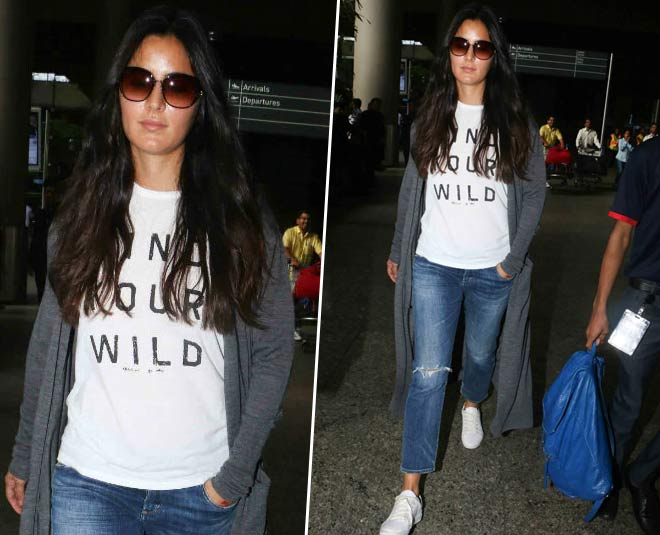 Take notes from the diva if you wish to spruce up your casual look. Katrina Kaif wore a slogan white tee with regular denim and layered with a grey long shrug. A pair of white sneakers was her choice of footwear. Looks like Katrina doesn't like going out without her sunglasses, this time she opted for a more vintage pair.
7Pink Sweatshirt And Leather Pants
Another personal favourite airport look of the diva, this one is super simple but Kaif managed to make a statement. The pink logo sweatshirt and leather pants combo worked well. She completed the look with white shoes and a pair of sunglasses.
8Floral Green Top And Ripped Black Denim
If you want to take the playful, casual route for a dinner night then pick a floral top like this one and team it with ripped black denims just like Katrina. Love how she carried the whole look. A pair of black sneakers was her choice of footwear. A pair of round sunglasses was the only accessory she carried.
9White And Blue Stripe Midi
Simple and chic, we absolutely love Katrina's white and blue stripe midi dress. Hot summers are here and all you would want to add to your closet would be an easy-breezy dress like this one. You can team it with sneakers or fun sandals to amp up your look.
10Denim On Denim With A Twist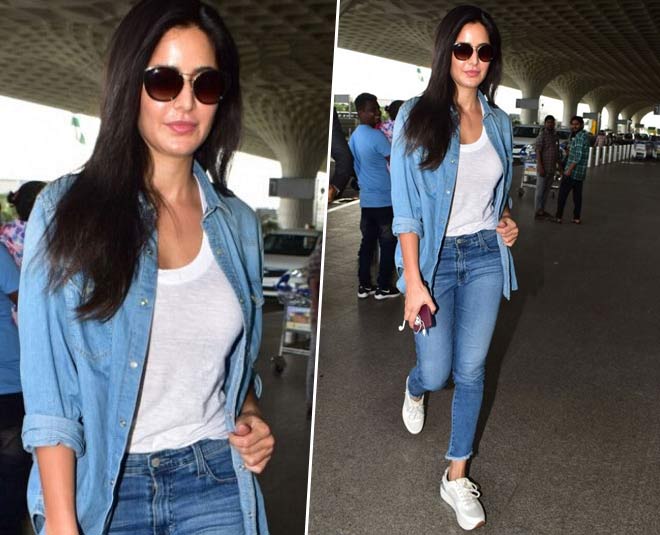 This time, Katrina Kaif opted for a white top and blue denim and then layered it with an open denim shirt. How cool is that? A little twist can simply turn around the whole look. She completed the look with a pair of white sneakers.