A one-day festival Karwa Chauth is mostly celebrated by women from North India. It is to pray for their husband's long and prosperous life. The day is not only about fasting from sunrise until the moonrise, but there is also the significance of solah sringar, a term that translates to 16 items, using which one gets ready to mark the auspicious day.
Among all the 16 items, bangles have its own importance. As per the Hindu rituals, a married woman don bangles as the sign of feminine grace and beauty. A few also believe that this symbol of suhaag helps women to maintain the energy flow and positive vibes in the body. Bangles have a long history that was traditionally made from many materials, including glass.
One thing that we know about glass bangles is that they are fragile, apart from being beautiful. A married woman is suggested to always wear bangles made from glass to not only signify long life of her husband but also for his fortune and prosperity. However, the breaking of glass bangles is not considered highly inauspicious, especially on occasions like Karwa Chauth. That's why we bring you eight amazing alternatives of the glass bangles that will keep you from committing a mistake on this holy day!
Gold Bangles
There is nothing that feels as special as gold, especially when the occasion is highly auspicious. Instead of doing kada and glass bangles together, just club your gold bangles to create a rich look like the one shown in the picture. Maybe you can do a little less when it comes to haath phool and finger rings to create a subtle look.
Silver Bangles
For all those who are not a huge fan of glitter and shimmer, silver will help you create a balanced look. You can either do a full kada, or can keep it classic by putting together sleek pieces. However, we don't recommend going with silver if your saree has gold embroidery on it.
Platinum Bangles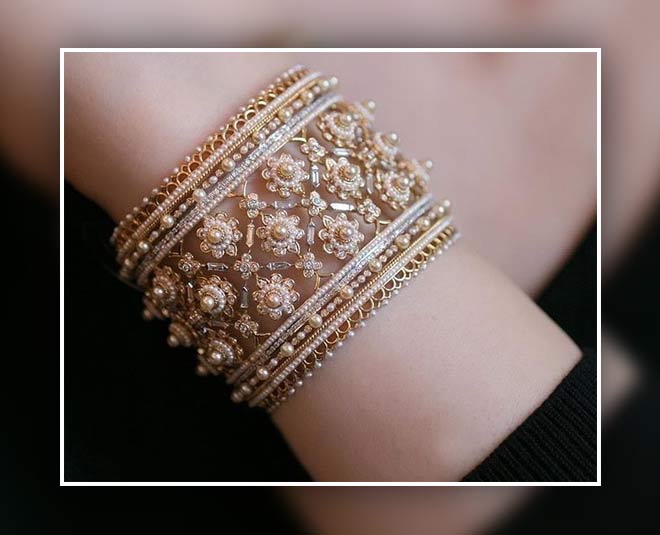 If there is one thing that is winning everyone's heart nowadays, it has to be platinum pieces. Other than diamonds, couples are investing highly in engagement rings, necklaces and bangles made from platinum. Create a timeless look on Karwa Chauth by wearing platinum bangles, after all, it is uber-chic and is something that goes with every outfit.
Wood Bangles
We Indians love art and creativity, especially something that can be used quite often. Wooden bangles are exactly what we are talking about. If you are on a budget and love elegant ornaments, wood bangles are exactly what you will like. You can colour coordinate your bangles with your outfit to create that ravishing festive look.
Bamboo Bangles
Abundantly found in India, bamboo is used to make papers, agarbatti, furniture, utensils and much more, including bangles. These are not very popular in north India but can be ordered from any e-commerce website. These are beautiful and are also available in various styles and colours.
Ivory Bangles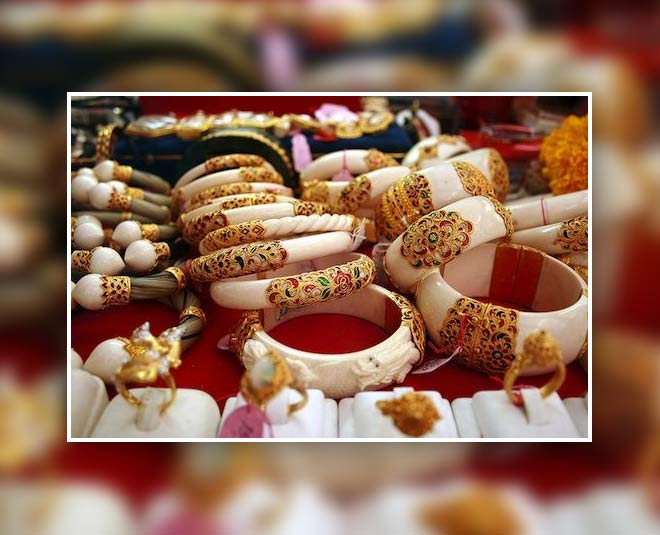 The delicate carvings on the ivory bangles make us fall in love with them. Its material has been used in India from centuries to make ornaments and sculptures. If you are looking to create that high-fashion look, ivory bangles will solve the purpose in the best way possible.
Don't Miss: From Sonam To Anushka, First Karwa Chauth Of Bollywood Celebs
Lac Bangles
You surely must have worn lac bangles at least once in your life. These are common that look like metal bangles. Embedded with precious stones, lac bangles can elevate your festive look and can make you stand out!
Don't Miss: Be Karwa Chauth Ready At Home With This Quick Beauty Guide
Shakha Pola Bangles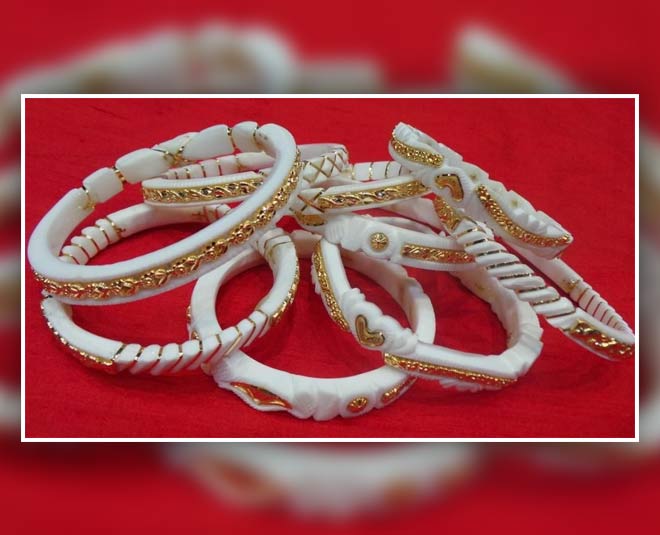 Said to be made from a conch shell, these are worn by Bengali women. Mostly white in colour, these are considered very auspicious. Due to their classic colour, we think one should wear them to modify Karwa Chauth looks. If you don't want to do white, go for the one that is red and white in colour.
If you liked this article, do comment on our Facebook page. Keep reading HerZindagi for more such stories.
Picture Courtesy: Pinterest