Saree is one 9 yard piece of cloth that makes anyone and everyone look graceful, beautiful, sexy... well all the adjectives in the thesaurus. So how can we ignore our former leaders who lived in the black and white world? They were the torch bearers of this beautiful drape. This time on our Late Former Prime Minister Indira Gandhi's Birthday, let's take a look at her saree collection, which I found on Instagram in bits and pieces as most were in black and white. So let's take a look at the #sareeswag the PM flaunted!
Sleeveless Blouse & Silk Sarees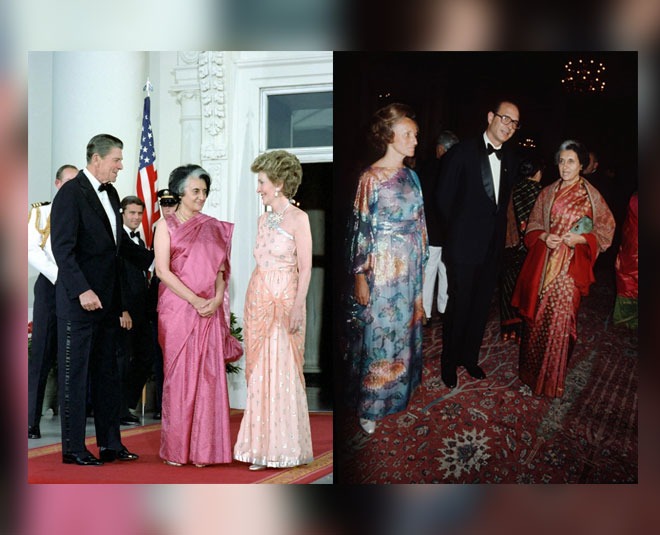 A Banarasi saree and a pink silk saree, Indira Gandhi was a super graceful woman with a powerful fashion statement as well. This is the time when she had to meet Richard Milhous Nixon, who was an American politician who served as the 37th president of the United States from 1969 until his resignation in 1974.
In A Yellow Cotton
View this post on Instagram
This is a plain yellow cotton saree which Indira Gandhi wore with a contrast brown blouse and zero jewels.
In A Brown Handblock
View this post on Instagram
Sees to be during the winter season as she is wearing a long-sleeved grey cardigan over her blouse. She is wearing a brown hand block saree.
Saree With A T-shirt
View this post on Instagram
Now this one is totally chic! Or is it her attitude that makes the combination look uber cool? The combo of a t-shirt over a saree, as if it is a long skirt looks really awesome!
Purple Saree Winter Look
Devoid of any jewels, Indira looks graceful in this half-sleeved grey sweater blouse, a trend that seemed to be prevalent in the old days.