Fashion in summer is all about wearing loose comfortable clothes that look stylish and also protect you from drowning in a pool of sweat. This is where your stunning shirts especially tailored made for summers come into the picture. Your closet needs to have a certain type of shirt that you can opt for and style for almost any occasion as shirts look cool and formal at the same time. It all depends on how you want to carry or flaunt your outfit. You can always style up and down a good shirt depending on the event, so here we are to suggest to you, how you can wear and style your shirts in summers.
Choose The Right Fabric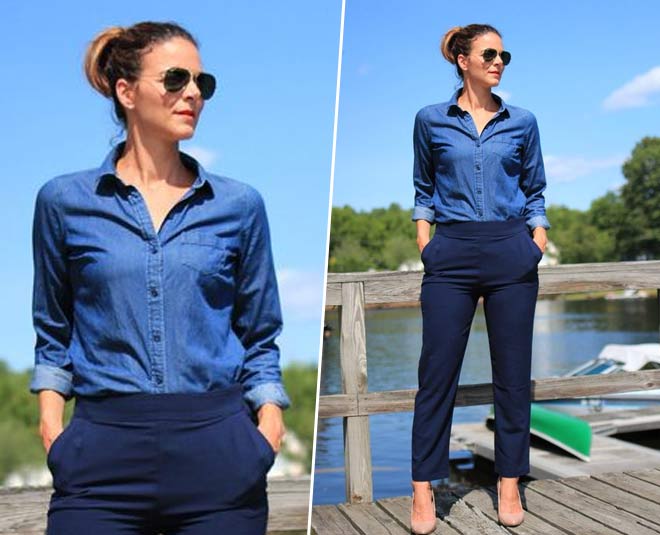 You need to invest in shirts that are breathable, bright in color, and will make you feel relaxed at all times. These are your essential key points that you need to keep in mind while going out for shopping that perfect summery blouse for yourself. The fabric of the cloth depends on the seasons, you need to pick the right one according to the weather conditions. Hence cotton, linen, synthetic blend clothes should be your choice of fabric this summer.
White Shirt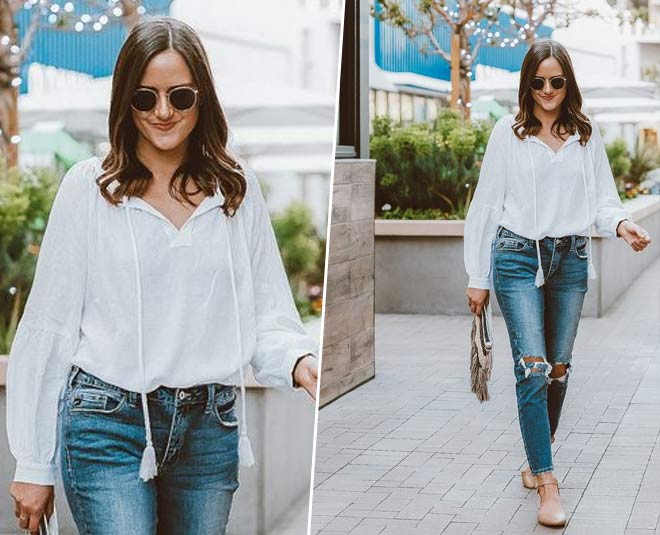 A perfect white shirt is so flexible and adaptable that you can pair it up with almost every outfit and the results will be stunning. Whether you are going for office meetings or a casual outing, all you need to have is a white shirt teamed up with your favorite pair of jeans to rock the look. You can even choose a shirt with a balloon, ruffle, or off-shoulder sleeves each one of them has its oomph factor to up your style game.
Don't Miss: How To Style Your Old Clothes For Every Season
Stripes Shirts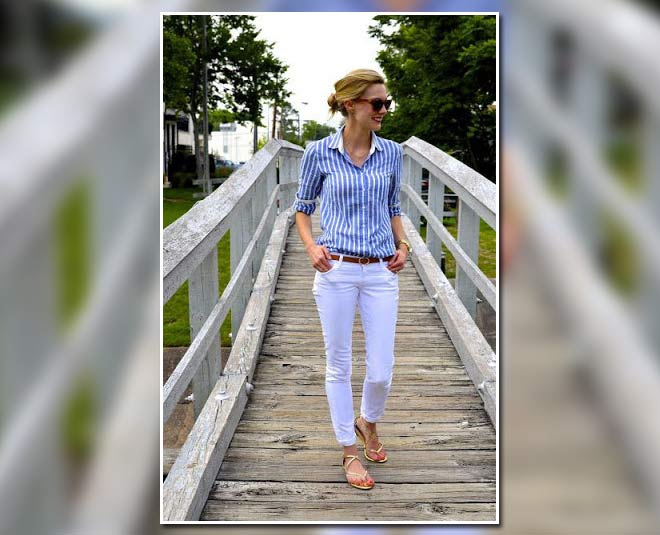 Summers are incomplete without stripes, we all love wearing stripes shirts/tops purely because of their versatility in nature. Just like white shirts stripes also look classy with also every kind of bottom like skirts, jeans, shorts. You can wear an open vertical stripe button-down shirt teamed up with a semi-sheer tank top inside or you can even wear it tucked inside your trouser with folded sleeves for that sassy yet format look. You can even put a knot at the end of your shirt, add on some accessories like a slim belt and wear sunglasses to complete the look.
Don't miss: 10 Maxi Dresses Donned By Bollywood Divas That Deserve Attention
Floral Shirts
Floral shirts look the most vibrant and amazing in summers, not only appear feminine but look flattering with almost every outfit. They are best suited for summers and spring as they give a very bright and refreshing feeling to your appearance. This is one such pattern that one must have in their wardrobe. On days when you are not feeling to put any effort into styling out your outfits just putting on a floral shirt will make all the difference. You can pair your floral shirts with flared skirts and bottoms, but you need to ditch the layering formula with this one as too much floral in your outfit can be a bit overwhelming. Avoid wearing accessories that are too loud, keep it simple and minimalistic as floral itself is enough to stand out and make you look lively and summer-ready.
Hope you will find these styling ideas useful. Stay tuned to Herzindagi for more.
image courtesy: despetitshauts.com, heartandseam, girlmeets gold, fashiongum, storenvy.com