Celebrity Guide On Pulling Off An All Black Outfit
An all-black outfit has been in fashion for many years for all the right reasons. Is your choice of neckline or necklace the right one for you?
Black is, without a doubt, a staple colour for every closet. Ranging from a variety of tops and blouses to jeans and jumpsuits, there's a lot of blacks we spot on the streets too! Taking inspiration from the most loved B-Town divas, here's how you can style your all-black outfit for a red carpet entrance of your own!
Accessorizing Is The Key
With an all-black outfit, whether you are pairing a top with jeans or a jumpsuit, B-Town divas like Deepika Padukone and Tara Sutaria have always been spotted accessorizing their outfits with the utmost accessories.
For an outfit with a boat neck, it is an ideal choice to go for a choker as your necklace as it will help your neck look as elongated as possible. Though a choker is not an accessory that suits women with double chins, it is a 16-inch necklace that is worn against the base of your throat and is destined to suit a long, slender neck.
You can opt for a v-neckline if you have a double chin. Studded earrings are what will suit you the best, alongside a long necklace. It is best to stay away from turtlenecks and short statement pieces as they can make your neck appear wider than it is.
Add A Belt To Shift Emphasis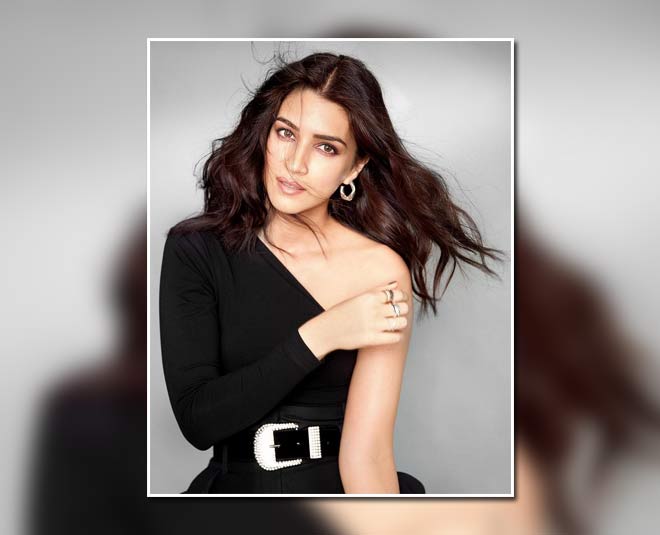 Belts bring out a different side to your attire as we attach one, generally contrasting in nature. Belts are meant to give your waist a definite structure and shape. Adding an essence of a belt will make your outfit look much better, while it may also be used to shift emphasis from one thing to the other.
Many dresses put a great emphasis on the waistline by adding flares and embellishments, while some may be free-flowing. For the cause of sustainability and reusing your old outfit, you can add a belt to your waistline and transform it into something new.
A belt may not be a good option for women who are attempting to look slimmer. A belt of a contrasting colour ends up looking wider than it usually is. An ideal belt option for a short woman is a narrow width belt in the same colour as the clothing. With this belt, you can experiment with different buckle types and colours.
Read More-Learn How To Rock Sequin Clothes From Your Favourite B-Town Celebrities
Bold Statement With Your Neckline
Looking at Bollywood divas from afar, we have always admired them pulling off a gorgeous neckline as they walk the red carpet. Deepika Padukone and Aditi Rao Hydari have been two divas that have always managed to put on a show with their bold necklines.
To pull off a bold neckline statement of your own, your body type plays a massive role. Your body type defines the type of neckline that would do wonders for you and have all eyes gazing.
A round neckline, that is most commonly seen in t-shirts and casual tops is a great choice for women with close to a flat chest and a pair of wide shoulders. A round neck will highlight your face and collar bones as well.
A V-neckline is a type to lengthen your shorter neck and direct the eyes to the torso rather than having them glare at your upper body.
An off-shoulder is best suitable for women who are athletic and have a petite body structure. They give a romantic appearance to those who have small to medium bust size.
The boat neckline is an ideal choice for women who have narrow shoulders. The neckline gives an appearance of a broader one. They also help a thicker waist or hip line.
A heart-shaped neckline aka sweetheart neckline is a highly picked choice for the brides. It elongates the neck and chest area. It also adds balance to the overall silhouette.
People with long necks look stunning with a turtle neck top or dress. It is an ideal choice for women who have an elongated face. While a tube top can bring attention to your shoulders and upper body.
Always Put On A Pair Of The Classic Black Pumps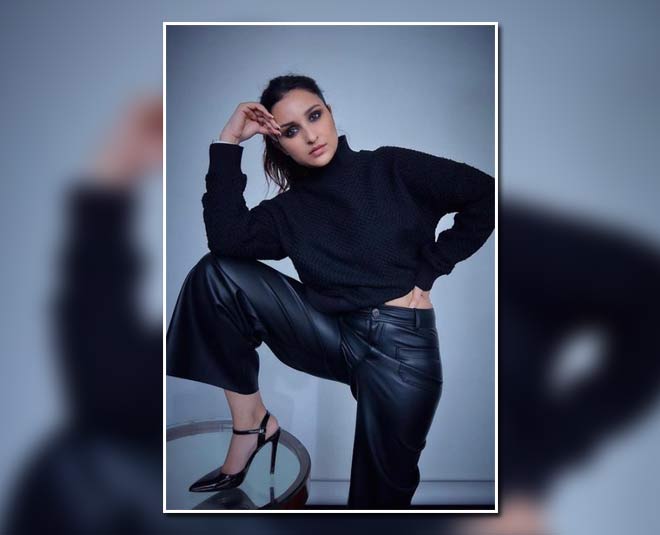 Footwear is what completes an outfit. While going for an all-black outfit, black pumps seem essential for the B-Town divas. Takin inspiration from Parineeti Chopra, we highly insist on having a pair of classic black pumps to match all your outfits, especially an all-black one.
The black pumps will give you an extra edge with your all-black outfit, giving you an elongated body structure, adding a touch of confidence to it.
Read More-Looking For Vacation Outfit Inspiration? Check Out Hina Khan's Style
Keeping The Makeup Minimal But Jewellery Exquisite
Keeping it low-key yet effective is the way Bollywood divas take their all-black outfits to the ramp walk.
With an all-black outfit, our Bollywood divas have always kept their makeup to the minimal level while letting their jewellery outshine. Looking at Tara Sutaria, we have all the inspiration we need to go in for a nudish-brown makeup look while we play with our statement jewellery sets.
It is ideal to keep your hair in a sleek bun or let it flow as naturally as possible with an all-black outfit, if you may! Adding a touch of statement colours like emerald green or ruby red is a fairly good idea to ponder upon!
What is your celebrity inspired all-black look? Connect with us over our official Instagram and let us know in the comments. Stay tuned to HerZindagi for more tips and tricks!