How To Style Your Kanjivaram Saree Like Bollywood Celebs
Flaunt your style in kanjivaram saree just like our Bollywood divas.
Have a wedding or an important event at your home, then you must be looking for the perfect outfit option that will make you stand out in the crowd. A kanjivaram saree is the perfect outfit if you want a proper traditional look and it will surely grab all the eyeballs.
Our Bollywood divas also love to wear kanjivaram saree as many of them have been spotted wearing one and we just love their style. You can also take some tips from them on how to style a kanjivaram saree as they have learned the trick to ace it. So, get ready to blow everyone's mind in your kanjivaram saree.
Sleek Bun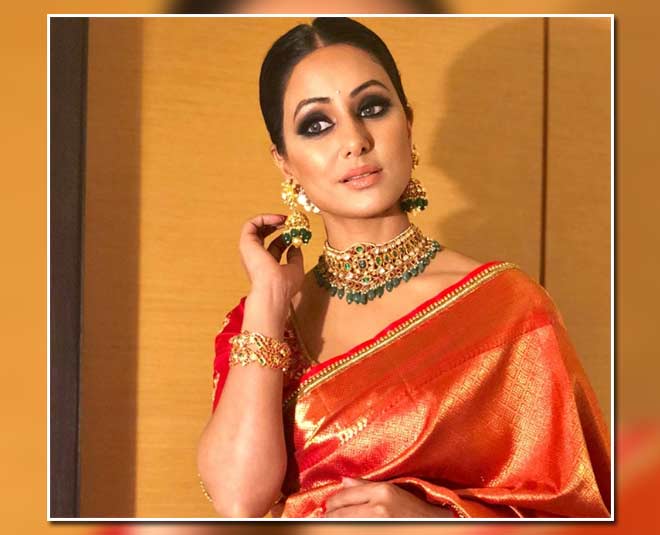 Kanjivaram saree is a heavy outfit and you want all your attention on your outfit. If you style your hair in a way that they are flowing all over the place, then it would be too much for the eyes. Therefore, it is best to go for a sleek bun with a middle parting.
Apart from this, a bun gives a proper traditional look. Style your kanjivaram saree with this sleek bun and there is nothing that can go wrong with your look. This is the perfect hairstyle for such an elegant and heavy saree as it gives you a regal look.
Add Gajra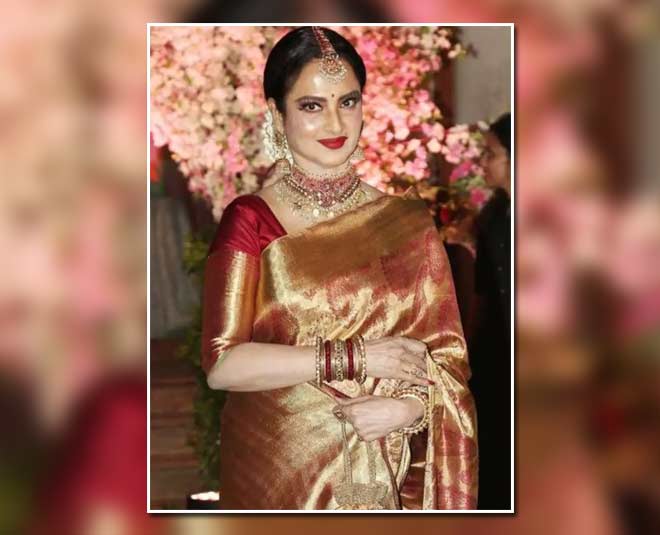 Aforementioned, you can style your hair in a sleek bun with your kanjivaram saree but there is something else that can take your look to the level. Add a gajra and your look will be perfect. Just wrap the gajra around your bun and you will be ready.
Gajra adds to the beauty of the ensemble and gives you a proper traditional look. If you don't want a gajra, then you can also go for other flowers like a rose or a lily. However, I would suggest a gajra made with fresh flowers.
Go For Bold Colours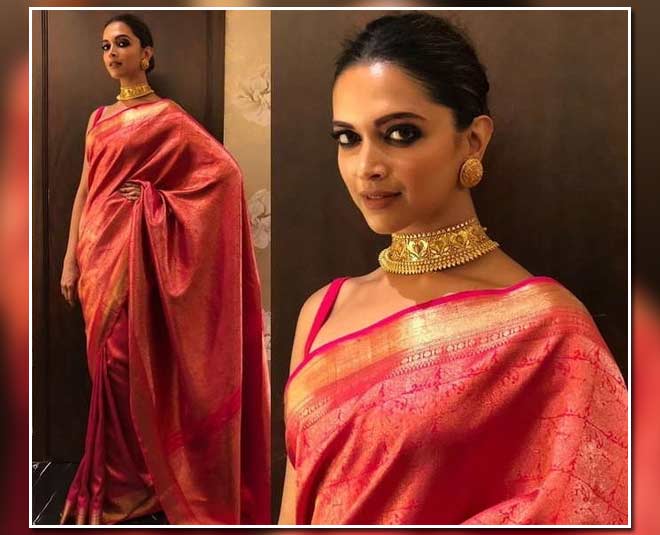 I know that pastels and light shades are in trend but these would not look good on a kanjivaram saree. It is great if you want to experiment with colours like turquoise or mint green but I would suggest you to stick to the basics.
Go for colours like red, dark pink, purple, orange and more. In fact, golden colour is also a great option for your kanjivaram saree. Just make sure that you stand out and the colour goes with the whole vibe of the look. You don't want your look to be any less just because you chose the wrong colour.
Go For Heavy Traditional Jewellery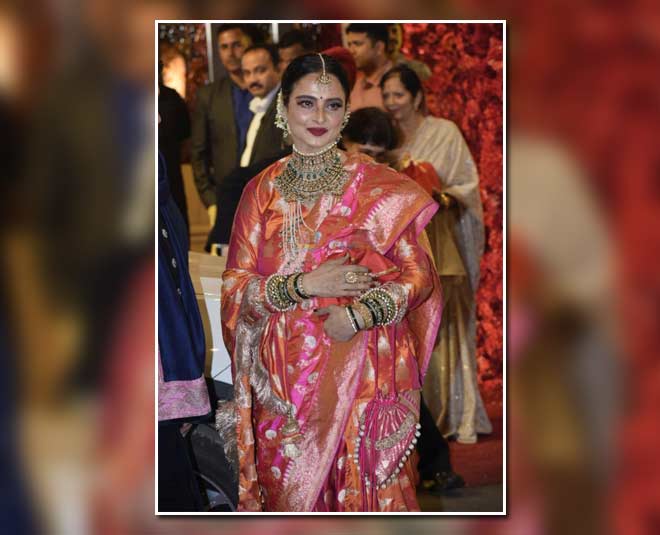 As said earlier, Kanjivaram gives you a proper ethnic look, therefore, it is best if you pair it up with traditional jewellery. And if you want to look the best, then you should go for heavy gold jewellery.
I would suggest you get some jhumkis and a choker but the neckpiece really depends upon the neckline of your saree. Just make sure that you for heavy and traditional pieces to accessorise and you will surely look like an Indian princess.
Don't Miss:How To Style A Midi Skirt For A Chic Look!
Potli Bag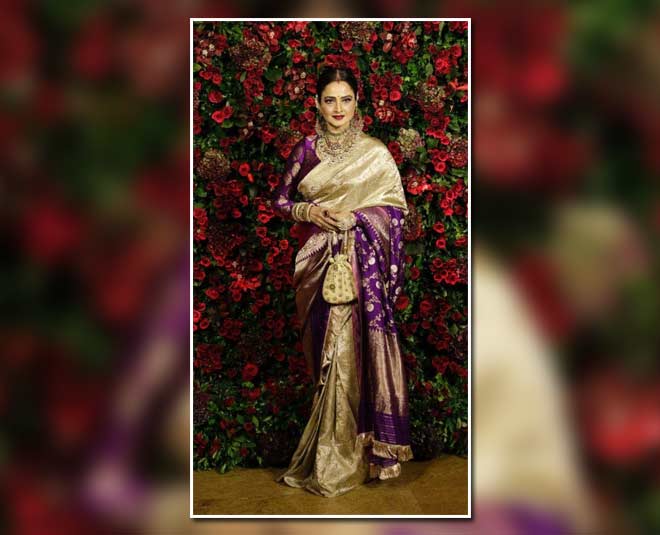 While wearing anything traditional, especially a saree, it is difficult to handle your outfit as you need constant adjusting. On top of that, you have to hold your mobile phone and there are so many other things that you need handy. Therefore, you need a purse with you but the wrong purse can totally ruin the vibe of your attire.
Therefore, we have the perfect bag for you. Carry a potli bag with you and trust me, it is quite helpful. You can put in anything like a mobile phone, handkerchief, money and makeup for touch-ups and just put it on your wrist. This won't ruin your look, in fact, it will add to the beauty of the saree. I would suggest you get one in a neutral colour so that you can use it with any of your outfits.
Don't Miss:Looking To Style Your Scarf? Here Are 5 Different Ways!
Give A Modern Touch With Cut Sleeves Blouse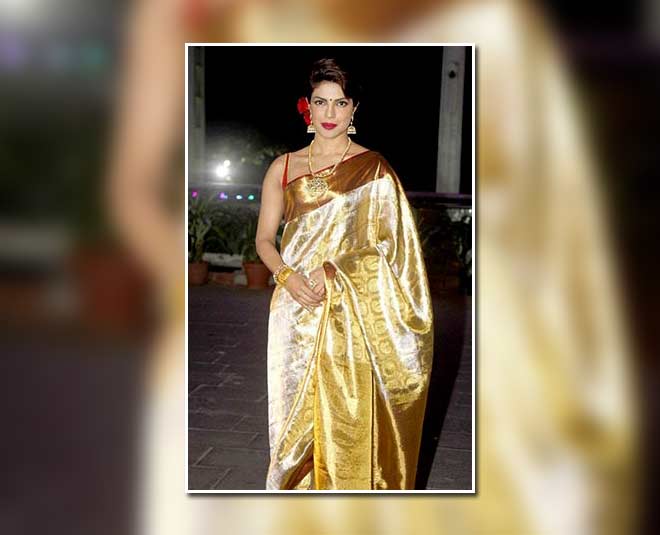 If you want to wear a proper traditional outfit, then there is nothing better than a kanjivaram saree. However, if you want to add a touch of modernity to this outfit, then you can get a cut sleeves blouse. This will add a touch of glam to your elegant saree.
Make sure to give it a modern touch with accessories, hair and makeup so that all the elements of your outfit are complimenting each other.
For more such stories, stay tuned to HerZindagi!