Accessorising your hair is one of the elegant ways to enhance your appearance. Hair can be accessorised in a variety of ways: using clips, headbands, rubber bands etc. However, if you want to go over and beyond and dress up your hair for a gorgeous look, don't be afraid to experiment. For a trendy and stylish look, try some fashionable hairstyles and accessories with pretty accessories. Take a look at the various options you can go for:
1Bandana
Wearing Bandanas as headbands can be the most stylish way to style your hair. They give chic as well as an elegant look that you will love. By using bandana, you can also keep your hair away from your face, which makes it a perfect hair accessory for summers. You can wear this look with any outfit and appear summer-ready within minutes.
2Scrunchies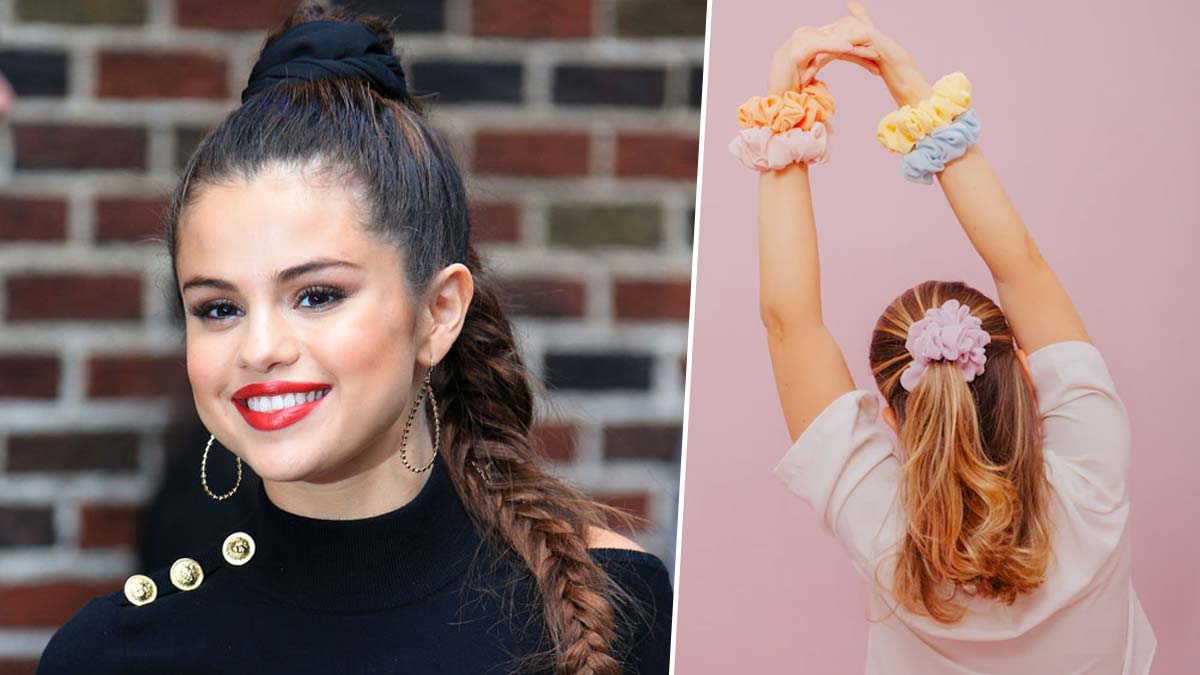 Scrunchies are currently one of the most popular hair accessories. They're attractive, trendy, and stylish, but that's not the only reason they're popular among women these days. Aside from that, they're also beneficial to your hair's health.
Using abrasive products and being tough with your hair can degrade its quality and texture. You can avoid all of this simply by tying your hair with scrunchies.
Its cuteness, as well as its benefits for hair health, have made it a popular hair accessory among celebrities as well.
3Hair Vine
amazon
Hair vine is an elegant hair accessory that can amp up any look. They are lengths of wire, twisted together with beads, pearls or crystals in various styles and colours.
You can wear this piece of elegance into a braid or on your forehead, along the hairline, or in any other way you desire. This can be moulded in any way that you think looks best with your hairstyle. These hair vines are popularly worn in christian weddings.
4Bobby Pins
Of all the accessories, bobby pins are the most easy to use accessories which can be used in a variety of ways to offer you a variety of looks. If you are in a hurry and yet want to look stylish, bobby pins can save the day.
5Knotted Headband
Knotted headbands are chic headbands that come in a variety of patterns and designs. They are the perfect way to turn your bad hair day into a good one; all you have to do is to put these headbands on. These headbands will give you a pretty girl look within minutes. You may wear them with a variety of clothes, from a cute summer dress to a casual white tee and jeans and everything in between, and they will always look elegant.
6Claw Clips
Claw clips are every woman's daily use of hair accessories. We use it when we're at home, running errands, or out for a walk on a sunny day. These are fantastic for putting our hair up and keeping it in place without bothering us as we work. However, if you know how to style it correctly, it can offer you the most elegant look. They can be extremely stylish and offer an air of effortlessness to any outfit while also being practical.
7Scarf
Scarf is a great addition, not just for your outfits but also for your hair. They come in a range of charming and lovely patterns and can be worn in many different hairstyles. Tying a ponytail, weaving it into your braid, or wrapping it around your top knot are all options. A scarf hairstyle is always nice, regardless of the day or time. So get sassy and show off your impeccable fashion taste in a scarf.
8Embellished Headband
Embellished Headband is the most stylish way to hold your hair away from the face or eyes. They can give you a fancy look on the head which can instantly glam up your look. Wear it for parties or fancy functions and flatter everyone with your classy look.
9Bow-topped Hair Tie
Hair ties with a bow on top are cute hair accessories that will give you a cutesy appeal. This hair tie can be used to create a variety of hairstyles, including braids, ponytails, and more, all of which will give you a stunning look.
10Designer Hair clips
Hair clips come in various patterns and designs. Try these hair clips for a striking appearance. If you want to show your fancy side, go for glittering or embellished clips, or for a casual day out, go for designer clips that look casual. These clips can be used to tuck your hair or to create any hairdo.