There is no one else in Bollywood who can don regal outfits with class and poise as Kareena Kapoor Khan does. Her impeccable wit and ever-lasting fashion sense, are the main reasons why, she holds a very strong spot in the Industry. The actress who recently turned 40, is a commendable example of self- motivation, free spiritedness and royal gestures. So, if you want to be like our very own Bebo too, then catch some amazing inspiration from Kareena Kapoor Khan.
The Indian Tuxedo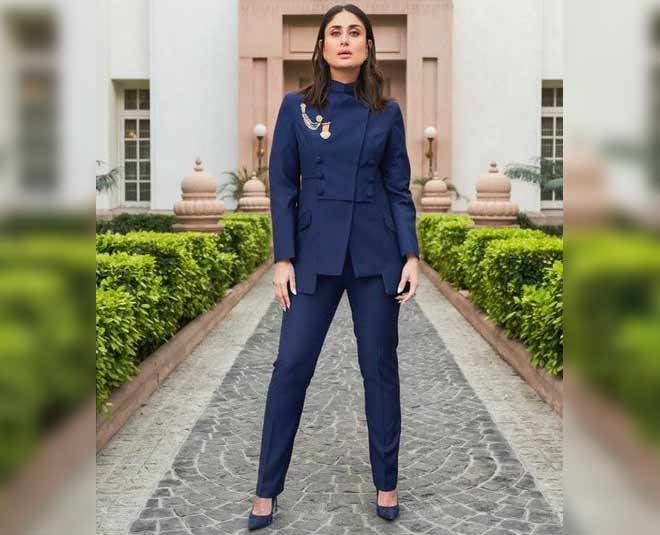 Breaking the stereotypes of women's fashion, Kareena Kapoor is a stunner in this attire. Her greatly fitted Indian tuxedo which is usually worn by men, is a perfect piece of fashion for revolution. The dark blue tuxedo features a top or a turtleneck blazer which has been teamed up with a straight pair of pants.
Every inch of the attire yells royal and has been styled with a matching pair of pointed sandals and a simple pearl broch. The makeup and hair have been left in a natural tone with a hint of pink on her lips, for the final touches.
The Black And White Saree
Looking stunning and beautiful as usual, Kareena Kapoor is all set to be empress while we kneel before her as subjects as her absolutely flawless style sense has us all going gaga. In this look, she is seen wearing a black and white saree. Which features a black long blouse and a striped pallu. The attire has further been accessorized with a big statement neck piece and bold eyes with hair tied up in a bun, to round up the look.
Don't Miss: Throwback Thursday: Kareena Kapoor Khan's Top 10 Maternity Looks
The Best Friend's Wedding Look
We are here to put an end to your worries about what to wear at your friend's wedding? Here is the inspiration. Kareena Kapoor Khan is a what looks near perfect in regal attires, like this one. She is seen wearing a navy-blue velvet blouse with a multi-coloured lehenga decorated with intricate floral details on it, further, she has also taken a dupatta to go along with her attire. The rest of the styling has also been done meticulously, as she has opted for a kundankari necklace, matching earrings, bangles and rounded up with a mangtikka to adorn the head.
Don't Miss: Birthday Special: 6 Times Kareena Kapoor Khan Gave Us Different Saree Blouse Design Ideas
The Pink Embellished Lehenga
Attire number four has got us all eyes on Kareena. Donning a superbly charming garment that features a sleeveless blouse in the shade hot pink that has been further paired up with a heavily embellished pink and golden lehenga. In addition to that, her dupatta is also lightly embellished and is of the same shade as the blouse.
Moving on, Kareena opted for a statement neck piece to go with her outfit and has completed the look by make up in the pink tones and hair open in waves.
The Golden Lehenga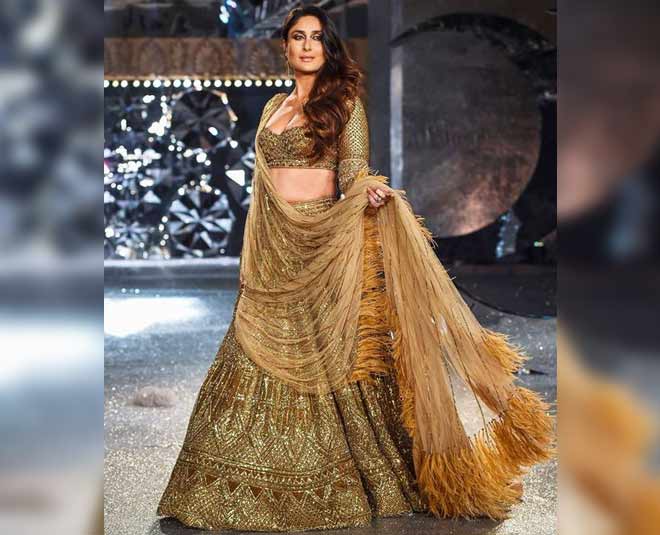 Looking enchantingly alluring, Kareena Kapoor Khan, stole the show with this look. She is seen wearing an enormously attractive lehenga which is highly embellished, a blouse of the same material and her dupatta with golden feather fringes. This all-golden look is just what you need to make yourself shine at a family wedding. Moving on, the hair styling is done in soft curls and the makeup has been done in light shades of golden and natural colours.
So, go be a style mistress and rock the world with your sheerly impeccable outfits. Stay tuned to Her Zindagi for more articles like this.
Did you like this article ?