Marriage happens to be one of the most significant days of most people's lives. They spend months if not years to plan everything perfectly. For brides-to-be, the planning includes deciding their D-day look. From jewellery to attire, everything needs to be on point. While deciding so many factors, a couple of details get missed.
For instance, draping the dupatta. This may seem like a significant thing, in the beginning, the way you place your dupatta can make or break your entire bridal look. Since you have so much on your plate already, we are here to help you with how you should drape your dupatta. Check out these options to ooze oomph on your wedding!
Gujrati Style Dupatta Drape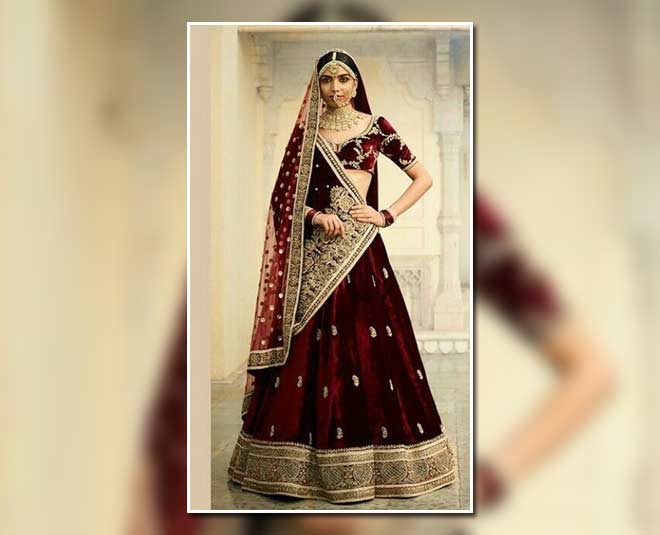 If your dupatta has the most embellishments and embroidery, there is no way you should hide it. Drape your dupatta in Gujrati style to flaunt the rich-work on it.
Steps
Take one end of your dupatta and tuck it in the skirt near your right hand.
Hold the other end, bring it to the front from your shoulder.
For this look, don't pleat the pallu, let it be and flow.
However, don't forget to secure all the ends, using safety pins.
Salwar Suit Dupatta Style
If you have ever donned Patiala salwar suit, you know how charming it looks placing the dupatta on both shoulders. Take cues from the same look and create your wedding day appearance.
Steps
Take one end of your dupatta, and fix on your right shoulder with a safety pin.
Make sure you leave the maximum fabric for the left side so that you can place the pallu on your head.
Make V-neck shape from the dupatta and secure the other end on the left shoulder.
Once done, cover your head and you're done.
Saree Pallu Style Dupatta Drape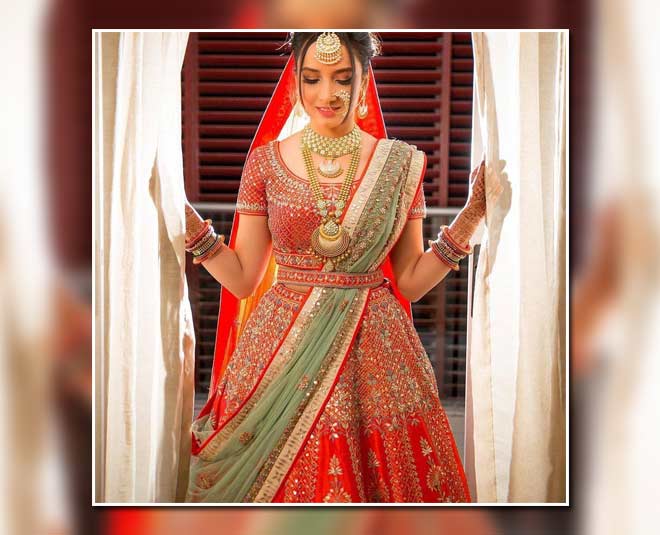 For the sleek and taller look, the saree styled dupatta drape is the best. It gives you a fitted appearance, by also letting you be free to hold your lehenga skirt yourself.
Steps
Hold one end of your dupatta and tuck it in your skirt at back.
Make clean pleats holding another end of the dupatta.
Once done, bring it in the front, crossing your body and place the pallu carefully on your shoulder.
Pin it using a safety pin and you will be ready to make heads turn!
Waist Band Dupatta Drape Look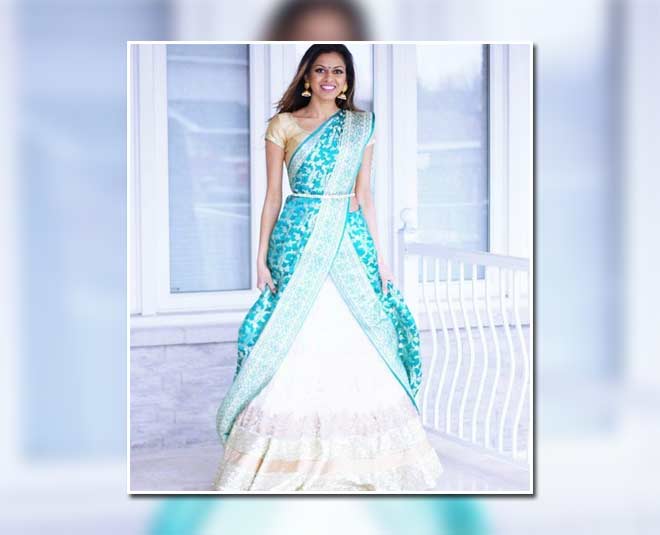 We know you worked out to get in shape for your D-day. Then why not to flaunt what you got! The waistband dupatta (give new look with these trendy dupattas) drape look can give an illusion of smaller waist in the most stylish way.
Don't Miss: Check Out 5 Gorgeous Lehengas For The Plus-Size Brides
Steps
You will need a belt to create this look. If you haven't got it stitched, you can use any gotta patti to achieve this look!
Take one end of your dupatta, tuck in the skirt right below your navel.
Take another end, bring it towards the front.
Pleat it well and place on the shoulders.
Secure with safety pins (types of safety pins) and finish off with waist belt!
If you liked this article, do comment on our Facebook page. Stay tuned to HerZindagi to read more such stories.