Actress Sushmita Sen, who is celebrating her birthday today, has been seen with Rohman Shawl wearing black, with her kids she was spotted in black, at a wedding as well she looked gorgeous in a black saree with statement jewellery. This actress who has been featured in World's Most Admired 2019 list of YouGov, is an inspiration for not just her good deeds but also for her fitness and fashion quotients.
Before we dig into her Insta archive of black outfits, we would like to take a moment to share that big news of her joining the Most Admired chart which also has Priyanka Chopra, Aishwarya Rai, and Deepika Padukone.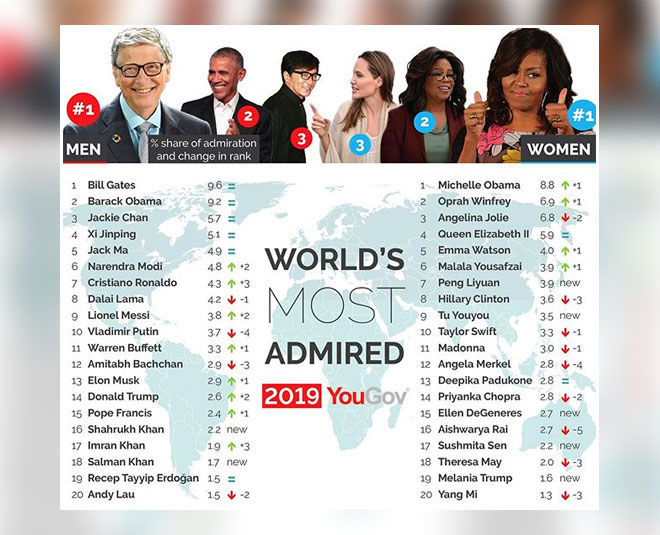 In the actresses, Sushmita is new entrant buy in the male category Salman Khan and Shahrukh Khan are the new joinees which is surprising but a proud moment for us. Veteran megastar Amitabh Bachchan is still on the list and so is our PM Narendra Modi.
Sushmita is someone we all have a soft spot for as she has done a number of things that made us women feel proud. At the moment we would love to admire her love for black, a colour many women swear by.
Workout In Black With Shawl
Sushmita is a fitness freak and so is her boyfriend Rohman Shawl. Besides their adorable pic together, one thing we love about them definitely is the inspiring goals they give out when they post their workout sessions together!
Sen & Shawl In New York
Sushmita posted these pics of her and Shawl saying: "#thatfeeling #takingoff #fly No matter what, be brave enough to spread your wings, life is too short to second guess the magic of being alive!! #soar #sharing #feelings #mytraveldiary2019 #newyork #allsmiles I love you guys!" and "Come run away with me @rohmanshawl I love #us #sharing #memories #outshopping #newyork #happiness #love #friendship Nice shot Neel!".
Besides the oozing love in this partnership with Shawl, we love what Sush is wearing! Black pants with buttons on the side, a black coat to save her from the chill and that cute black sling totally looks suave. Well, the white sneakers are a fashion statement off late and they also break the monotony of black so the woman sure knows how to balance her look and why not!
Sush In Black Saree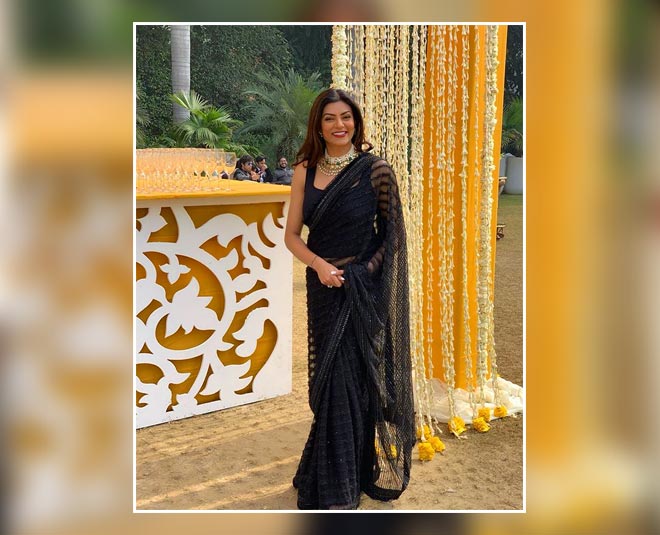 This sheer saree in black looks amazing on Sushmita who has teamed it with a black tank top. For jewellery she has just worn a statement choker necklace and she looks epic in it! Inspiring point: wear your saree with a tank top or any crop top with the right attitude!
Don't Miss: 7 Times Mission Mangal Actress Vidya Balan Proved That She Is The Ultimate Saree Queen
Dress It Up!
Sushmita posted this pic with the caption: "A bundle of contradictions, all of it lived with absolute conviction... pic credit, Renee shona!!! I love you guys!". Sushmita looks pretty in the dress with black tule as the top layer and satin in the layer below.
Black Cape & Suit
Doesn't she look gorgeous in this Indian outfit! Sushmita posted this one with the caption: "My beautiful #godchild @aaliyahsenb8 & me after a #fun #sangeet function for Ieena & Puneet's wedding here in #Chicago meanwhile, little Alisah peeps on! some pictures are cherished forever, this one definitely is!#love #sharing #holidaydiary2018 #bornfromtheheart...love you guys!
This is a perfect outfit for a sangeet. Not too simple and not too heavy, she has worn a long shrug or jacket with the outfit with golden zardosi work and it's perfect!
Sush Goes Indo-Western
What a contrast this pic is! All three ladies are in white but Sush flaunts her love for black and stands out. She looks beautiful in this off-shoulder black dress with a wrap or sheer dupatta as an accessory which has zardosi on the ends. With her hair pulled back in a bun, she looks truly elegant.