We have been having to attend so many functions these days. Wearing different outfits for different functions does not seem like a huge task unless this function is that of your wedding. Weddings have a million rituals that require a million different types of outfits.
While everyone at the function stands well-dressed, people are always looking at what the bride is wearing. How is her outfit different from the others? Is her fashion sense trendy is she wearing something old-fashioned?
Well, when it comes to wedding season fashion, the one thing that is at the peak of all trends is Banarasi! However, how is it that you can include Banarasi material in the outfits you wear at all your wedding functions? Wearing a banarasi lehenga every day is obviously going to reduce the look of your wedding lehenga. While it is a given that the only way of including banarasi in your outfit on your big day is by wearing a banarasi lehenga/saree, here are five different ways in which you can include traces of banarasi at different wedding ceremonies.
Banarasi Jacket
Image Credit: i.pinimg
Banarasi jacket gives a very smart look to the otherwise traditional get-up. Get a banarasi collared jacket made which has a length that is a little above or until your belly button and wear it on a plain kurta. You can even wear this jacket if it's a winter wedding and you do not want to cover your beautiful saree with a shawl. This is a great look for a mehendi function, primarily because these banarasi jackets look great in the shades of green as we usually wear in mehendi ceremonies!
Banarasi Kamar Kand
A very simple and minimalistic way to add banasari into your look is by wearing a kamarkand (waistband) made of this material. You can amp up your plain white lehenga with a bright coloured banarasi kamarkand and your simple look will completely transform. Instead of loading yourself up with heavy ornaments, you easily use a banarasi kamarkand to look equally glamorous, if not more. An ideal look for Haldi ceremonies where you can wear a plain yellow lehenga and a red banarasi kamarkand to top it up!
Don't Miss- Perfect Colours For Your Outfit According To Every Wedding Function
Banarasi Trousers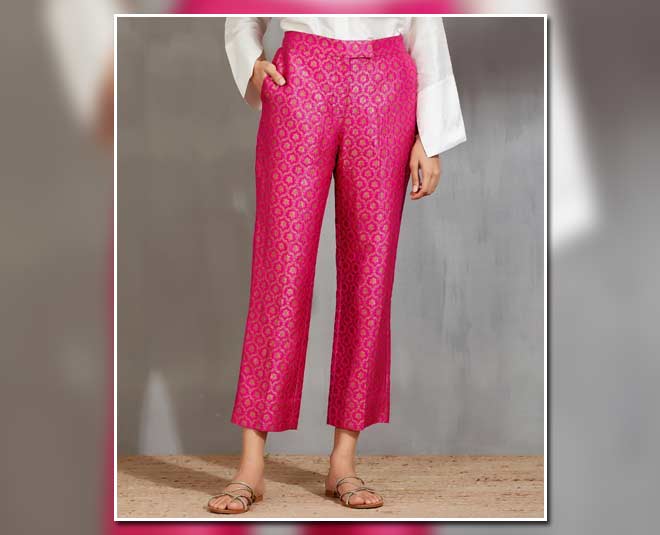 Image Credit: img2.ogaanindia
Are you someone that does not want to wear lehengas and sarees? You are only comfortable in suits and look for variations in that only? Well, we do have a variation for you that will look absolutely gorgeous! You can wear a banarsi trouser below the knee-length(or a little below that) kurta. This will instantly elevate the look of your kurta. Since the trousers will draw everyone's attention to your legs, make sure you are wearing a good footwear. This look is perfect for sangeet and mehendi!
Banarasi Purse
Image Credit: weddingwishlist
An element that is not really in your attire but surely elevates your look is a banarasi purse. No matter what outfit you are wearing, carrying a purse is a necessity. Let us make this necessity a little fashionable by carrying bright banarasi purses or potlis. These give a very royal and elegant look. The best part about this is that you can carry such purses in your basic haldi/mehendi functions and even at your wedding function! They fit well absolutely everywhere!
Don't Miss- Tips To Refrain From Looking Extremely Thin On Your Wedding Day
Banarasi Dupatta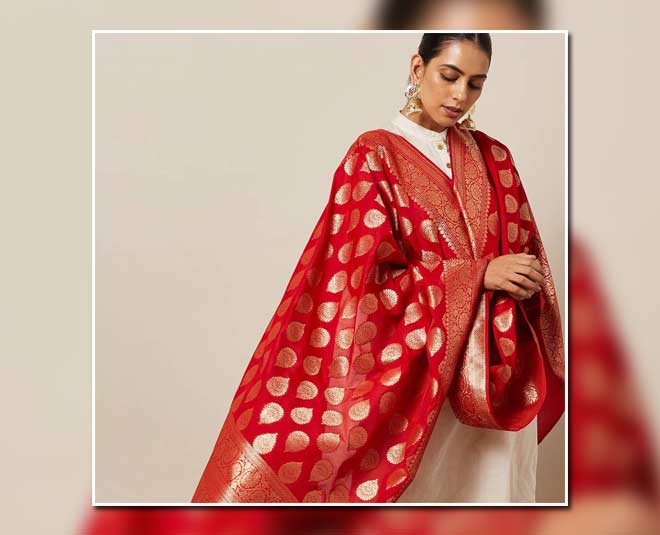 Image Credit: media.vogue
We have seen a lot of actresses pull off this look plenty of times. Wearing a plain kurta with a heavy banarasi dupatta has been a fashion trend for way too long now and is surely here to stay. A very rich look, you can pair it up with jhumkas, hair pulled back in a bun and heavy makeup and you will beat a heavy lehenga look!
We hope you found this article interesting! If you wish to read more such articles, stay tuned to HerZindagi!