As they say, curly hair is both a blessing and a curse, and during these hot months maintaining curly hair is a task. From regular washing to proper conditioning, protection from heat and styling, curl hair requires proper care and love.
While most women with curly hair maintain good health for their curls, they are unable to give them a suitable and distinct style. Mr Sameer Hamdare, Zonal Technical Manager at Streax Professional has listed some easy summer hairstyles for curly hair that you can recreate yourself at home.
High Pony
The simple yet beautiful hairstyle is very easy to style, and it takes only a few minutes to execute.
Gather all your hair into a high ponytail at the top crown of your head and secure it with an elastic band.
Put two or three vertical bobby pins on the underside of the ponytail to keep the elastic band lifted.
Enhance your curls with a curl-defining cream to keep them nice and bouncy.
One Side Braid

Dampen the hair and start applying a curl-defining cream, scrunch through damp hair leave it for few mins to let it dry naturally.
Now part your hair, then grab a small section of hair on just one side of your head and start making dutch braid that entire section of hair, leaving the rest of your curls untouched.
Once you have reached the back of your head, pin the section of hair to secure the braid now leave your hair over it so the pins are mask by your curly hair.
Leave the remaining hair open to flaunt your naturally curly hair.
Twisted Half Ponytail
Take a section of hair from one side of your crown area twist it tightly and clip it.
Pick an identical section of hair from the other side and twist it tightly as well.
Using an elastic band, tie both the sections together to form a twisted half ponytail, secure your twisted hair with pins to keep it intact.
Leave the remaining hair open.
The Double Boho Braid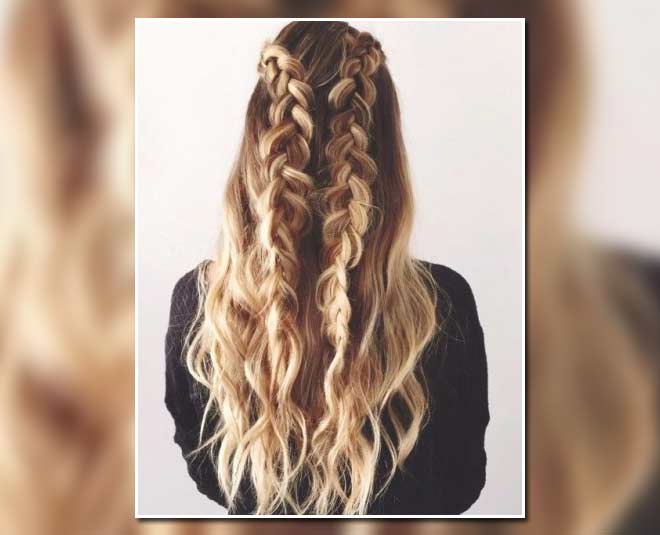 Comb your hair gently to detangle it.
Divide your head vertically into two parts.
Begin weaving one half in a dutch braid just above the ear, braid it until it reaches the nape and clips it to your head.
Repeat the same on the other side.
Join the braids together and tie them in a low ponytail.
Fluff up the ponytail to make it messy.
Now twist both the braids nicely to create a boho.
Take a small section of hair from the ponytail and wrap it around the elastic band to cover it.
Don't Miss: HZ Tried & Tested: True Frog's Shampoo For Curls With Flax Seed, Beetroot Extracts Detailed Review
Sleek Ponytail
Start by brushing your hair to ensure a smoother texture.
Brush up into a high ponytail and secure with an elastic band.
Divide the ponytail in half and twist the two sections into a thick, messy twist.
Use bobby pins for the bun and adjust the shape and size.
Smooth down any flyaways with styling gel.
Use a shine spray to add shine to the overall look.
So which hairstyle will you be trying today?
Stay tuned to HerZindagi for more on hair care and styling.