Every city and every country in the world has soe or the other marvel that we must see if we get the opportunity to do so. Archiectural marvels of the past are unmissable especially where civilisation have been as old as that of the Indus Valley. Here is a glimpse of 10 amazing rchictural monuments and forts and baghs which speak volumes on the talent the artistes had.
1Badshahi Mosque
baaghitv
This Mughal era mosque in Lahore is located west of Lahore Fort and is considered as one of Lahore's most iconic landmarks. It was constructed by the Mughal emperor Aurangzeb between 1671 and 1673. It's exterior is decorated with carved red sandstone and marble inlay.
2Shalimar Bagh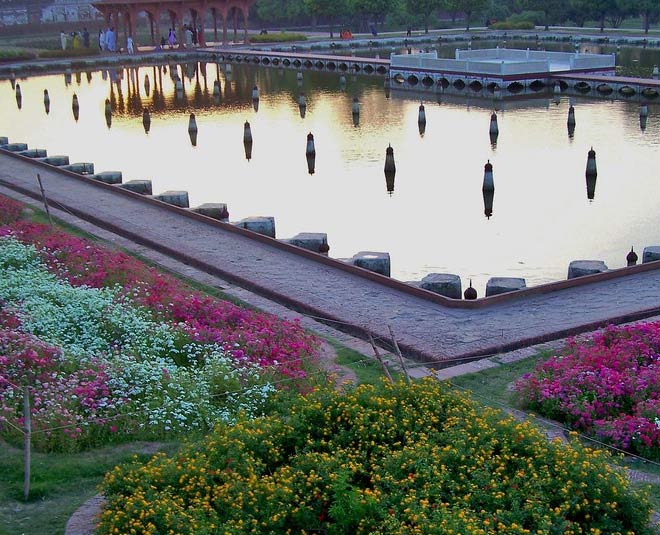 This is a Mughal garden complex which is located in Lahore, which dates back to the Mughal Empire when it was at its artistic and aesthetic zenith. These gardens were orginally meant to be Persian paradise garden to create a representation of an earthly utopia where humans co-exist in harmony with nature. It was constructed between 1641 and 1642 during the reign of Emperor Shah Jahan. In 1981 the garden were declared as UNESCO World Heritage Site.
3Wazir Khan Masjid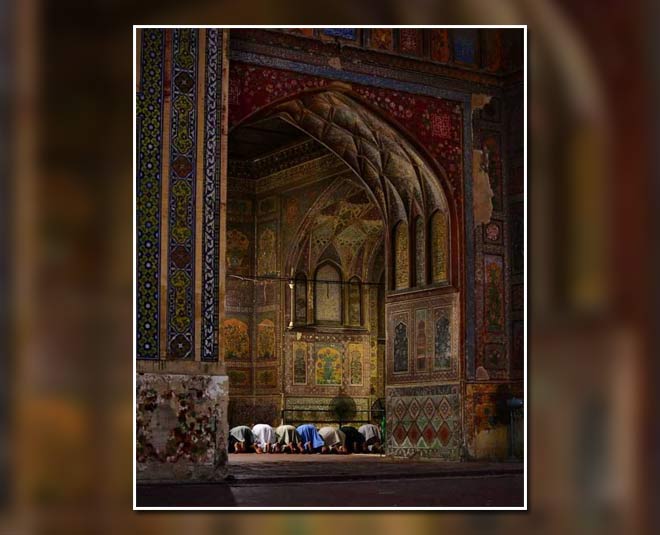 This 17th century mosque is located in Lahore and was commissioned during the reign of the Mughal Emperor Shah Jahan. It was a part of an ensemble of buildings that which also included the Shahi Hammam baths. Its construction began in 1634 and was completed in 1641. It is known for its intricate faience tile work which is called kashi-kari, and its interior surfaces which are almost totally embellished with elaborate Mughal-era frescoes. The mosque has been under restoration since 2009 under the direction of the Aga Khan Trust for Culture and the Government of Punjab in contributions from the governments of U.S, Germany, and Norway.
4Faisal Mosque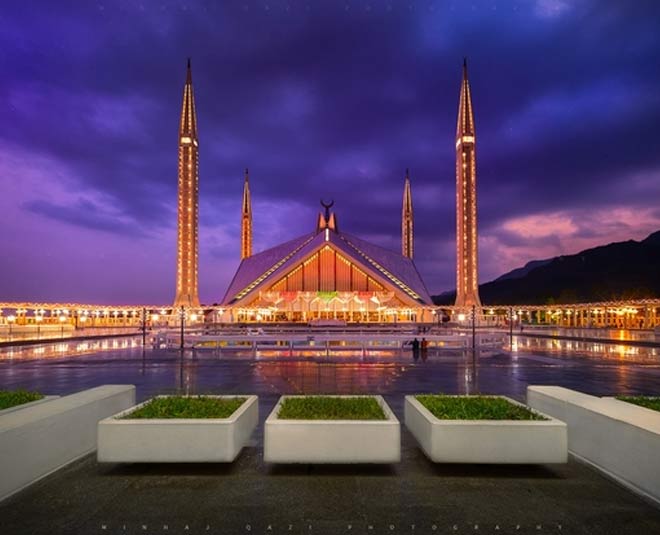 Located in Islamabad, this mosque is located on the foothills of Margalla Hills. It features eight sides of concrete shell and is clearly inspired by the design of a typical Bedouin tent. Its construction began in 1976 after a $28 million grant from Saudi King Faisal. It has been designed by Turkish architect Vedat Dalokay who was selected after an international competition. This equisite mosque is surrounded by four 260 feet tall minarets and the eight-sided shell shaped sloping roofs form a triangular worship hall. The hall can hold 10,000 worshippers!
5Darawar Fort
This fortress in Ahmadpur East Tehsil, Punjab, Pakistan, is lovated 130 kms away from south of Bahawalpur coty. The walls are spread across 1500 metres and are 30 meters high. It was built in the 9th century by Rai Jajja Bhati who was a Hindu Rajput ruler of Bhati clan. It was a tribute to Rawal Deoraj Bhati, the king of Jaisalmer and Bahawalpur. It was taken over by the Muslim Nawabs of Bahawalpur in the 18th Century and later rebuilt in 1732 by Abbasi ruler Nawab Sadeq Muhammad.
6Hiran Minar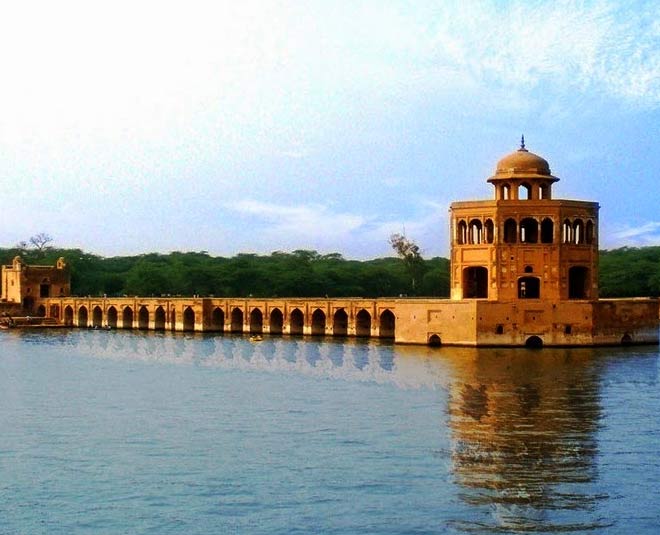 This Minar is from the 17th century Mughal era which is located in Sheikhpura in Punjab, Pakistan. It was infacy built as the site of a game reserve to honour Mughal emperor Jahangir's beloved antelope Mansraj.
7Lahore Fort
This citadel in Lohore, Punjab, Pakistan, is located at the northern end of the walled city Lahore. It has 21 monuments with some as old as Akbar's reign.
8Mausoleum of Hazrat Bahauddin Zakariya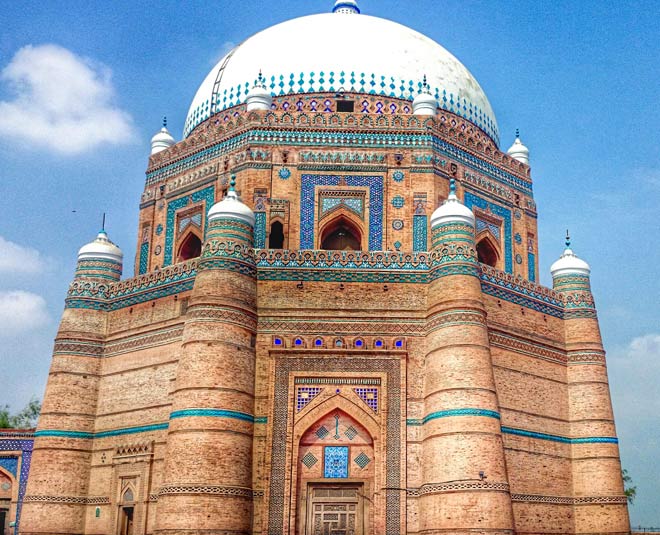 This is a 13th century shrine in Multa, Punjab, Pakistan. Dedicated to Muslim mystic Bahauddin Zakariya, who was the founder of Suhrawardiyya order of Sufism, this shrine is a prototyppe of Multan's distinct architectural style.
9Lahore, Minar-i-Pakistan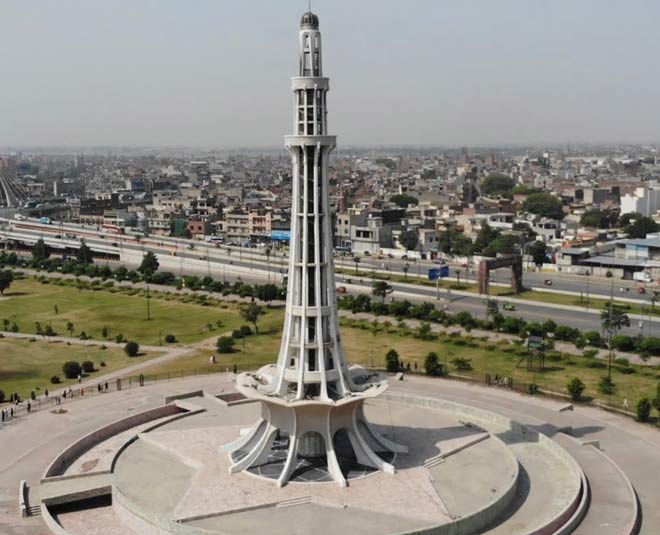 This one is the national monumnett in Lahore, Pakistan whi was built in 1960. The location is where the All India Muslim League had passed the Lahore resolution on March 23, 1940 for an indepedent homeland.
10Frere Hall
This hall is a building in Karachi which dates back to British colonial era in Sindh.It was completed in 1865 and was originall meat to serve as the town hall. However, now it is an exhibition space with a library.