Manipur is a place which is famous for its beauty and natural views not only in India but also across the world. Manipur is called the Switzerland of India. When your flight will reach near Manipur you'll feel like jumping off the plane seeing the beauty of the state. The green velvety mountains and natural views of Manipur can make their place in everybody's heart. 76 percent of the land in Manipur is covered with forest, you can surely a idea of greenery by reading this. If you are interested in eco-tourism, then this is the best place for you. The special thing is that Imphal, the capital is the most beautiful place here. Today we are going to tell you about such places in Manipur which will force you to visit Manipur at least once.
Lake Loktak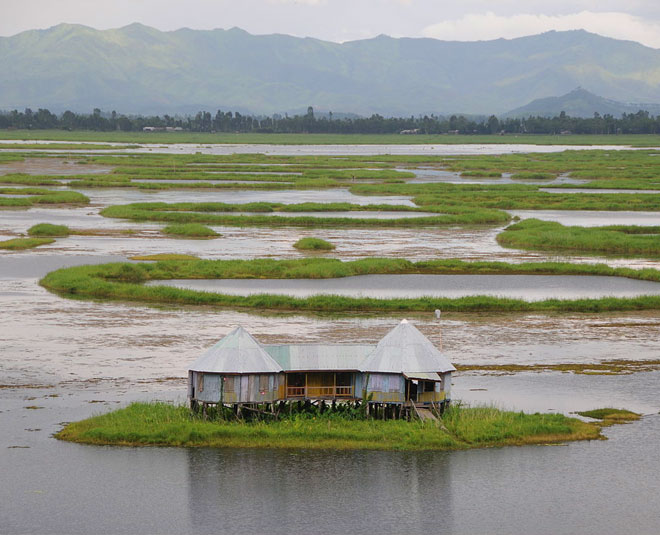 It is the largest and the most beautiful lake in Manipur, which 45 kilometres from Imphal. It is the first lake in the world where the floating islands meet. It is said that Loktak is home to more than 100 birds, 233 aquatic flora and 425 species of wild animals. Small grass islands floating in the water of this lake look like a magical world.
Ema Market
In Manipur's native language, ema means mother. As the name suggests, this market is run by the mothers there. The market is divided into two parts, one part provides vegetable, cheap spices and fish while the other part provides the household items. A second market starts at a short distance from here, where you can find handmade clothes. As all the shops here are owned by women, it is a really fun experience.
Manipur State Museum
If you are interested to know about the cultural heritage and history of the state, then Manipur State Museum is must visit. In the museum, you can have a close look at the tribal life here along with the Raj family of Manipur. The main attraction of the museum is the 78 feet long boat present here. This small looking museum boasts a lot in itself. Therefore, this is a must visit for you. Remember the timings are from 10 am to 4 pm.
Don't Miss: Here Is How You Can Live Like A Maharani At The 300 Year Old City Palace of Jaipur
Kangla Palace
It has been the centre of politics in Manipur since a long time. Its main door is built in such a way that it gives you royal feels and it is inspired by the Chinese architecture. There is also museum called Kangla museum within the fort. It is said that this palace is ruled by 7 kings of Manipur. However, today some of the parts of this palace have turned into ruins. But tjis place is worth a visit once, you'll also get to learn a lot about the history of this place.