Actors Kiara Advani and Sidharth Malhotra are reportedly set to get married on February 7, 2023 and the fans cannot keep calm. Advani was spotted at the Jaisalmer airport on the afternoon of February 4. She was accompanied by designer and friend Manish Malhotra who is said to be the wedding couturier. Looks like we are to witness a Manish Malhotra bride after a long line of Sabyasachi brides.
Advani was photographed at the Mumbai airport earlier today, February 4. She wore an all-white outfit and looked lovely as usual. She enhanced her appearance with a pink dupatta. Her family was around the actor at all times. The co-stars of the movie Shershaah, Advani and Malhotra, are rumoured to have begun dating in 2020.
200 Artisans Spent 6700 Hrs On Sid-Kiara's Wedding Emsembles
Designer Manish Malhotra took to social media and revealed that as amany as 200 arrtisans worked for 6700 hours to construct the couple's wedding emsembles.
View this post on Instagram
Kiara-Sid's Haldi Pictures Out
"Pyaar ka rang chada hai ❤️" wrote Advani while sharing pictures from the couple's haldi ceremony. Advani dons an off-white and golden lehenga set with a yellow dupatta while Malhotra dons a mustard yellow kurts set with heavy embroidery shawl-style dupatta.
Kiara Advani Shares Wedding Video
Taking to Instagram, Advani shared a one minute 40 seconds video from the wedding where she is making an entry dancing her way to the groom Malhotra. Their film Shershah's popular song Ranjha is being played in the background with a little tweak as per the situation.
View this post on Instagram
Kiara-Sid Get A Warm Welcome In Sid's Home, Delhi
A day after their wedding in Jaisalmer, the couple received a warm welcome in Delhi on February 8. The newlywed flew to Delhi yesterday to host a reception party at Malhotra's Delhi residence. Advani and Malhotra were spotted in bright red twinning ethnic outfits at the Delhji airport. In a video that went viral, the duo is seen dancing bhangra to the beats of dhol as they ere welcomed home.
View this post on Instagram
View this post on Instagram
Kiara-Sid Wedding Pictures
The couple share pictures from their wedding from their repective Instagram handles. Advani in pink lehenga and emerald and diamond necklace set and Malhotra in a white and golden sherwani pose cutely for the wedding pictures and kiss each other on cheeks. Fans are going gaga on these pictures and are eagerly waiting for the rest.
"Ab humari permanent booking hogayi hai" We seek your blessings and love on our journey ahead ❤️🙏" the couple wrote.
View this post on Instagram
Songs Played During Kiara-Sid's Pheras
Mahi Ve is being played at the Suryagarh Palace as Malhotra and Advani are said to be taking pheras in the evening of February 7, as per the paparazzi present at the location. Other songs that were played during souch check includes Coca Cola Tu, Pallo Latke,
View this post on Instagram
Glimpses Of Royal Baarat At Sid-Kiara's Wedding
As per reports from papparazzis, band memebrs entered the wedding venue, Suryagarh Palace, with floral chhatris, decked up in kurta-pyjamas and floral turbans. The phones of the guests attending the wedding have also been put in special covers, as per the paps.
View this post on Instagram
Sid-Kiara's Sangeet Ceremony
The sangeet ceremony of the couple took place on Monday, February 6. Advani's Kabir Singh co-star Shahid Kapoor and filmmaker Karan Johar reportedly danced on Malhotra's song Kaala Chashma at his sangeet ceremony. Other songs such as Ranjha, Kabhi Tumhe, Tera Ban Jaunga, Man Bharraya, Say Na, Mehendi Lagake Rakhna, Sajan Ji, and Patiala Peg were also reportedly played at the Sangeet.
View this post on Instagram
Sidharth Malhotra's Grandmother Confirms Sid-Kiara's Wedding
Two days ahead Sid-Kiara's wedding, on February 5, as Malhotra's grandmoter arrived at the Jaisalmer airport, she expressed her happiness and wished the couple on their new life ahead. "Haan bahut khushi hai, bahut bahut badhaai, (Yes, I am very happy and loads of good wishes)," she said in the brief interaction with the papparazzi. When she was asked what she would gift the couple on their wedding, she said she hasn't thought of one yet.
Isha Ambani Arrives
Isha Ambani and Kiara Advani are childhood friends. Isha arrived in Jaisalmer on Februrary 5 to attend her best friend's wedding. She was wearing an off-white outfit with floral thread-work in golden hue. Isha came with her husband, Anand Parimal.

View this post on Instagram
Reportedly, the couple are set to get married at the five-star Suryagarh Hotel.
Don't Miss: Kiara Advani And Sidharth Malhotra's Rumoured December Wedding. Details Inside
Last month, on the occasion of Malhotra's birthday, the couple made their relationship Instagram official. Wishing the birthday boy, Advani wrote, "Whatcha looking at birthday boy," while sharing a picture of them from a Safari trip. However, they haven't spoken about confirming their relationship or marriage.
The wedding festivities are taking place currently from February 4 to 6, and around 100 guests, including Shahid Kapoor, his wife Mira Rajput, Karan Johar, and Manish Malhotra, are anticipated to participate. On Thursday, the palace's social media page appeared to disclose the wedding location when they responded to a paparazzo's Instagram post.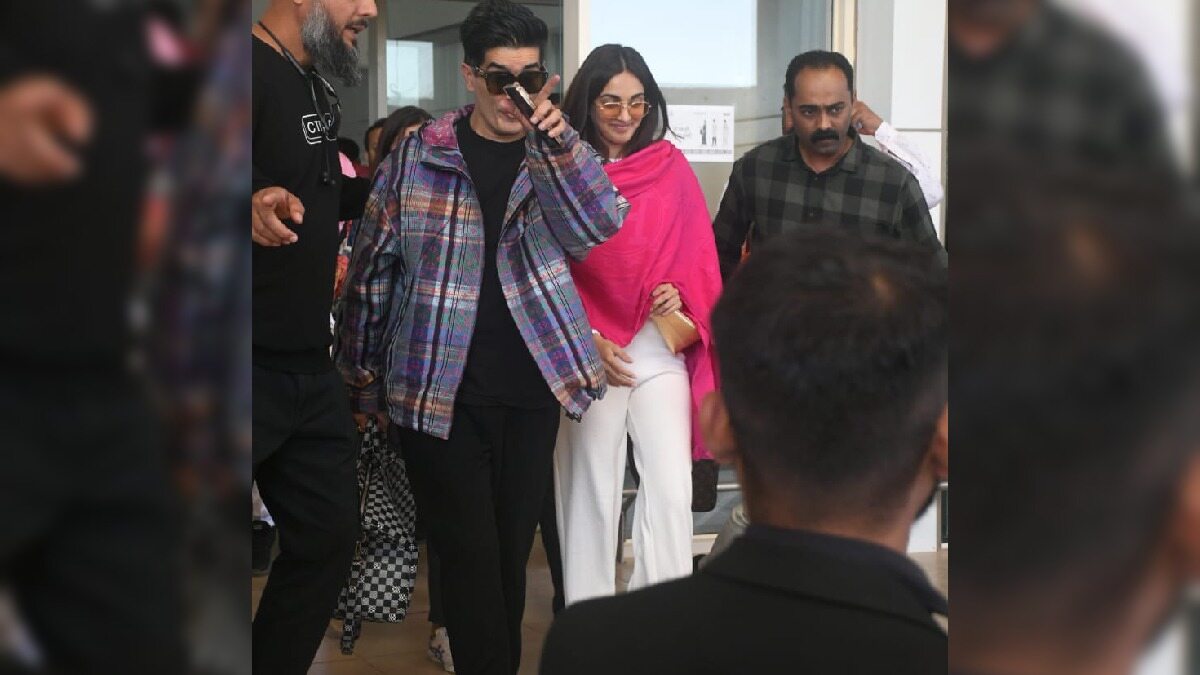 Advani and Malhotra, who appeared on various episodes of the last season of Karan Johar's talk programme Koffee With Karan, were questioned extensively about their relationship. Are you denying your relationship with Sidharth, Karan Johar asked Kiara. I'm not denying or accepting, she said. After that, KJo enquired, "Are you close friends?" More than just close buddies, the actress remarked. Kiara responded, "I definitely see that in my life, but I am not discussing that on Koffee With Karan," when asked about her upcoming nuptials.
Don't Miss: Sidharth Malhotra-Kiara Advani Reportedly Scouting For Wedding Locations In Chandigarh
Malhotra responded to all the articles regarding his wedding in a recent interview with GOODTiMES and said, "Shaadi mujhe kisine invite nahi kiya (Nobody has invited me to the wedding). No one has invited me to the public, not even the public. I've read the dates again and will also take a quick look. Do I have a wedding?"
Did you like this article ?