Mehendi is a part of Indian culture be it any religion. It is extremely important what designs we get done, who our artiste is and how strong a colour does it have in the end. Also known as Henna, it is considered auspicious and it signifies the bond of holy matrimony.
To make your mehendi ceremony special and to get the best designs easy, we have for you the top mehendi artists from all corners of India.
Veena Nagda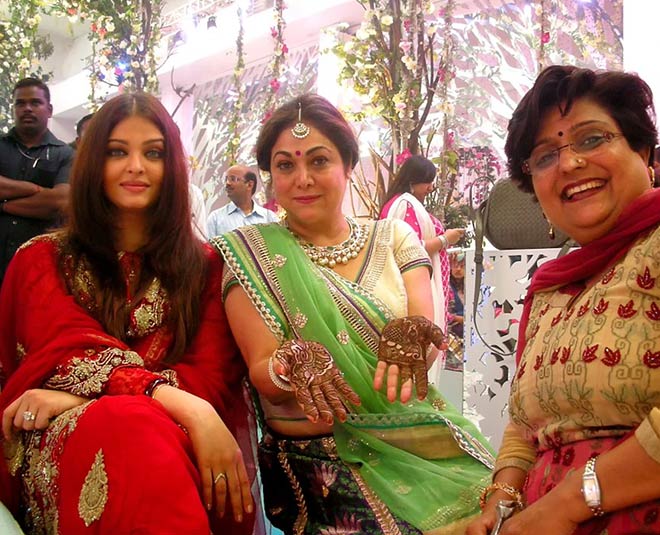 She is the life and a good luck charm for all celebrities! There is hardly any celeb wedding that Veena has not been a part of. Based in Mumbai, she has beautified most Bollywood brides, including the new bride Deepika Padukone, Sonam Kapoor, the Ambanis, Shilpa Shetty, Karisma Kapoor, Twinkle Khanna, and even the late actress Sridevi got her hands henna-ed by her every karwachauth. She is known for her unique designs and embroidery-like styles.
Usha & Ekta Shah
The mother-daughter duo is extremely famous among in the film industry and other high profile weddings as well. Their work is known across borders too. They are popular for their amazing designs have worked with famous celebrities like Aishwarya Rai, Kajol, and Nita Ambani.
A. Shriniwasan
This Delhi-based mehendi artist is one of the best. He is known for his tidy, original and intricate work. Famous among celebs, he has been in the field for almost 20 years.
Geeta Patel
Based in Mumbai, Geeta too has been in the field for 20 years. She excels in designs like Arabic, Indo-Arabic, floral styles, traditional, zardozi and many more. She is a team with her daughter-in-law Purvi, who too has 10 years of experience in bridal mehendi.
Read More: Meet The Celeb Mehendi Artiste And Why She Is Lucky For Bollywoood
Prakash Mehendi Artist
A Delhi-based mehendi artiste, Prakash specialises in this art since 10 years. He offers many styles for brides. his designs could go from Bohra style to any other regional styles. Besides his designs, the man is famous for his speed, clarity and the beautiful colour his mehendi leaves.
Shringar Bridal Mehendi
Extremely creative with their designs, this group of Chennai based mehendi artists uses 100% natural mehendi powder, which gives a beautiful colour to the art. Mind you they are affordable as well.
Manisha Modi
Again based in Chennai, Manisha is very original, fast and very neat with her work. Her designs are said to be unmatachable and very unique. She is very popular with young brides.
The best fact is that these artistes travel the world so it does not matter where they stay. Get in touch with them and rope them in for your upcoming functions ladies!