Looking for that special design of feet mehendi for your wedding day? Your search for the perfect design finally ends here. From minimal motifs to intricate patterns, we have compiled the best possible variants of mehendi designs for you. Read on till the end and pick your favourite one.
Mesh Mehendi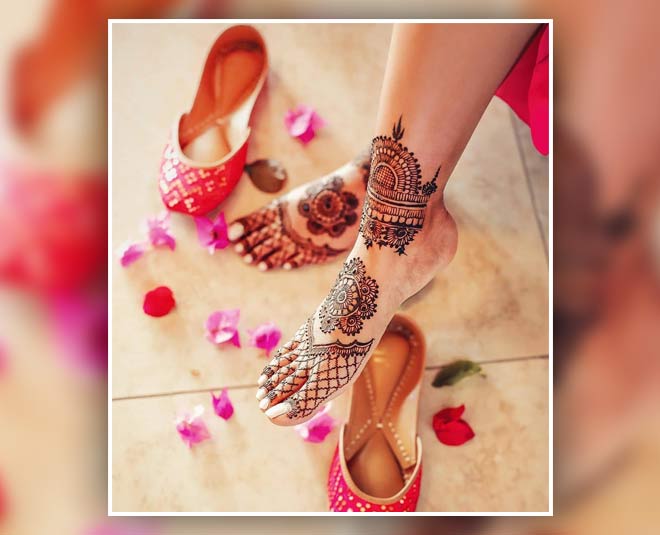 Image Courtesy: Weddingz.in (Instagram)
Also known as 'Jaal' mehendi, these mesh mehendi designs have been quite popular with brides, since time immemorial. They not only look symmetrical but also aesthetic. You can also make some add ons along with it, such as flowers, leaves, hearts or any other element of your choice.
Floral Mehendi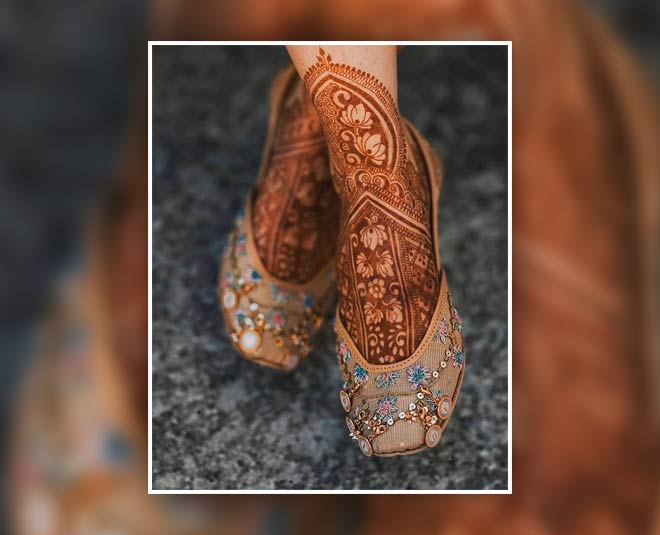 Image Courtesy: Weddingz.in (Instagram)
Flowers are a happy-go-lucky design, which looks stunning on both hands and feet. With layered petals and a combination of leaves, floral mehendi design will instantly bloom up your whole look. When synchronised with hand mehendi design, these blossoming patterns will look stunning.
Quirky Mehendi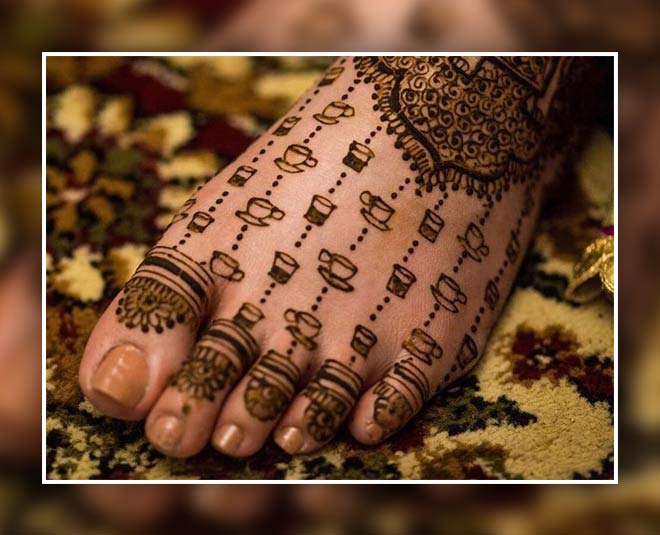 Image Courtesy: WedMeGood (Instagram)
Mehendi designs leave a lot of room for experimentation and when it comes to out of box designs, there are tons of things you can do with it. For all the chai and coffee lovers, this design is perfect for you. With cute little cups of coffee, combined with some traditional mehendi pattern, this unique design is specially curated for you.
Traditional Motifs
Image Courtesy: Weddingz.in (Instagram)
Traditional motifs basically include basic mehendi design, which is made by leaving some part of the skin bare. This highlights the design, while keeping it minimalistic. You can choose this design, if detailed mehendi patterns are your type.
Don't Miss: 8 Stunning Bags For Brides To Carry On Their Special Day
Elephant Design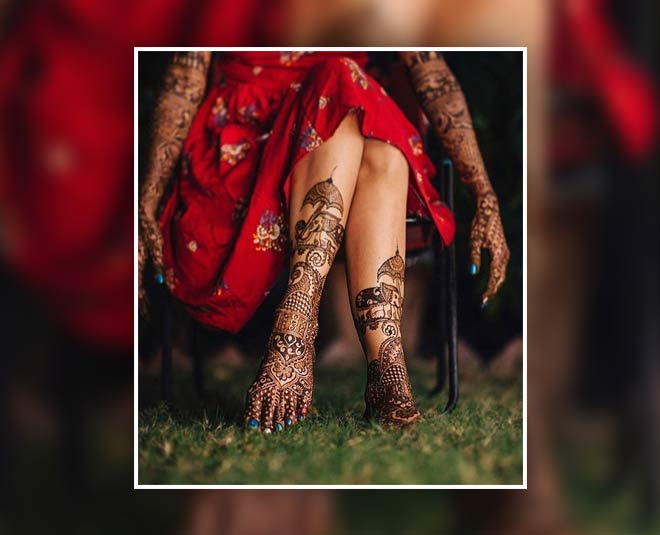 Image Courtesy: Weddingz.in (Instagram)
Elephant mehendi design is one of the most famous designs chosen for foot mehendi. This beautiful pattern will not only give your hand a royal feel but also give your feet a classic look on your wedding day.
Peacock Design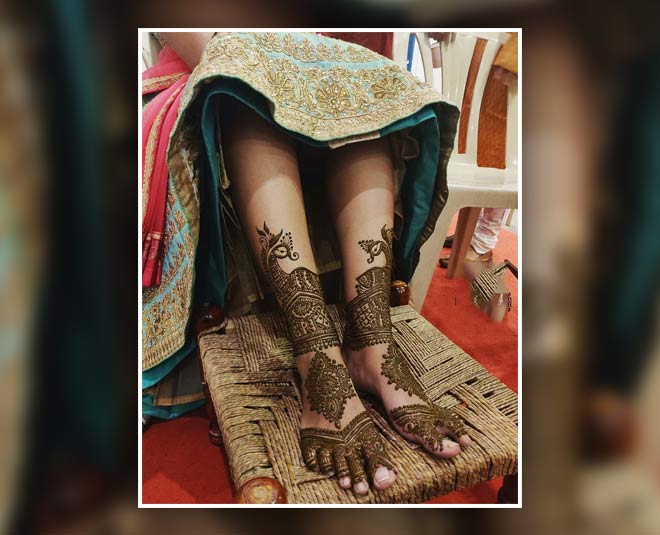 Image Courtesy: WedAbout (Instagram)
If birds and figures woo you, then this mehendi design is perfect. With sleek and elegant peacock figures, this gorgeous design will sweep you off your feet.
Don't Miss: Bridal Eye Makeup Guide: From Smokey Rose To Golden Hues, Pick The Look You Want
Unique Designs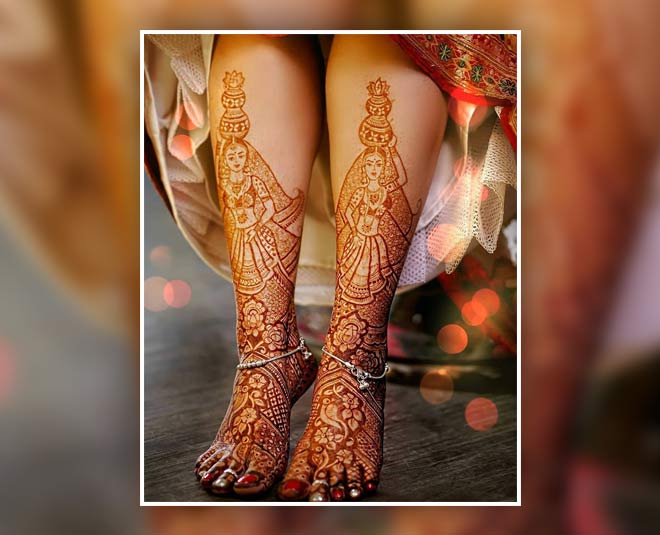 Image Courtesy: WeddAbout (Instagram)
How stunning is this full-feet mehendi design, with a female figure on top? With a touch of grace, this Rajasthani mehendi is a must-try, if you are looking for some unique patterns. Its appealing design, with a woman some earthen pots will surely grab all the eyeballs.
Circular Mehendi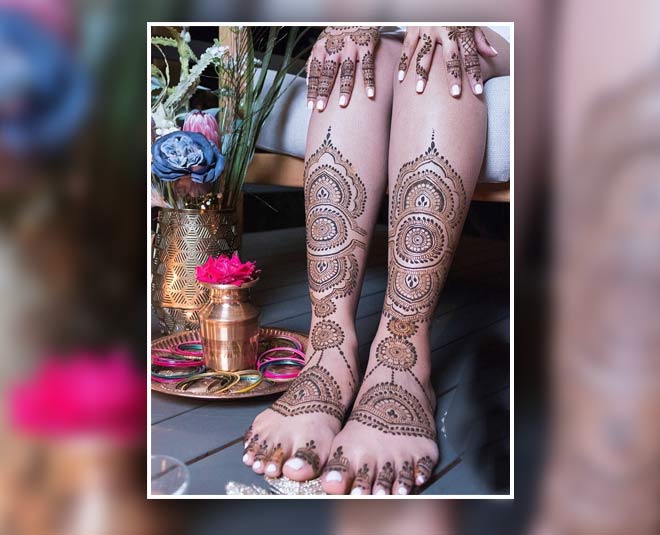 Image Courtesy: WedAbout (Instagram)
These concentric circles lined on top of one another, will give a refreshing look to your feet. It will give a break from the monotonous designs made up of lines, flowers and motifs, by giving an exquisite look to your mehendi.
Arabic Mehendi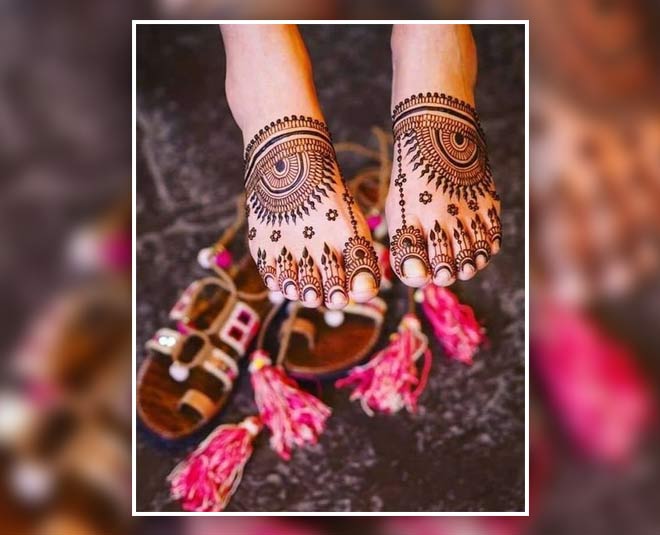 Image Courtesy: Weddingz.in (Instagram)
When talking about mehendi, how can one forget about arabic mehendi designs. These go-to designs are the most favourite ones, of all women alike. Made with circles, leaves, motifs and climbers, this design is here to stay for long. When donned with your bridal lehenga, this pattern will give you the picture-perfect look.
Minimal Mehendi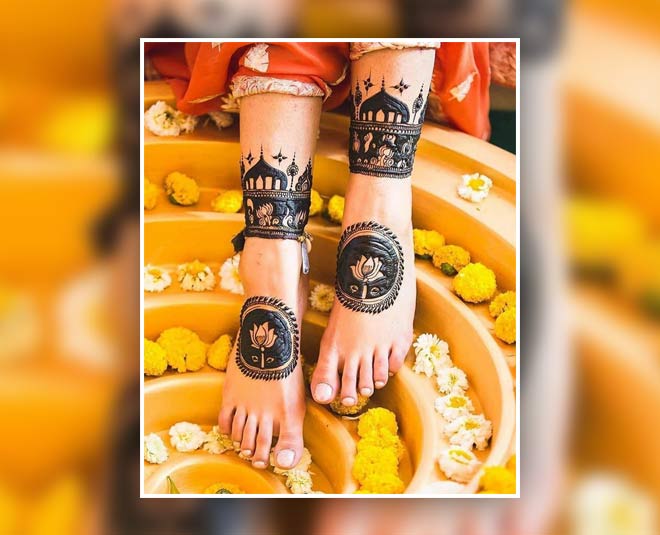 Image Courtesy: Weddingz.in (Instagram)
If keeping it chic yet minimal is your style, then this design is ideal for you. With a basic yet impressive design, this mehendi pattern will ensure that you don't go overboard with it.
So, all brides-to-be, take notes and bookmark your favourite feet mehendi design to get made on your special day.
For more such bridal tips and ideas, stay tuned to HerZindagi.com
Did you like this article ?