We are almost ready to bid adieu to 2021, but before that, there is one of the merriest festivals we have to celebrate Christmas. While decorating homes and baking cake is all fun, Christmas can't be considered complete without glamour and fashion! That's why we bring some unique and amazing Christmas-themed eye makeup looks that will help you turn heads on the day!
1Sweet Santa Eye Makeup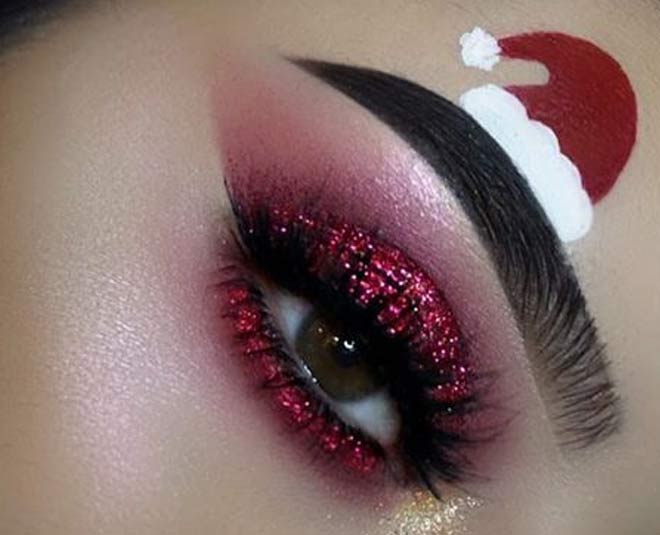 This Santa-inspired eye-makeup might look tricky at first. But all you need to do is play with red glitter eye shadow, and finish it off with a thick coat of mascara. Lastly, also sketch a cute Santa cap above your eyebrow.
2Snowman-Inspired Eye Makeup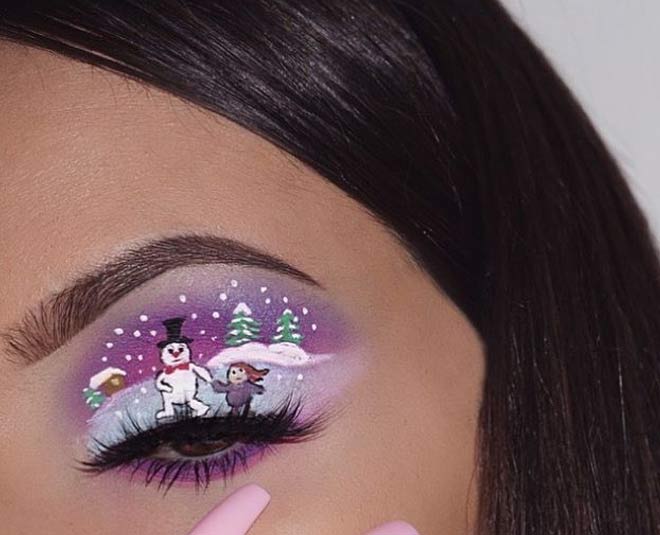 No matter how old we grow, we will always have a soft corner for the snowman! If you want to exude that love from your eyes, try this stunning snowman-themed eye makeup look.
3Gold & Glitter Eye Makeup
If you don't feel sure about painting too much on your eyelids and wish to keep it simple, go with this striking look. It has been created using just two, yellow, orange eye shadows and has been finished off with star and glitter stickers.
4Jingle Bells Eye Makeup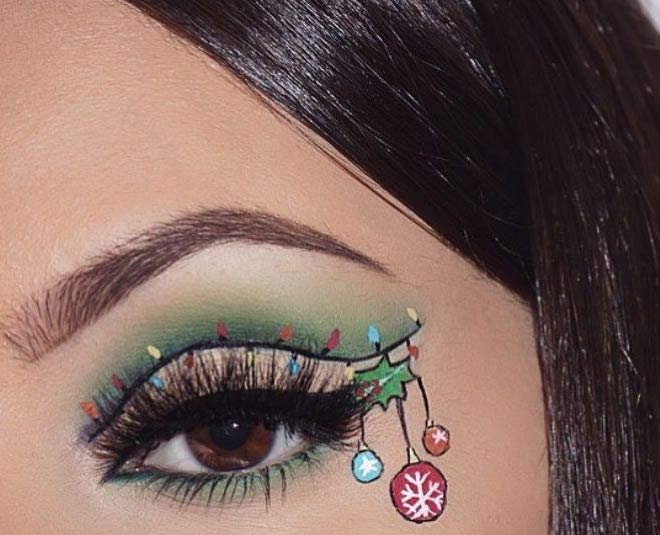 There is no Christmas without Xmas tree and jingle bells! Show some love from them by finessing this eye makeup look for the party eve.
5Multi-Hue Christmas Eye Makeup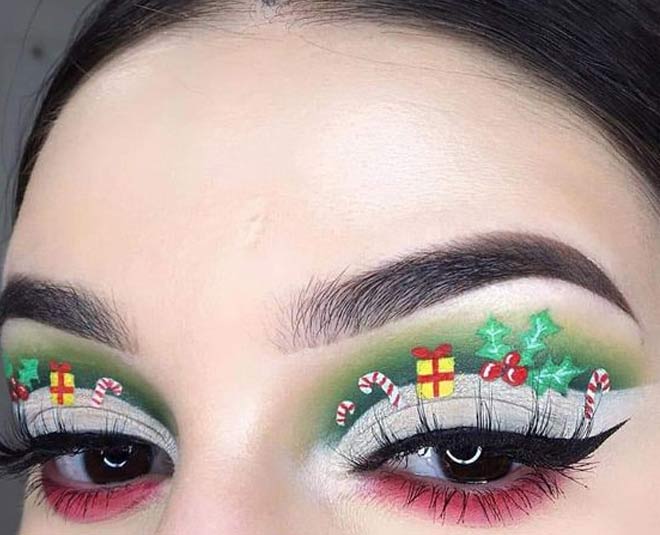 The main colour of Christmas remains green, red, and white. This look has it all! If you are not scared to go overboard with eyeshadows, we suggest you must try this look.
6Green Glitter Eye Makeup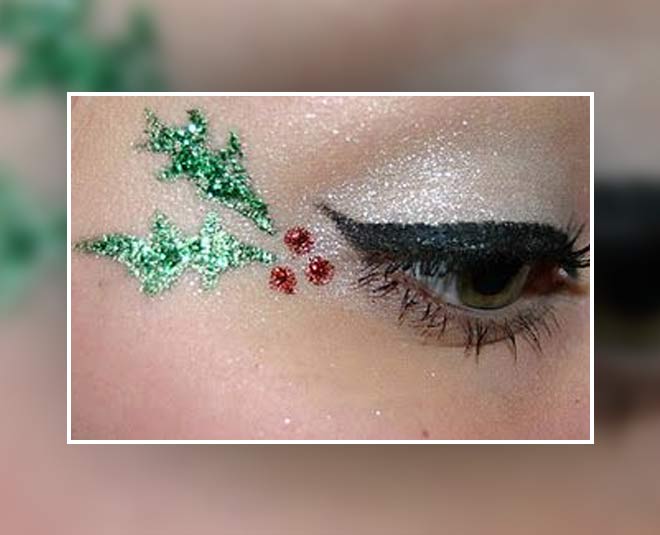 We know not everyone is not a huge fan of using too many colours. For minimalistic makeup lovers, we got something for you too. The eyelid has been adorned with black liner and the Christmas punch has been added by painting green tree leaves on the corner of the eyes.
7Gold Snowflake Eye Makeup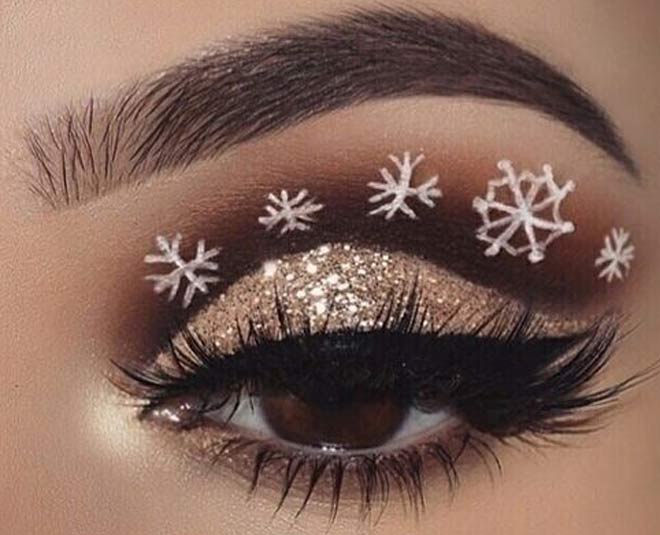 Gold stands one of the favourite shades when it comes to the party makeup look. Club gold with white snowflakes to complete your Christmas look.
8Christmas Tree-Inspired Eye Makeup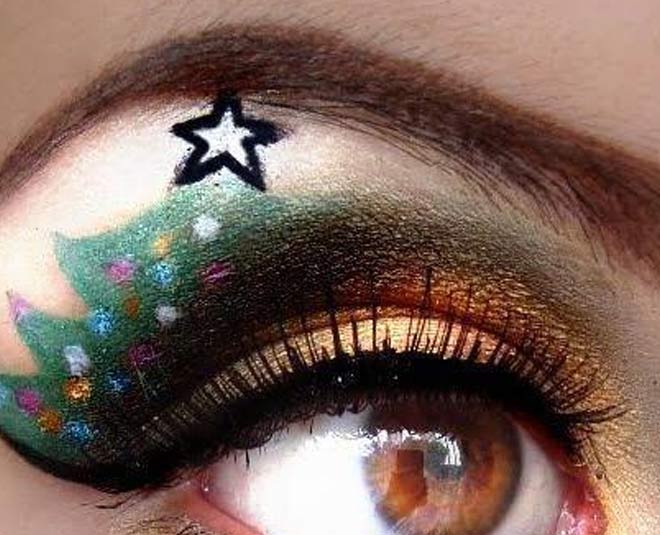 If you are wearing something green, going by the traditional Christmas theme, we recommend you try a similar eye makeup. Something like this that has been inspired by the Xmas tree.
9Frozen Eye Makeup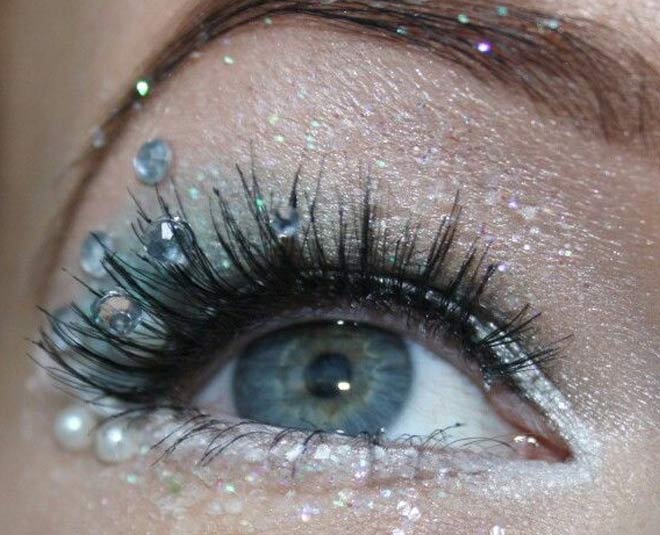 Playing around with the hues of a similar shade can give you something as gorgeous as this icy eye makeup look. We love how it has been adorned with white and ice-blue beads.
10Rich-Red Eye Makeup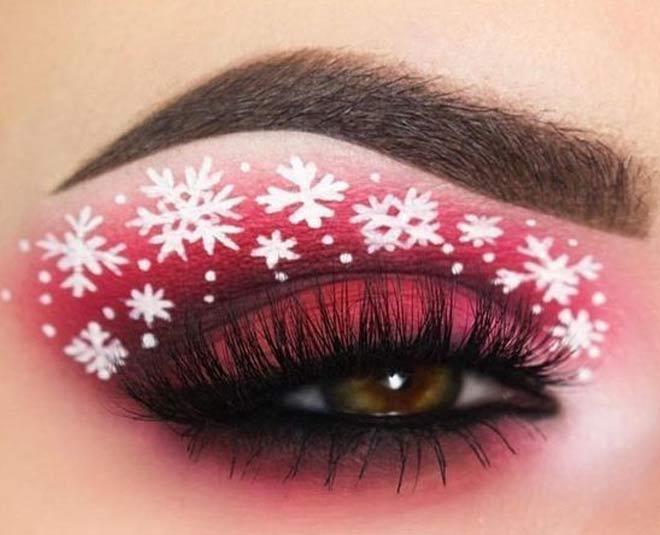 If you are donning a shiny and shimmery attire, you can club it with this fabulous rich-red eye makeup look. It is glamourous and the snowflake art is completing the Christmas theme.