With the festive season on, which includes Janmashtami, Ganesh Chaturthi, Hartalika Teej, Onam, Durga Puja, Navratri, and Abhaneri Festival, take out your chandbaalis & anarkalis and get set to dazzle. Here are some inputs from Dr. Bharti Taneja, Founder of ALPS Beauty Group on makeup trends that will give your whole look a definite edge.
Luminous Skin
The easiest way to perk up dull and tired skin is with a foundation that covers all your dark spots or blemishes and gives you a healthy glow. However, if not applied right, the foundation can turn cakey after a few hours. Wait, worry no more as we know the trick to fix it. Spray some fixing spray on your sponge and then set the foundation with it. Blend nicely. Fixing spray will ensure that your foundation stays flawless for hours.
All Over Glow
The highlighter is riding high on the makeup trend wave year after year. And why not? It's one product that gives your skin an unparalleled radiance. Highlighting is important when you instantly want to light up. But, do not overdo it. Lightly coat your pointer, middle and ring fingers with a highlighter and then gently tap your fingers up & down your cheekbones. Then dab the leftover on the tip of your nose and the center of your chin. Buy Maybelline New York Face Studio Master Chrome Metallic Highlighter, Molten Gold for Rs 385, here.
Get Blushing
The rosy sheen goes well with an ethnic look, especially if you do not want too much makeup but still want that feel of healthy, rosy skin. That soft, healthy glow goes beyond trends & seasons, and it is considered the most endearing look of all time. First, dab a creamy blush in the centers of your cheeks and then blend it out for the most natural-looking color. To make it long-lasting, dust over some powder blush. Cream blush followed by a powder one will give your makeup a salon-like finish in seconds. Buy Maybelline New York Blush, Wine 50, for Rs 440, here.
Don't Miss: Chinese Women Have Amazing Skin Thanks To These Ancient Beauty Secrets!
Power Brows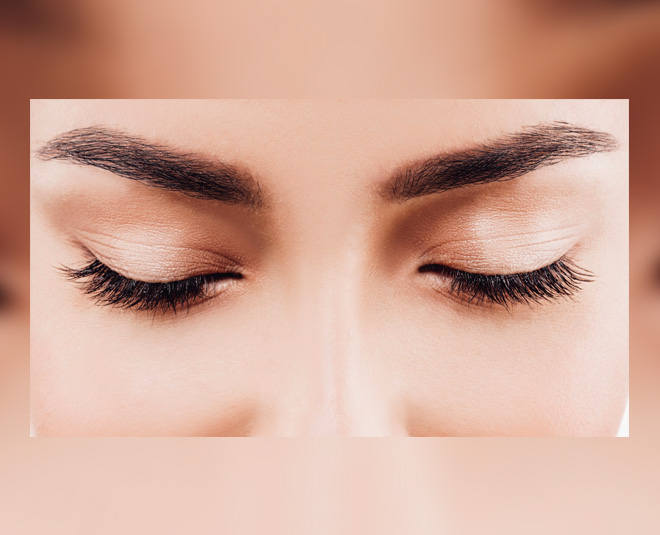 The quickest ways to frame or define your face is to give your eyebrows a little more power and depth. Probably this is one of the easiest and fastest tasks to accomplish. It will take a few seconds only. Take your mascara brush and spray some hairspray on it. Now brush your eyebrows with the mascara brush in an upward direction. Besides a neatly done look, this will also give your brows that much-desired high arch.
XL Eyelashes
The eyelash game is getting bigger and better each year. False eyelashes make your eyes look ultra-dramatic. When it comes to applying eyelashes, practice makes a woman perfect. Carefully apply the glue and let it dry for a while, so that it does not get too clumpy when you apply. Finish off with generous coats of mascara to take your eyelash game to the next level. Buy Generic, Fibre Fashion Beauty Makeup Handmade False Eyelashes Messy Cross Style for Women, (White)-5 Pairs, for Rs 127, here.
Soft Glam
For all those girls who want to keep their makeup subtle, soft glam is the word. It is easy-breezy and looks good on everyone. Prep up your skin with a good moisturiser. Even out the skin tone with a liquid foundation. Complete the look with rosy lips and a heavy pat of blush. Keep the eye makeup light too.