Tinaa Dattaa rose to fame with her spectacular acting in Color's TV daily soap, Uttaran. Her characters Ichha and Meethi are still adored by all her fans. She, who started her career at the age of 5, is now all exhilarated to make her digital debut with Zee5's original web series, Naxal, alongside ace actors Aamir Ali and Satyadeep Mishra. During an exclusive interview with Hz, she shared her excitement towards her new project and said, "I am really very excited about Zee5's Naxal. I always wanted to enter the digital platform, hence I am really looking forward to it."
Amid the current coronavirus pandemic, the actress is shooting in Goa and seems like, it is a bit hard to stay safe and to give the best performance with everything that is going on. "The biggest problem in a shoot during coronavirus pandemic is wearing a face mask. While you want to keep yourself and others safe, as an actor, you can't wear a mask, throughout the day on the set, especially once you wear makeup. Also, I can't wear a face mask for too long, as I believe there is a lack of oxygen in my body," revealed Tinaa.
Don't Miss: Five Natural Tips To Avoid Acne, Pimples From Wearing Face Mask
Tinaa Relies Heavily On Aloe Vera
Currently, the humidity levels are very high in Goa and such weather can become a real challenge, not just to remain healthy, but also to maintain the quality of the skin. Tinaa, who is blessed with great skin, knows exactly how to care for it, given any situation. "To deal with such weather, I carried an aloe vera leaf from all the way from Bombay and I kept it in the refrigerator. Every day I chop a piece of it and apply it on my skin, this really helps in all kinds of situations and has no side effects, at all. Other than this, I follow a lot of desi nuskhe, such as applying honey, curd, and haldi (turmeric benefits) on my skin," told Tinaa to Hz.
Tinaa Loves Using Baby Care Products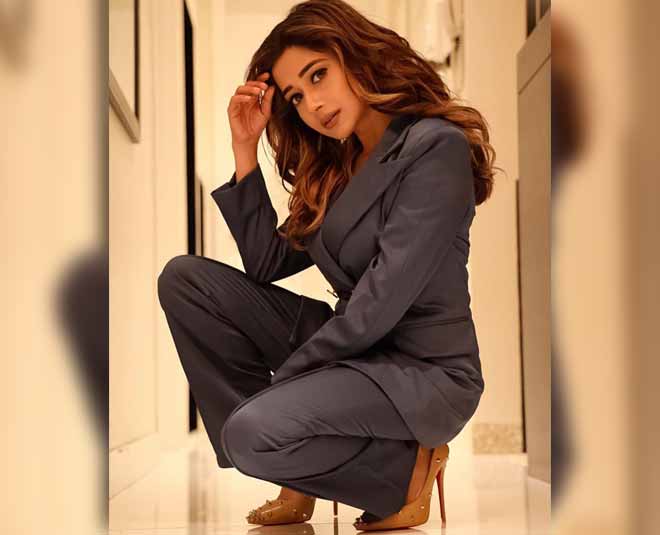 As an actor, Tinaa has tried and tested a lot of different kinds of products, but, her ultimate love is Johnson baby care products. Revealing the reason behind the same, she said, "I do not use a lot of chemicals on my face and I don't even do facial. The only thing that suits my skin is Johnson products since I have very sensitive skin. Johnson is a baby care brand and it is made for skin that is really soft and gentle, so under no circumstances can it cause any harm. To be honest, this is the only product that I have been using since I was a child, until today. It has no side effects, therefore when it comes down to skincare, I use Johnson," said Tinaa.
Don't Miss: Toner Or Moisturizer? What To Apply First? Here Is The Right Skincare Guide For You
Chocolate Helps Her Maintain Skin Quality
Chocolate is generally known to relieve a person's stress, but according to Tinaa, eating a small piece of chocolate bar regularly can also amplify the quality of one's skin. "For my skin, I eat a piece of chocolate bar on a daily basis. Not like the whole bar, but just a part of it. It really helps to enhance the quality of the skin," said Tinaa.
"Then I also drink a lot of water, and take multi-vitamin tablets. All of these together keeps the skin from having any breakouts or problems that people generally face, due to lack of nutrient and proper skin care regimen," added the 28-year-old star.
Her Favourite Makeup Products
When you have good skin, makeup also tends to look nice. Tinaa, who believes that "beauty is just confidence and happiness that reflects on the face," uses very limited products, and some of them are MAC and Bobby Brown. "I like the base from Bobby Brown and I love MAC products also. I use both for different purposes. But, when it comes to eye products, I only use Renee, eyeliner, lashes, mascara, and shadows, all by the same brand," she revealed.
Tinaa Uses A Mild Soap Bar To Clean Her Face
As per the actress, it is imperative to clean the upper layer of the face before hitting the bed. She follows the same mantra, but to take off her makeup, Tina uses a mild soap bar. "I clean my face very nicely before going to bed. But, unfortunately, face wash doesn't suit me, so I use a Dove soap bar. I don't recommend this to everyone, because I have sensitive skin type and things like this might not suit everyone. I clean my face, and I apply my Johnson moisturiser and sleep. The key is to not let the skin become dry," concluded the actress.
If you liked this article, do comment on our Facebook page. Stay tuned to HerZindagi to read more such articles.