Have you ever wondered, how one kind of shampoo, oil or cream can work for so many people? There are gazillion skin types, hair types with a zillion more concern points, and yet, off-the-shelf beauty products claim to work for everyone.
But they don't, do they? I have used volumizing shampoos that end up giving me a dandruff problem or replenishing skin masks that leave me with painful pimples. Suffice to say that we are all unique, with unique dermatological needs and a general product would not do us justice. In fact, going by my experience, it could do you more harm than good. Which is why the idea of a product that comes uniquely designed for my hair and skin is instantly appealing. Vedix is a Made in India brand that has pitched itself as a brand that is customized to rectify your specific problem areas and cater to unique needs. I decided to test the claims and give you my honest review in HerZindagi's segment Tried and Tested.
The Promises
Vedix's biggest promise is that the products are not one particular formula and that every buyer will have a concoction made specific to their needs. And so the first step at being a Vedix customer is to get your Parkruti determined. This concept goes back to the essence of the science of Ayurveda that analyses individuals through their Doshas- Vata, Pitta and Kapha. So with an analysis of what Vedix calls 'Dosha Profile', a unique concoction of herbs and oils are prepared specially for each and every buyer.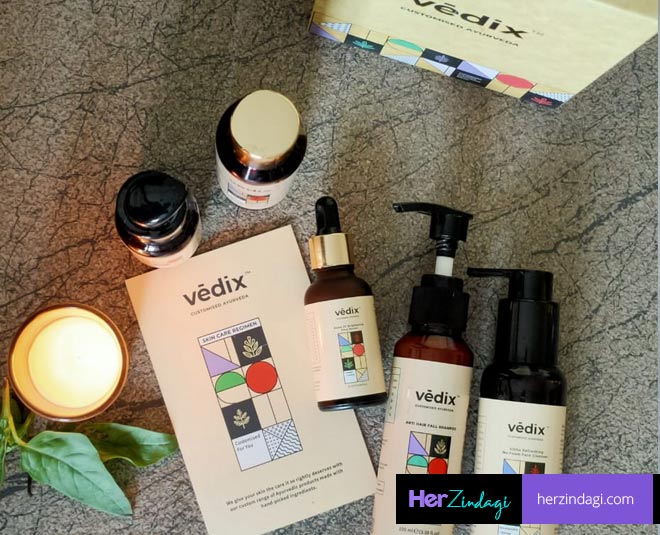 Like me, if you are choosing Vedix for the first time, you will be asked to take the "Know Your Hair/ Skin" quiz which will help the experts determine your specific needs. The report will give you an understanding of your requirements as well. Products are then suggested as per the needs and goals along with a usage plan. It is all quite systematic and frankly quite impressive.
Price
One time cost of a hair care or skincare box would put you back by approximately a thousand rupees, but Vedix website will give you plenty of discounts on subscriptions of monthly, quarterly or yearly supply. Buying the products individually would be more expensive than going for the regimen box.
Quantity
Every Vedix box comes with three products. My Vedix hair care box came with a 100 ml bottle of onion and Indian licorice anti-hair fall oil, 100 ml of anti-hair fall shampoo and 20 ml of regrowth serum. As for my skincare box, it carried a 100 ml pack of Vibha refreshing no foam face cleaner, 40ml bottle of Niraj Hydromatte oil-free face gel and a 20 ml pack of Aloka VC brightening face serum. One box would easily last a month, perhaps a week more.
The Claim
Vedix claims that every product is tailor-made to the buyer's needs. Ayurvedic doctors are behind the products made and sold at Vedix. Vedix also has certification from FSSAI, claims to be chemical-free, gluten-free, dairy and soy-free, animal testing free. The claim Vedix makes is to get to the root cause of the problem, skin or hair, and work on remedying it, instead of superficial cosmetic changes. Vedix does not claim showing speedy results, the products need to be used for a minimum of 45 days to start seeing the results. Since my problem area, as identified by my Dosha Profile was hair fall and skin aging, my box came with the claim of giving me a smooth, thick mane and reducing fine lines and spots from my facial skin.
Shelf Life: 2 years
The Packaging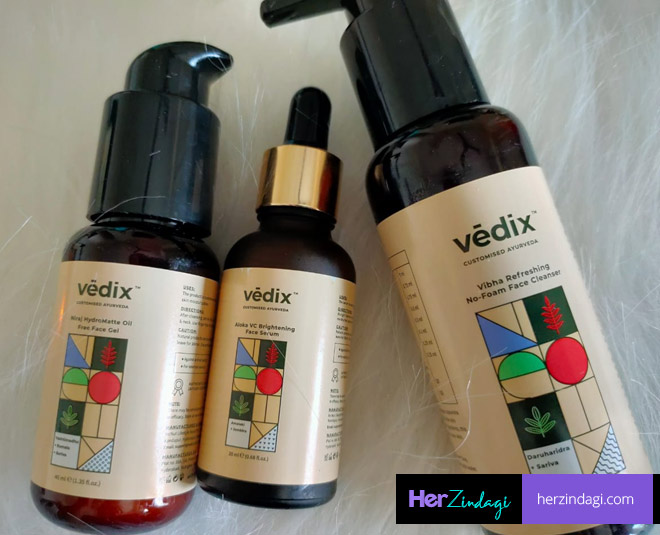 Dark brown plastic bottles with tight fighting golden caps make for good looking, travel-friendly packaging. The branding, ingredients, price, instructions etc are clearly visible on the packaging. The shampoo, face cleaner and the face gel come with a pump dispenser and the serum comes with a cutesy dropper.
Fragrance
The skin products are faint and pleasant smelling. My face cleanser has a distinct basil yet citrus smell, which is quite interesting for a topical product. The hair oil has the typical herbal aroma one would expect from an ayurvedic product.
Consistency
All products in both my boxes have a light and highly absorbent texture. The hair oil easily massages into the scalp and evenly spreads on hair length. The face gel is super light and perfect for summers. I especially found the texture of the serums very good. Thinner than oils yet slightly more viscous than water. The face cleanser has a light and gentle scrubbing property and is non-foaming. Vedix warns that there may be variations in colour since these are natural products with no chemical stabilizers, but they assure that the efficacy remains unaffected.
My Experience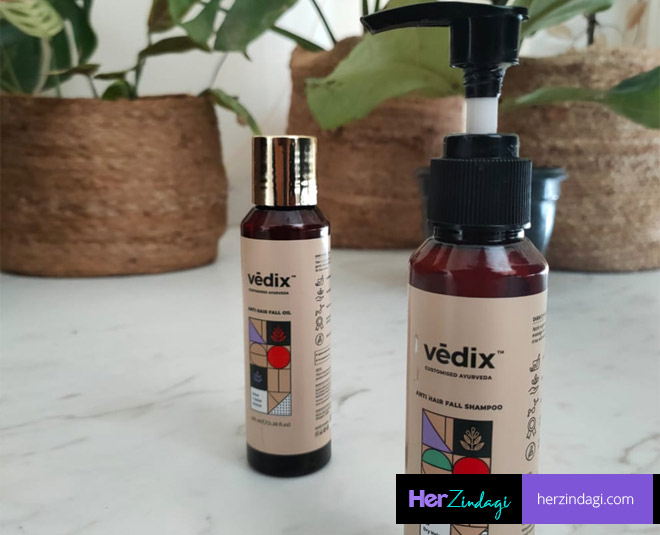 The initial process of Dosha Profiling and finding out more about your skin, hair and immunity, that Vedix does for each customer, has you invested. I was excited to start the regimen as soon as the boxes arrived. The challenge for me was to stop using all other fancy, read chemical laden, hair and skin products for the next 45 days to start seeing the results of Ayurveda. I started light oiling my hair, every alternate day, as prescribed.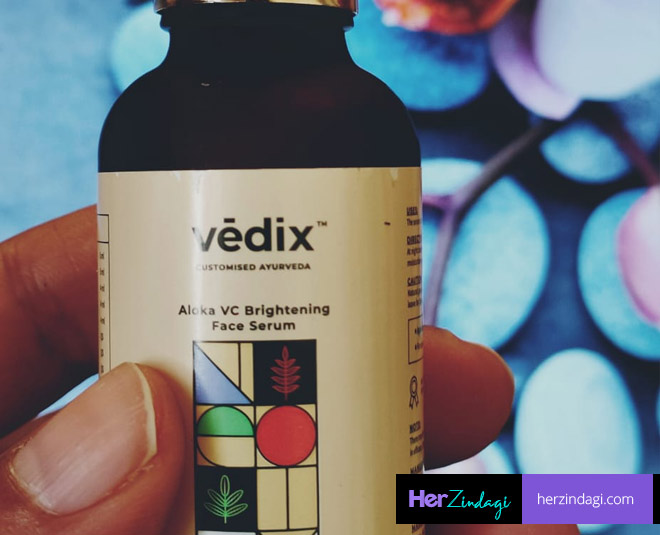 The oil wasn't strong smelling, and thanks to work from home, I didn't need to wash everyday. The shampoo is effective and two pumps and one wash was all it took to rinse off the oil. I did miss the conditioner the first two weeks, but the hair serum pumped up life and smoothness to my scalp.
I simultaneously started the skin regimen as well. It takes getting used to a no foam face wash, and this one is hundred percent no foam. At night, I follow this up with the serum, which just glides over my skin, and since I know it has no chemicals, I even spread it over my lips. After about half an hour of using the serum, I use the oil free face gel.
The Observations
After almost two months of following Vedix regimen, I can assess the impact of the products. But some positive signs start showing early. The first thing I noticed was that the strange, inexplicable itch I got on my scalp a day after hair wash, soothed with the oiling. The brittle texture of my hair has improved as well, and my wavy hair look nurtured instead of dry and rough. Hair fall has not completely stopped, but I do observe far less hair on my pillow and scrunchy. The shampoo and serum leave my hair fresh and lustrous. As expected the results are not big and in your face, but there is a slow improvement and I can see that.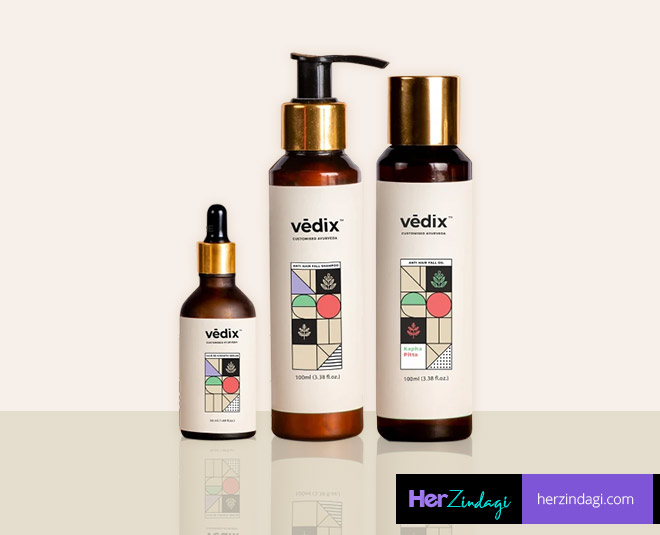 The first two days of using the face cleanser were tough, because I was not just comfortable with the idea that a no foam face wash would actually be able to pull off the dirt and grime from my skin. A few days, I did use the foam face wash, especially when I was exposed to dust, but now after using all three products in the skin Vedix box, my skin is giving positive signs. My face skin feels taut, and the acne scars are fading. While my skin would feel greasy in mornings, it now looks fresh and glowing. I am also happy with how even my lips feel more soft and supple.
Don't Miss: HZ Tried & Tested: Detailed Review Of Kama Ayurveda Bringadi Intensive Hair Treatment
Pros
100% chemical free
Personalised beauty regimen
Treats the root cause of problems
Pleasant smells and textures
Travel friendly packaging
Effective in the long run
Cons
No immediate results
Could cause allergies to some people. Skin patch test is recommended.
Can only be purchased from Vedix website
One would need to use the regimen for about 2 months to see if it actually works for you.
My Verdict
After all the stress that I have given to my hair and skin by using harsh chemicals and quick fixes, I am happy to use the Vedix regimen. It is an earnest product that keeps quietly doing what it is supposed to do. And then one day, without the fanfare and flashy lights, it just delivers. I plan to continue my Ayurvedic cleanse with Vedix.
Rating
4.5/5
Stay tuned to HerZindagi for more such product reviews.