We have finally started stepping out of the house again with necessary precautions but the heat and sun rays have become stronger this Summer. This brings us to the fact that protecting our skin from direct sunlight is very important as well. If you have dry skin but looking sunscreen which is weightless and gel like then this list is what you need. All the sunscreens listed below fit all budgets and have so far gained the best reviews. Also, if you are lucky then you will get them at cheaper rates online during sales.
Dermafique's Soleil Defense
Invest in this gel creme weighing 50 gms for Rs 749. It is a gel-based sun protection formula which aims to shield your skin from visible light, infrared rays, UVA and UVB. UV rays lead to tanning, signs of photo ageing, heat generating infrared rays which cause skin damage and can eventually lead to elastosis. This gel creme suits all skin types.
Neutrogena UltraSheer Dry Touch Sunblock SPF 50+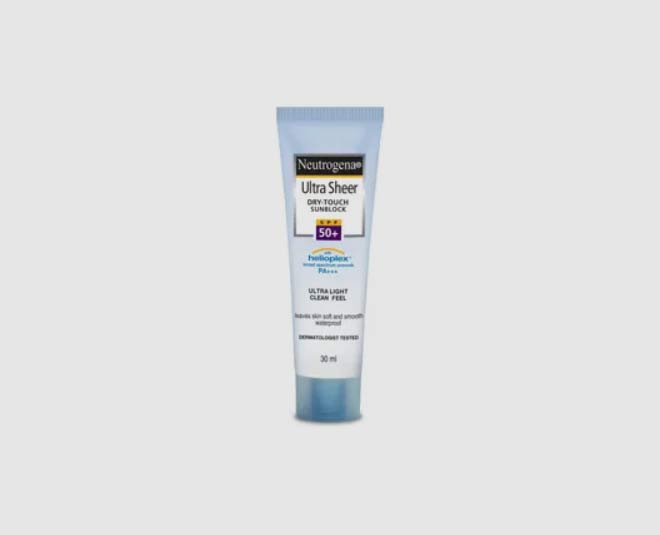 Buy this 30 ml tube for Rs 250 as it has Helioplex Technology which as the brand explains, offers powerful protection against sun damage and leaves a weightlessly invisible feeling on your skin. It gets easily absorbed, is oil free which makes it non greasy and shineless. It does not even clog yur pores as it is PABA free and non-comedogenic.
Lotus Herbals Safe Sun UV Screen Matte Gel Pa+++ SPF - 50
Buy a 50 gm tube for Rs 335 of this sunblock which is non-oily, is gel based and has the goodness of comfrey and vanilla extract with horse chestnut. It saves your skin from sun damage, sun tan and premature ageing and helps prevent skin cancer. It gives a matte feel and leaves a soothing effect.
Cetaphil Sun SPF 50 Light Gel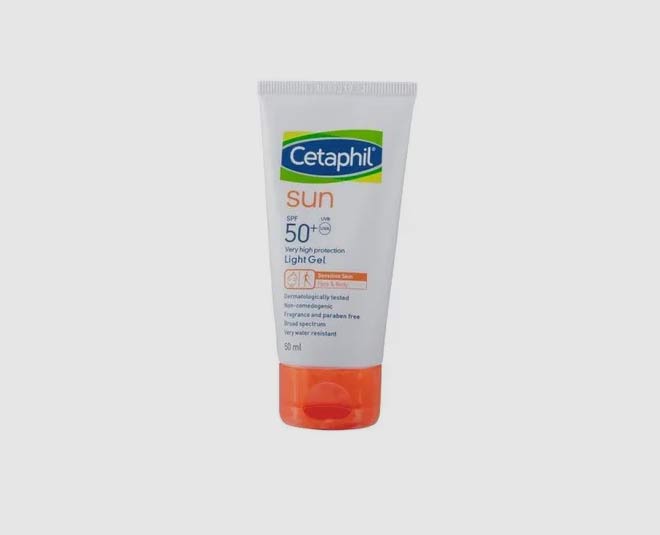 Buy the 50 ml tube for Rs 990. Cetaphil Sun protects from UVA, UVB and infrared radiation both indoors and outdoors. It is made using chemical and physical filters and is a gel based formula. As the brand claims, it prevent redness, sking ageing, sunburns and skin darkening. It contains vitamin E, water and is sweat resistent. It is sutable for all skin tyes and is hypoallergic.
Reequil Ultra Matte Dry Touch Sunscreen Gel SPF 50
Buy the 50 gm tube for Rs 695.The PA in this gel is the highest UVA protection level. As explained by the brand, it is non greasy and mattigys your skin and is very light. It is suitable for all skin types including sensitive skin. It is water and sweat resistant and can easily be applied in humid regions. It is cruelty free and dermatologically tested. The Reequil Ultra Matte Dry Touch Sunscreen Gel is silicone based.
Forest Essentials' SUN FLUID Tender Coconut Water With Turmeric & Basil Leaf SPF 50
Buy a 50 ml bottle for Rs 1175. This sun protectant is made with tender coconut water, fresh basil leaves and cooling aloe vera. It shields your skin from UVA/UVB rays of the sun. The presence of yashada bhasma increases the intensity of sun protection, and shields your skin from early signs of ageing and further enviromental damage. It has an ayurvedic formulation and protects you for upto 5-6 hours. It is blended with natural humectants to keep the skin hydrated. It is devoid of chemicals and parabens and the packaging as well is eco-friendly.
So take care of your skin this summer and stay tuned to HerZindagi for more such listings.
Did you like this article ?