On the occasion of Ram Navami 2022, wish your friends, family and all your loved ones with these greetings that can be shared on Whatsapp, Facebook, Twitter, Instagram and other social media platforms as well. Pick the one which resounds with you the most and feel free to forward, copy and paste the, from here.
1A Decent, Formal Wish
On this holy occasion of Rama Navami, I am wishing that the blessings of Shri Rama be with you. Your heart and home be filled with happiness, peace and prosperity. Happy Ram Navami.
2A Message On Unity & Encouragement
Ram Navami encourages equality and universal brotherhood. Happy Ram Navami
3Blessings Of Goddess Sita, Bharat & Lakshmana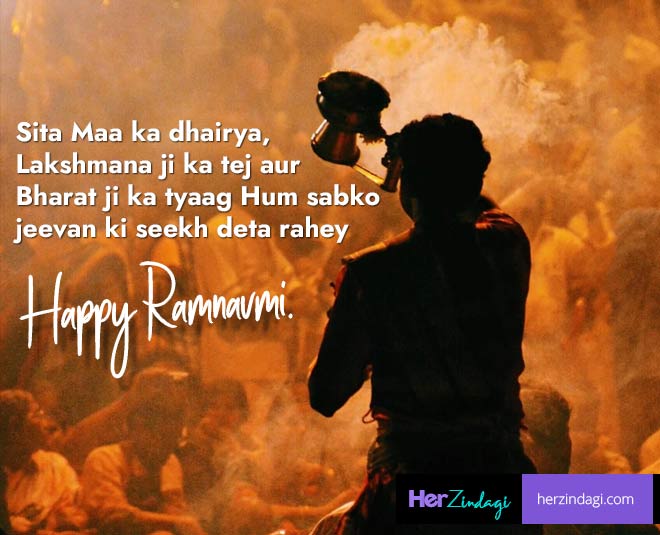 Sita Maa ka dhairya, Lakshmana ji ka tej aur Bharat ji ka tyaag Hum sabko jeevan ki seekh deta rahey Happy Ramnavmi.
4Wish Full Of Contentment
With the gleam of diyas and the echo of the chants, may happiness and contentment fill your life. Wishing you a Happy Ram Navami
5The Path Of Lord Ram
Rama for you should mean the path he trod, the ideal he held aloft, and the ordinance he lay down, they are eternal and timeless. Happy Ram Navami!
6Warm Greetings
May the great scion of the Ikshavaku clan, the successor of the Suryavanshi dynasty, Shri Rama, bless you on the auspicious occasion of his birth anniversary. Here's extending my warm greetings on Rama Navami.
7Siya Var Ramchandra Ki Jai!
Mangal Bhawan Amangal Haari, Dravu Su Dasharath Ajara Bihari, Ram Siya Ram Siya Ram Jai Jai Ram. Siya Var Ramchandra Ki Jai.
8A Decent, Wish Full Of Light For Your Loved One
Iss Ram Navami, Ram aapke jeevan me prakash laye, Ram aapke jeevan ko sundar banaye, Happy Ram Navami!
9A Fun Wish
Bajre ki roti, aam ka achar,
Suraj ki kirne, khushiyo ki bahar
Chanda ki chandni, apno ka pyar,
Mubarak ho aapko Ram Navami ka tyohar.
10Greetings In Sanskrit
Naumi Tithi Madhumaas Punita Shukla Paksh Abhijit Nav Preeta Madhya Divas ati Sheet Na Ghama Pavan Kaal Lok Vishrama
11Hail Lord Ram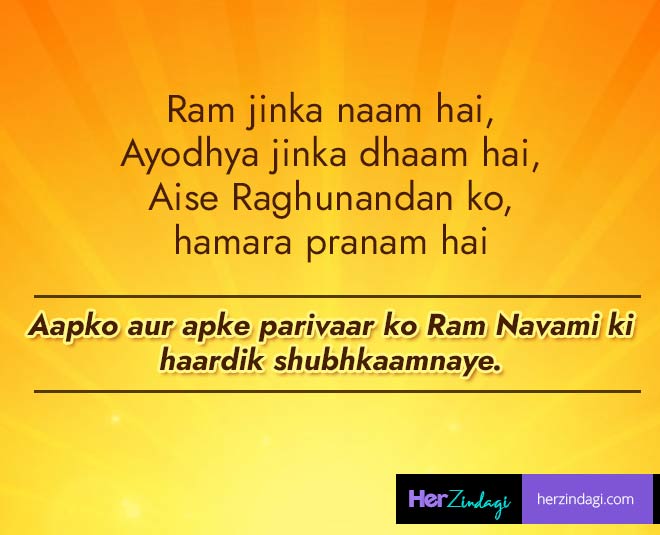 Ram jinka naam hai, Ayodhya jinka dhaam hai, Aise Raghunandan ko, hamara pranam hai, Aapko aur apke parivaar ko Ram Navami ki haardik shubhkaamnaye.
12Formal Wish For Colleagues
May Lord Ram Shower his blessings on you and your Family. I wish joy, Harmony and Prosperity on Ram Navmi for you and your Family.