When we are travelling, it gets a bit difficult to carry full-size perfumes. Sometimes the fixed liquid limit is an issue and sometimes it is the mere size and the glass bottle which takes up all the space and gets heavy in our bags. In such situations, we long for something pocket size and a perfume which lasts long as well and serves its purpose of making us smell good the entire day. To solve this problem, here are a few perfumes and deodorants that we know will be useful for you.
Engage Unisex Pocket Perfume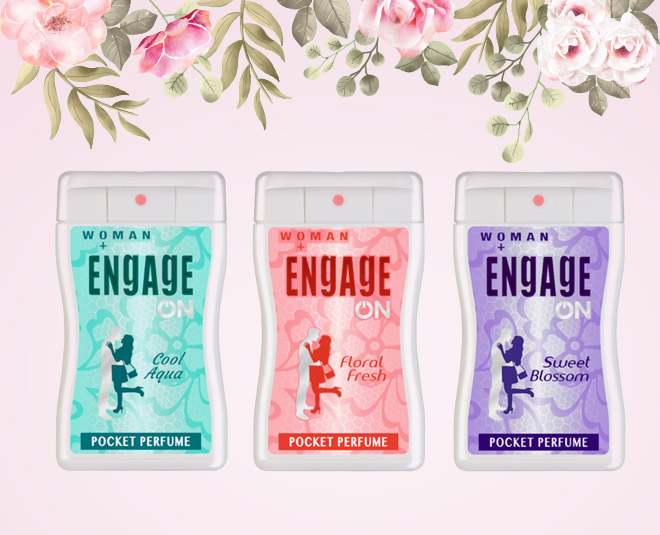 These pocket-size perfumes are the best when you have to travel. Available in Cool Marine, Citrus Fresh, Classic Woody, Floral Fresh, Sweet Blossom, and Cool Aqua variants, these no gas perfumes last long and fit in your pockets easily. Super affordable for sure, Buy Engage Unisex Pocket Perfume, 18ml (Pack of 6) at for Rs 355, here.
Skinn Celeste Fragrance For Women
This perfume is like a spring garden! It has white floral notes and a touch of zing from peaches and pears. The dry sandalwood note in it has a bit of patchouli too. It even has a zing of mischief... a perfect fragrance for the evening especially. It also has notes of jasmine sambac flower, orange flower, tuberose, and waterlily. The last note is musk which leaves you smelling sensuous. Buy Skinn Celeste Fragrance For Women, 20ml, for Rs 545 here.
Don't Miss: These Fragrance Hacks Will Make You Smell Divine All The Time
Yardley London Morning Dew Compact Perfume
This pocket-size perfume exudes freshness that lingers from morning through the day. It's a typical summer morning fragrance which embraces white flowers like lily and lotus that rounds off with white musk. Buy Yardley London Morning Dew Compact Perfume, 18ml, for Rs 147 (including shipping), here.
W.O.W. Perfumes Gift Set "A" Perfumes
This 'gift box a' with four fragrances of 30 ml each has 4 variants. Black Jack, Tender Heart, Is-Miami and Black Poison. Blackjack Perfume has a spicy citrus fresh top note and a hint of patchouli. Tender heart has a rather strong note of jasmine and tuberose floral concoction. Is-miami is a citrus fresh aqua fragrance with a citrus lemony top note. Black poison is a citrus powdery fragrance with sweet lingering vanilla notes at the heart, and cedarwood as the base note. Buy W.O.W. Perfumes Gift Set "A" Perfumes,30ml (Set of 4) for Rs 950 here.