We all love dressing up. Well, we love a lot of things, reading, writing, going out but nothing compares to the love we have for wearing outfits that make us look so gorgeous that while some go 'ooh la la!' upon looking at us, some fume with jealousy!
However, with the fashion trends being common to all, there are so many times when we are certainly looking good but there are ten more people in the room wearing the exact same design, if not the outfit! This is when you know that you have to up your fashion game and if that is what you want, we are here to help you!
The one dressing material that everyone is always skeptical about is satin. Even though it is always fashionable to wear satin, people often feel uncomfortable wearing it. They fear looking too different, too bold, too fashionable. That is exactly why we recommend you all to wear satin outfits! While people will repeat their outfits fearing the newness of satin, you will stand out and fashionably so!
Don't believe us? Then take inspiration from the outfits of these Bollywood divas who slayed in satin!
Jacquline Fernandez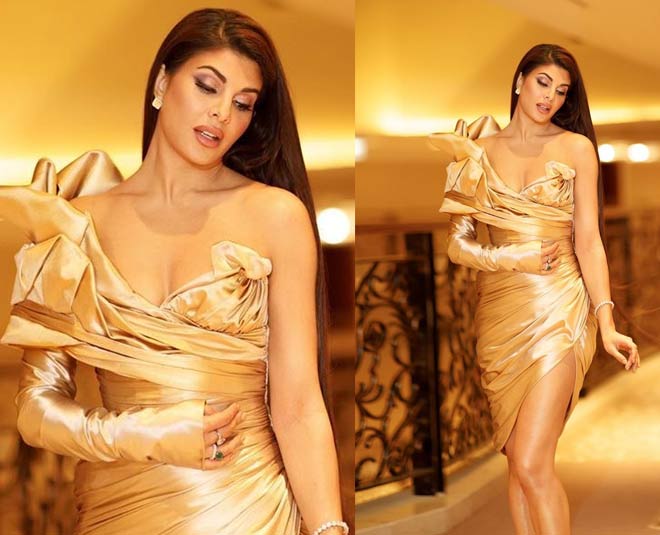 Image Credit: viralbollywood
An absolutely stunning look boasted by Jacquline here. While we always have something to say about everything that there is, this particular look has left us speechless! From the way the sleeves are designed to how different the neckline is, this outfit is going to work wonders for you! Especially for all of you out there who do not want to experiment with colours or designs, this dress is a basic golden with a side slit, something that is commonly worn. However, the sleeves, neckline and satin used are what make this dress unique.
Alia Bhatt
Who said satin can't be playful? A common misconception with opting for satin is that this material is fit for only elegant outfits. While it certainly does fit well for the elegant look, this outfit worn by Alia Bhatt proves that the material rocks the playful vibe just perfectly! If you are looking to go for a high-class party where you want to dress in a youthful fashion but don't want to compromise with elegance, this is the look you must opt for!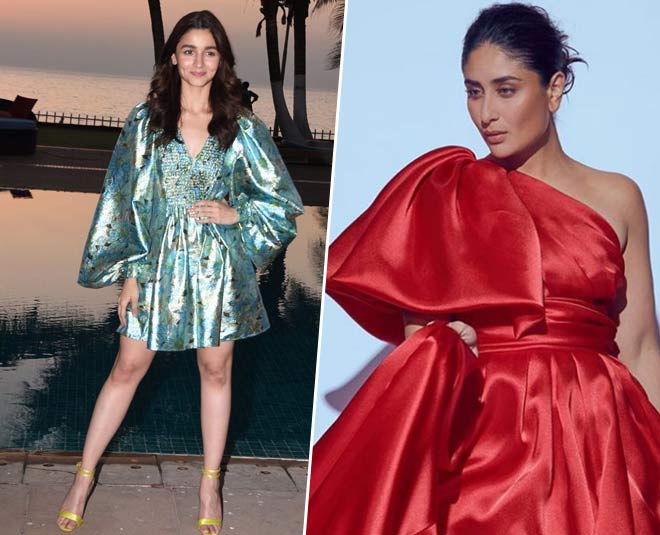 Image Credit: media.vogue, i.pinimg
Kareena Kapoor Khan
If Bebo validates satin, who are we to question her? While Kareena Kapoor Khan looks absolutely stunning, stylish, sultry and all the synonyms of the same in this look, you will surely look like the style icon of the party! If you are confident enough you can get the neck made in the same way, if not, then a simple single-shoulder dress without the puff would also work well! However, if you choose to reduce the bulk of the sleeve, we recommend you go for a darker makeup!
Kiara Advani
Image Credit: timessouth
True beauty in all ways, there is no look that Kiara Advani can't pull off. From looking bold in the Dabboo Rantnani's shoot where all she used to cover herself was a leaf to looking like an absolute princess, this outfit has our heart! The pretty neckline and the tiny feather element at the waist are what work best for the outfit. Even though there is nothing extremely out of the monotony in this dress, it comes with a guarantee of looking beautiful! Sometimes playing safe is what you opt for and this is the outfit that is meant for that mindset!
Aishwarya Rai Bachchan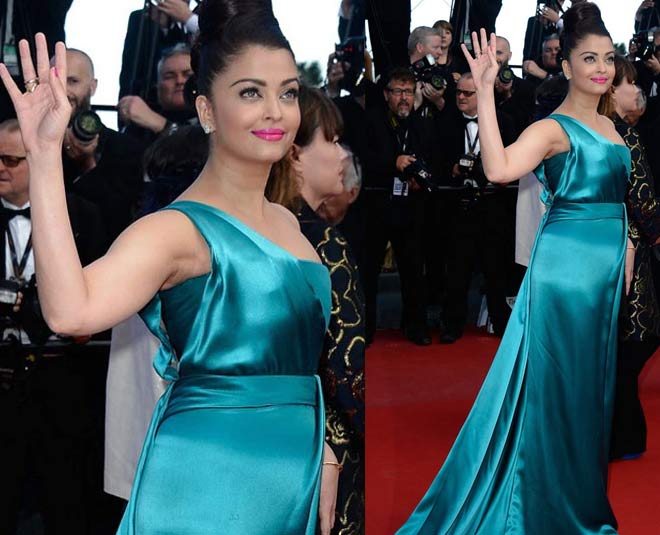 Image Credit: akm-img-a-in.tosshub
This outfit was worn at Cannes. Is there any need to say more in favour of the outfit? We know if you would have come across this kind of an outfit at a store you would never buy it thinking that it has more of a costume look. It is all about how you carry yourself ladies, and if you have it in you to pull off this shade, nothing like it!
We hope you liked this article and will soon incorporate these dresses into your closet! If you wish to read about more such outfits, stay tuned to Her Zindagi!