You might be familiar with different ways of tying a scarf around your neck, but have you ever thought about using it differently? Well, soft and silky scarfs look great when wrapped around the neck but can be transformed for other styling purposes as well. You'll be surprised to know how this small piece of accessory can serve so many different purposes and look equally good in all. Here are some scarf styling options that you can pick, the next time you dress up.
Headband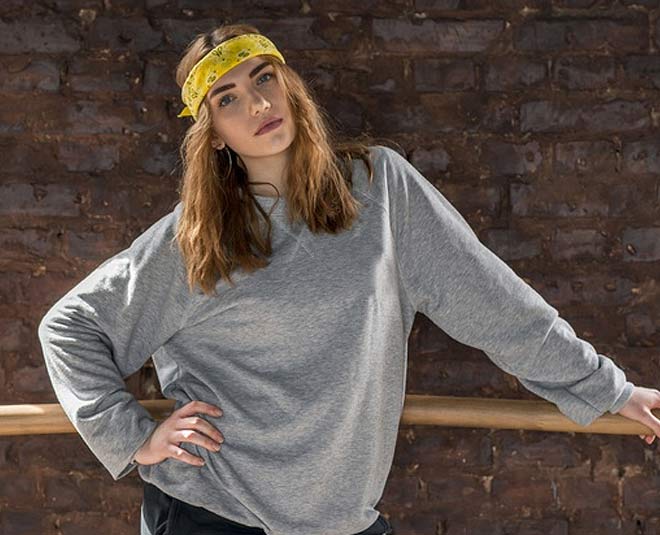 You can also ditch your basic headband and make a personalised one for yourself. All you need is a scarf and you are good to go. You can either match it with your outfit or use contrasting shades, to complement your look.
Steps to make the headband:
Step 1- Keep both the sides of the scarf equal and place it around your neck.
Step 2- Now take both the sides and wrap it around your head.
Step 3- The scarf should outline your hairline and should pass from behind your ears.
Step 4- Once you reach the top of your head, cross both the sides and overlap the scarf.
Step 5- Now take the left part towards the right and right part towards the left, in such a way that both ends of your scarf meet at the back side of your neck.
Step 6- Secure the headband in place by tying the ends together.
Don't Miss: Nita Ambani Vs Tina Ambani, Whose Saree Picks Are On Point?
Belt
Is your jeans drooping shabbily because of being loose from the waist? Make a DIY belt with just the help of a scarf. It will not only add some colour to your look but also hold your bottoms in place.
Steps to make the belt:
Step 1- Take a scarf and fold it in half.
Step 2- Fold it 2-3 times more, till it takes the shape of a belt.
Step 3- Now make it pass through the loops in your jeans and tie the two ends together.
Step 4- You can either make a bow in the front or tie a knot on the side, whichever suits you.
Step 5- Adjust the knot according to how tight you want the belt to be.
Hair Tie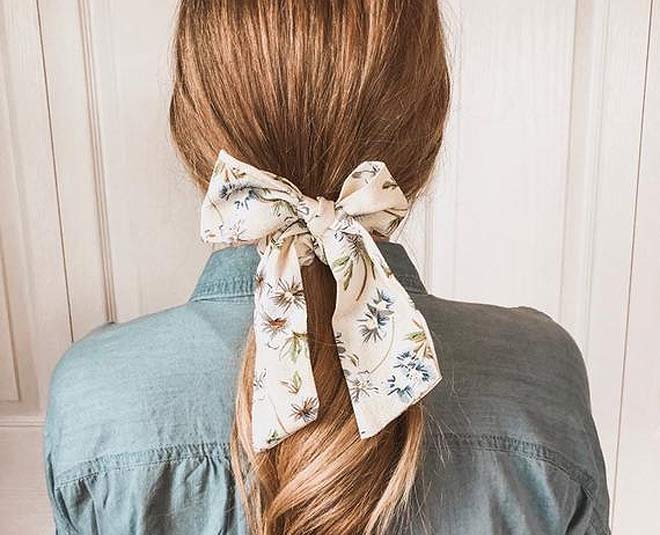 Image Courtesy: Etsy
Silk and satin hair ties from the 1980s have made a comeback and are here to stay. Instead of purchasing new ones, make one for yourself by using a satin scarf.
Steps to make a scarf:
Step 1- Take a thin black hair tie and pass your scarf through it.
Step 2- Now keep both sides equal and tie a knot in the middle.
Step 3- This will leave two bunny ears of the scarf, hanging from both sides.
You can use this to tie your hair in whichever way you like. It is not only an amazing hair accessory but will also make you look super cute.
Don't Miss: Celeb Style Guide: Amp Up Your Wardrobe With White Kurtas This Summer Season
Top
Do you know that you can prepare a brand new top for yourself by just using a scarf? Well, all you need is a cropped tank top and any long scarf of your choice. You can easily convert an old scarf into a halter wrap top with this DIY.
Steps to make the scarf top:
Step 1: Start by wearing your cropped tank top. Throw the scarf around your neck, with both sides of equal length.
Step 2: Now make a cross by bringing the left side towards the right and vice versa.
Step 3- Take both the sides towards the back and tie a knot.
Step 4- Adjust the front by spreading the scarf a bit.
Step 5- You can make a bow at the back, if you don't want to leave the endings of the scarf hanging.
Voila! You cute little halter top is ready. You can make new tops with any scarf and even add your personalised touch to them.
For more such fashion and styling tips, stay tuned to HerZindagi.com