Our late Indian political reader Sushma Swaraj, who passed away last night due to cardiac arrest, worked hard but never let go when it came to her everyday look. A crisp saree, matching jacket, bindi, and sindoor were her staples and here us paying an ode to the woman who lover jackets and how!
I don't know if you noticed this often but like any other working woman, she never neglected the way she looked at work. She was presentable and well dressed every single day. Her craze for sarees is crystal clear but her love for matching jackets was and will always b super commendable! Many of us take the easy way out with basic colours like grey, black, brown and a beige or a white, but Sushma Swaraj made sure her jacket was one of the hues in her saree and was always on point! Let's take a look at some of her pictures and few memories...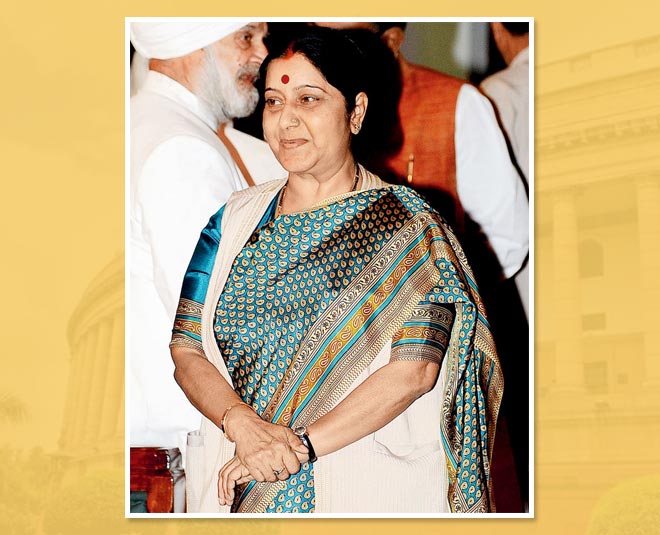 It is a silk saree to begin with and the base here is off-white so Swaraj made sure that she wears an off white jackets which is of course with pockets.
Now this one has a sweet moment behind it. But before we reminisce the moment, I would like to say that Mrs Swaraj was kickass on Twitter! She had a flair for social media so much so that many would jokingly say that she can give Twitter masterclasses. She was always uber quick with her responses n matter what the Twitterati's complained about while tagging her. Those complaints even included a wife losing her passport, lost refrigerator or a car for that matter.
Don't Miss: Sushma Swaraj Passes Away At 67: Political Journey Of Delhi's First Female Chief Minister
So once a Twitter used named Rajesh Sharma tweeted out a photo of his daughter dressed as the leader at Bharatiya Janta Party for a fancy dress competition. He wrote: "@SushmaSwaraj my daughter #Fancy dress competition # national leader # SUSHMA SWARAJ……" he tweeted, along with the pic of his daughter wearing a pretty purple saree, a purple-blue jacket with red piping, and the BJP stole.
Immediately, Sushmaji responded: "Oh ! I love your jacket". And the buzz her tweet created... it is a feel-good story, isn't it?!
I might have gone for a black jacket here but the minister made sure it is the same shade as the border of her cotton saree and it looks amazing!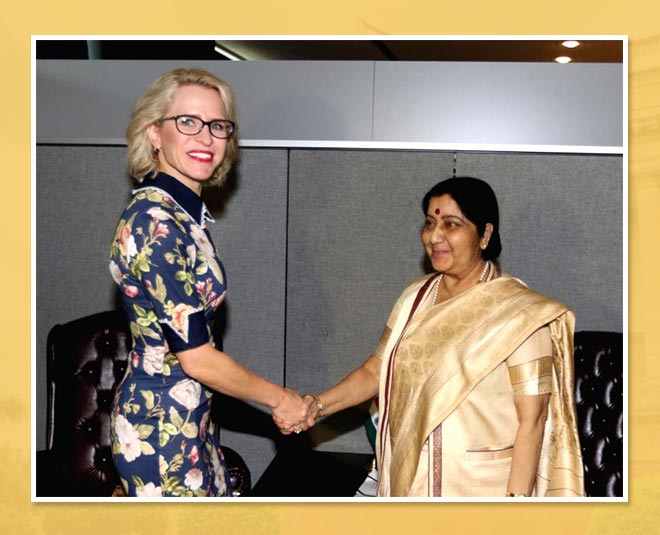 This one is classic! A beige and golden silk saree and oh yes, not to miss the pearl necklace with a matching silk jacket with a maroon border! Maam had her colour wheel on point!
Indian flag, Sushma Swaraj in a saree and everything matching! What a sight!
Celebrate #BandhanNahiAzaadi with HZ on the occasion of Independence Day and Raksha Bandhan. Register here for an exclusive workshop for women. 'Free registration' & 'Attractive Giveaways' for all participants.