Sonam is our go-to actress whose Instagram we follow religiously. Her ensembles are ultimate and so is her attitude! These pics are proof! This collection is a mix of it all. Be it ace designer Sabyasachi's ethnic or her Cannes red carpet looks in stunning gowns and dresses. Go ahead and take some inspiration for that dress you have been wanting to get stitched. Scroll down Now!
1Sonam Goes Pink
This pastel pink pantsuit by Fenty which was worn by her looks ultimate on her. The added accessory was the fanny pack on her waistline.
2Pretty In White
She looked cute in this white dress with a bit of design in black on the belt tied in a bow it seems. This is what she wore for an event with FICCI Flo.
3Yellow At Cannes
She never fails to amaze us! When Sonam shared this look on her Instagram account she wrote: "I had the incredible honour of Launching the incredible collection Garden Of Kings from @chopard It promotes sustainable luxury and is made of precious materials from nature. What a moving story behind every one of the #chopardparfums from this collection. ☀️ custom @ashistudio".
4Hot Even In Casuals
Tagging her sister Rhea in this post, Sonam wrote: "Relaxistan reloaded! Skinny feels good but these fries are fucking great! Back for summer in beautiful light cozy fabric, we are also bringing back our Moms Denim jacket by popular demand in a light stretch denim".
5Vintage Swimsuits
The "Khoobsurat" actress posted this pic on her Insta and wrote: "Flashback to this summer I love vintage style swimsuits they really flatter my curves.. esp @normakamali".
6Powerful Black
She looks so powerful yet playful in this one! Sonam shared this pic on her social media handle and posted: "Without and with flash! Which one do you prefer? पैंट सूट @michaelkors @amrapalijewels @vogueindia @priyankaskhanna @deepikagehani 📸 @moeez 💄 @mallika_bhat 💇‍♀️ @aamirnaveedhair."
7Sonam Old Fashioned?
She can seriously wear anything and yet look stylish people! She captioned this pic saying: "London musings in @sabyasachiofficial. Everything is a vintage buy. Coz I'm an old fashioned kinda gal."
8Yellow, Breezy, Comfy Much!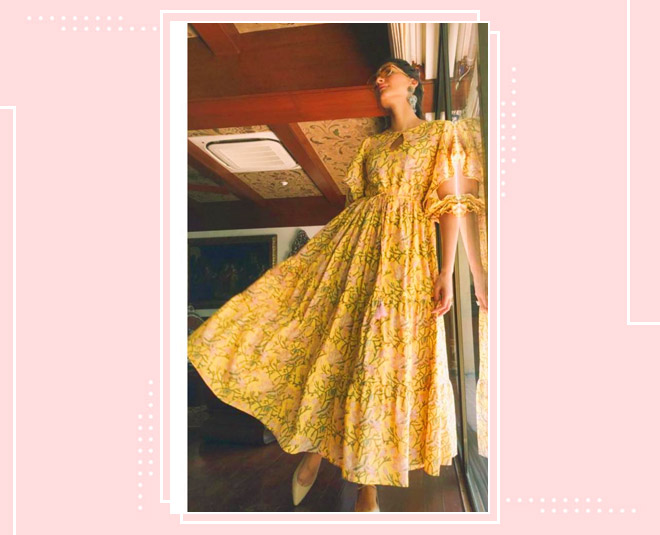 Posting this pretty mellow yellow pic, Sonam posted: "Look at the stars, Look how they shine for you, And everything you do. Yeah, they were all yellow…#Yellow #stars #floral #SundayFunday".
9The Power Of White A Cannes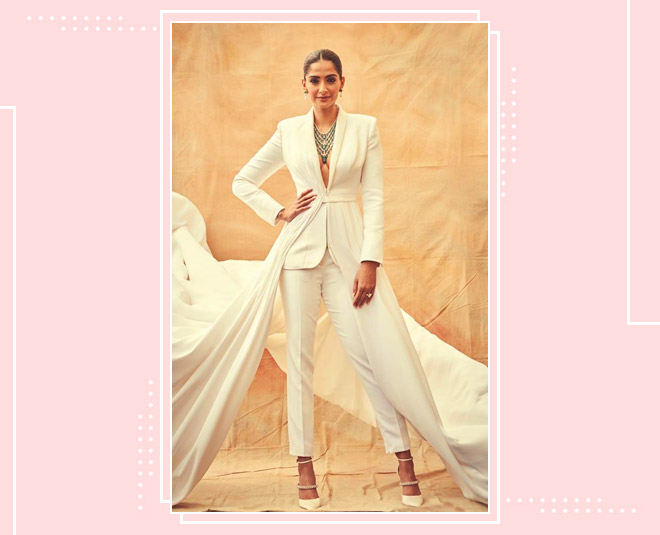 This was a custom Ralph and Russo couture tuxedo with jewellery by Chopard, Footwear by Jimmy Choo, She was styled by her sister Rhea Kapoor.
10Fanning To Beat The Heat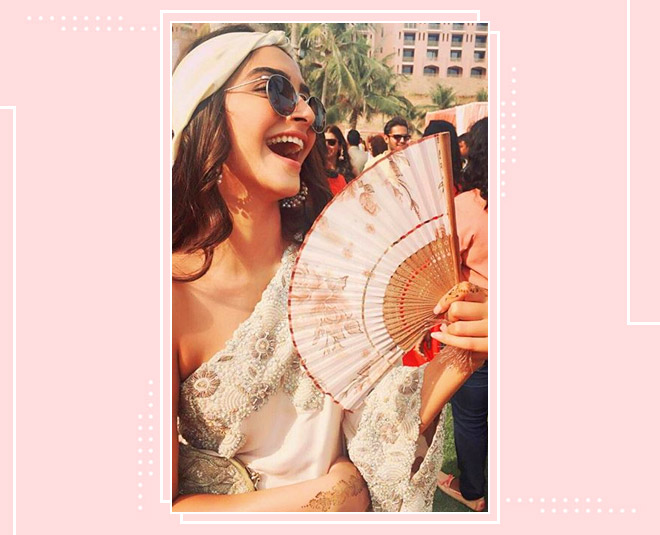 This pic has captured Sonam's playful side perfectly. The "Neerja" star posted this pic on her Insta with the caption: "Feeling fan-tastic #Throwback #SummerMadness".
11Ethnic Done Right
Another one with Sabyasachi, Sonam looks stunning in this black ensemble. Posting this pic on her Insta, she wrote: "Nothing can beat an Indian spirit or design. @sabyasachiofficial @artinayar @bbhiral @thehouseofpixels".
12Sonam In Holiday Mode
On one of her trips, Sonam shared a throwback pic and wrote: "Holiday mode on. Flashback to one of my favourite trips".
13Red Is Passion, Power And More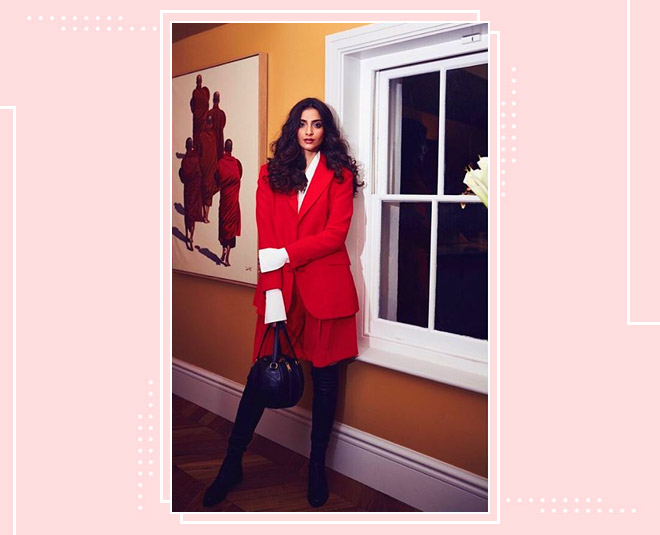 Sonam captioned this pic saying: "Ready to paint London Town red!❤️ Outfit: @emiliawickstead, Boots: @stuartweitzman, Bag: @gucci, Hair: @bbhiral, Makeup: @artinayar".
14White Again
This pic proves how classy this woman is! Sonam shared this image saying: "Summer weddings are the most romantic. Wedding ready in outfit and shoes by @emiliawickstead, jewellery: @amrapalijewels, accessories: @philiptreacy, bag: @dior, hair: @bbhiral, makeup: @artinayar 📸 @thehouseofpixels."
15Paisley Sonam
She looks nice in this paisley long coat with layered necklaces. This outfit by Sabyasachi is a stunner!