Besides the regular traditional drapes, sometimes designers experiment and create a fusion with prints and fabrics to create something unusual. These quirky drapes may not be everyone's type but I feel that if you have an open mind, there is something for all personalities. They make a statement and look uber chic. If you are ready to try something new this season then take a look at these drapes for inspiration and shop for the upcoming event even if it is intimate!
1Vidya Balan's 'Sherni' Saree
This saree flaunted by Vidya Balan was promotional for her film "Sherni" but what did come into the picture was the design which looked uber cool! Saree pallus with animals on them make a statement but go easy on the accessories.
2Sarees With Text Or Writing All Over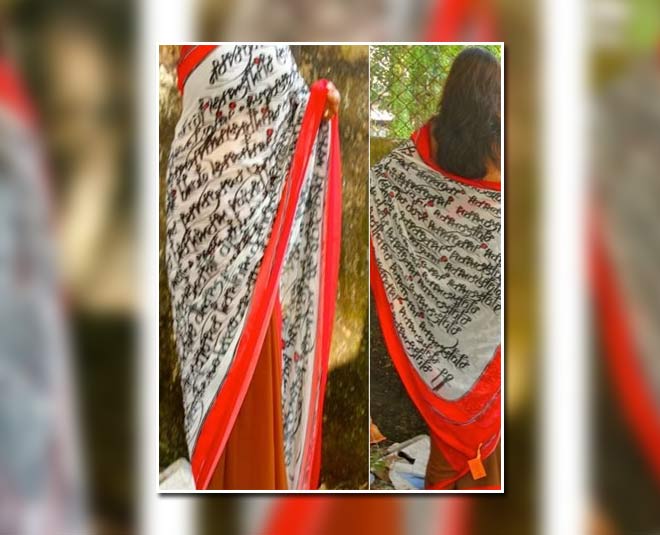 These sarees came into cogue a while back yet they are not so common. Sarees with texts all over, look chic and they stand out. Most have shlokas and famous quotes and they define your personality so do read what is written before you buy.
3The Cycle Print
If you are daring and love quirky then this saree can become a topic for discussion over tea and lunch with friends. Go for pleasant colours and team such sarees with pom pom or cloth earrings. You will look different and that confidence will add to the overall look.
4Denim Saree
It may be a little hot to wear a denim saree right now but after the rainy season, these sarees will look seriously fashionable. Wear them like Sonam Kapoor here with a belt and you are sorted!
5Sonam's Lipstick Print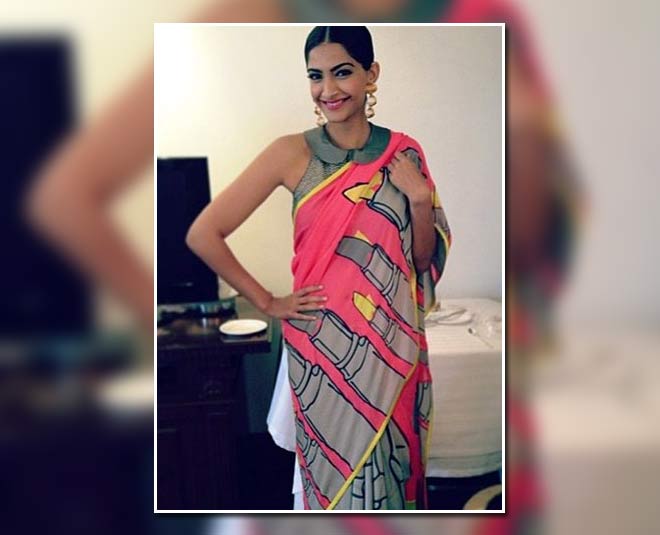 Quirky may be an understatement here and it is not for all. If you have that attitude and confidence and the right occasion, this saree is bound to make heads turn. Just go easy on the accessories as this print is enough to get people talking.
6Bandhani Pallu
A bandhani saree is very much traditional a print or pattern but when it is incorporated differently, you can say that our designers are evolving. Making full use of the Bandhani print, this saree worn by Vidya with her hair in a half-top knot looks really classy. With work just on the pallu located exactly where your eyes tend to follow due to the flow of the drape is perfect! If you can get your hands on such a print then invest now or simply get a plain saree dyed with white chanas tied to get the bandhani effect wherever you want.
7Graphic Design
A saree with graphic print is bold and not for all. If you are into bold designs then this is one saree style you must invest in. Go for pastel hues like Hina Khan as they look good and can be teamed with semi-precious stone jewellery easily.
8Masaba Gupta's Crushed Green Saree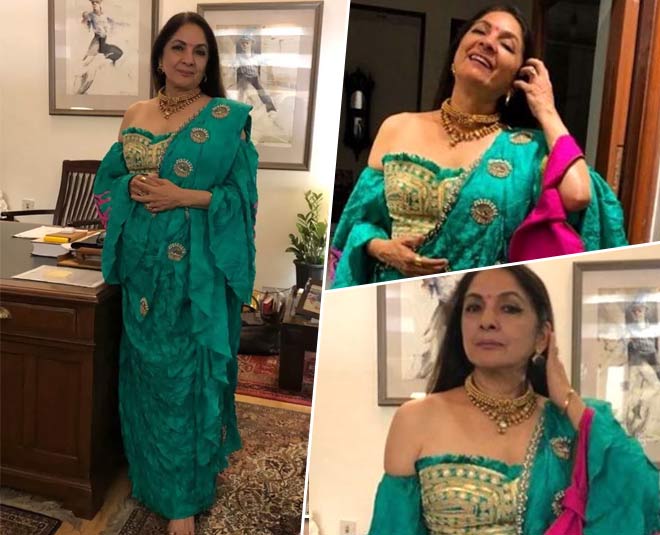 Worn by Neena Gupta as well, this Masaba Gupta saree is a stunner if worn the right way. This green ombre embroidered crushed saree set stands out and how. Paired with a matching blouse with gota and dori embroidery, this emerald green-hued saree would look smashing at one of the wedding functions when you want to make a statement.
9Animal Print Style 2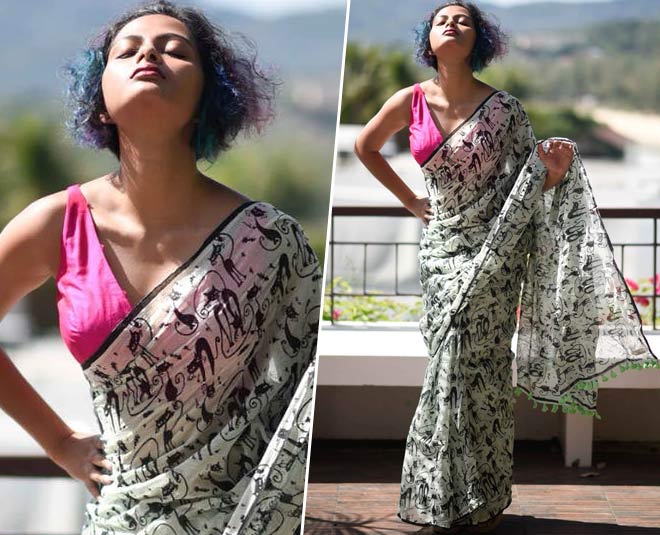 If big and bold prints are not your style then these motif style prints of cats here may catch your eye. All cat lovers may want this one and pair it with contrast, bright blouse and step out with confidence.
10Print Saree Style 2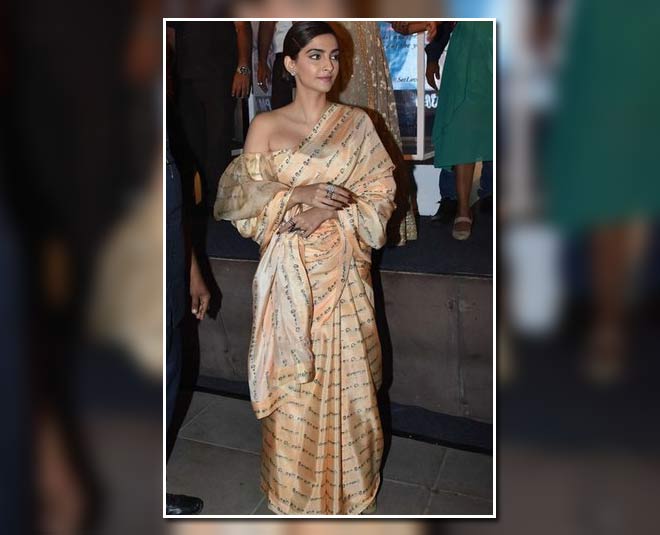 Wearing a text saree is one thing but draping it in a quirky style is another. Get your hands on a saree like this and flaunt it with panache. You can wear stud earrings with it but try to skip a neckpiece so that it doesn't take away the pallu's limelight.