Over the years, neon has proved that it is here to stay! Earlier women were reluctant to try this particular fashion trend but turns out that this isn't a trend that is staying just with Bollywood celebs. The market is flooded with several neon pieces in multiple shades including, lime green, electric orange, electric blue, pink electric cyan, neon magenta, bright chartreuse, or neon yellow. Despite distinct complexions and body types, neon attires and accessories suit one and all, it helps in highlighting a segment and bring out the best in you. As the summer season is approaching, add these trendy pieces to your wardrobe to look your best!
Neon Yellow Saree
From Deepika Padukone to Kriti Sanon, you must have seen these Bollywood divas donning neon sarees on several occasions. If you are looking for some traditional attire with the touch of quirkiness in it, go for neon sarees. And shade or any pattern, it all looks great both in the day events and night sarees. While earlier sarees were cast off as ethic wear, the arrival of neon trend has definitely given a new outlook to this ever classic piece.
Neon Green Pumps
Be it your all-black tux, or simple white tee with light blue pair of jeans, the neon green pumps automatically gives you that high-fashion appearance. On the days when you are late for office, party or even a date, don a simple attire and club it with your voguish footwear. While most of the colours, such as pink, orange purple, and yellow looks great, nothing can beat green pumps, especially the one that comes with snake print. In fact, neon footwear is an utter favourite of most Bollywood fashionista stars.
Neon Pink blazer
Gone are the days when office looks were supposed to be all plain, black, and simple. In 2020, there needs to be glamour and shine! We are not saying it shouldn't be decent and elegant enough, all we are suggesting is to spice up your work wardrobe with a tint of electric colours. Add simple pieces like neon blazers to your wardrobe. If you find neon green a bit extra, go with purple or pinks. As it can never go wrong in making you stand out. Pair it with pencil skirts, white shirts, or dresses.
Neon Bomber Jacket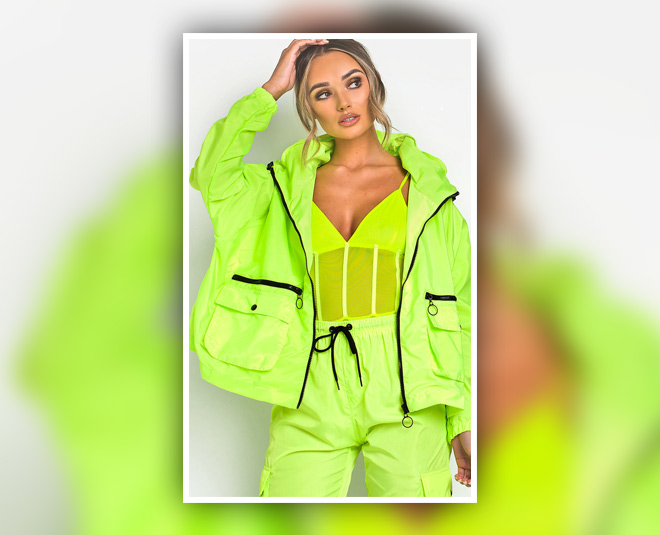 The neon bomber jackets are probably the trendiest streetwear currently. Starting from your favourite influencers to the top-notch celebrities, everyone seems high on this particular fashion couture.
Don't Miss: Neon Green Is Trending This Season And We Are Taking Cues From Our Bollywood Divas
And we say why not, these are no voguish and comfortable to carry. While the neon green zip-up jacket has garnered the most attention, other neutral pieces are making a place on shelves of those who like to keep it simple.
Don't Miss: Go Neon! Bollywood Divas Are Going Crazy Over This Trend; Here's How You Can Ace It Too!
Neon Turtleneck Top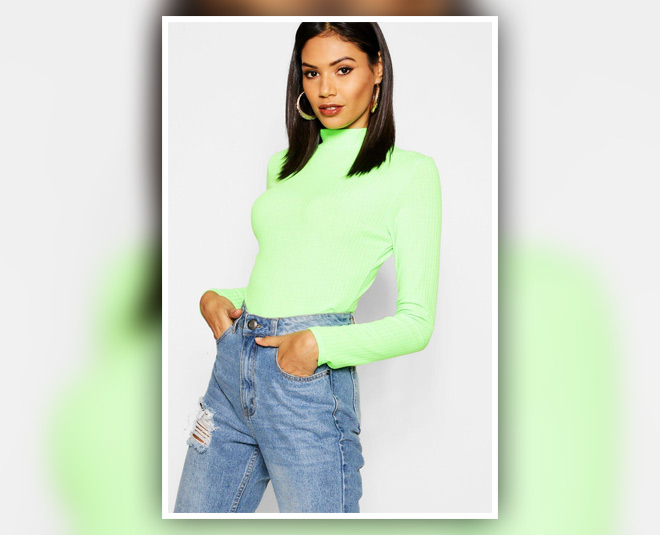 Despite your body type, the neon turtleneck top makes you look classy and smart. Wear it over skirts, pieces of denim or pair of shorts, the combination looks stunning every time you walk down the street wearing it. Girls who love to show off their curves must definitely invest in this piece. The neon turtleneck top doesn't even need to be paired with accessories, it looks great on its own.
Image Courtesy: Koimoi.com, Nine West, Lyst