Katrina Kaif is one actress who might not be holding an Indian passport but her work proves that she is extremely hard working like us Desi people no offence to foreigners! Amongst the highest paid actresses of Bollywood, this birthday girl has a unique style and her fashion choices prove that she can carry off anything she wears. Be it a saree, a saree with a belt designed by ace designer Sabyasachi, or a gown or even a coat and formals for that matter. She drops it like its hot and we cannot complain. These pics are proof that she has an oomph factor. Scroll down Right Now!
1Katrina In White
Her fitness regime is no secret and this outfit of her's is proof!
2Blue It Away
This monotoned look cannot be pulled off by all. Katrina wore this satin blue jumpsuit for one of "Bharat" movie promotions and she looked stunning!
3Wine & Glamorous
Katrina in this wine-red dress looks sultry hot and we could not take our eyes off her!
4Knotted And Hot
She seems to be wearing a white shirt tied in a knot over a bikini-drop in blue and the combo is sizzling hot!
5Beauty In Red
She looked elegant in this all red outfit with a sheer blouse with embellishments. The only jewellery here is her diamond and ruby necklace which balances it all!
6Yellow On The Beach
Doesn't she look hot in this bright yellow swimsuit?
7Saree With Shoes It Is
This saree and shoe combination cannot be carried off by anyone just like that!
8Blue & Floral
Among all the trendy floral outfits, Katrina wore this season, this ensemble was one of our favourites. What's your take?
9Beach Cover Up
This crochet cover-up is your go-to pick when you are heading to the beach and some bronze makeup shall give you the oomph factor just like Katrina.
10Robe It Like Her
This photoshoot by Katrina in a red satin robe dress is something we all aspire to fit in or carry but nah! It isn't for all. Or is it?
11Katrina In Black & White
This one is all about photography and no one could look hotter in a mere shirt in this black and white picture!
12Simplicity At Its Best
Simple, sober yet pretty! Katrina looks 10/10 in anything!
13Hot Pants On Fire!
You too can carry off this grey cami top and blue striped hot pants like Katrina and look super hot!
14Sequined Like Katrina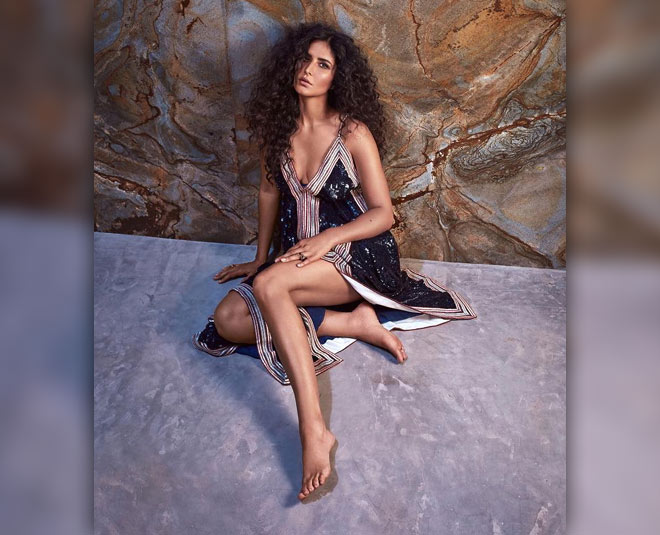 Hair all curled and crinkled, Katrina posing in this blue sequined dress is a treat to the eyes.
15Blouse And How
Katrina looked stunning in this silver and brown trendy lehenga. It accentuates her curves like no other Indian outfit could!