Monochromes, ombres, and such combinations look great anytime but what this summer beckons for is the combination of grey and yellow. This colour combo is the in thing this year in terms of interior design but it looks really amazing in clothes as well. If you want to give it a try, here are some ways to flaunt it with a few looks by Deepika Padukone, Vidya Balan, Ridhi Dogra and more.
1Saree With A Contrast Blouse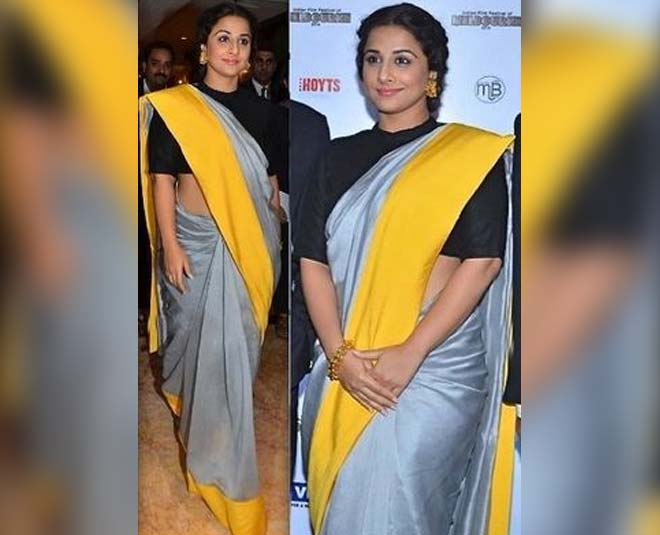 The way Vidya Balan can flaunt her sarees is unmatchable as the confidence just makes all else fail. She can nail and colour combination and we are certainly digging this grey ad yellow saree paired with black. To balance it better, you can opt for black jewellery and black footwear as well!
2Jumpsuit With Blue Denim Jacket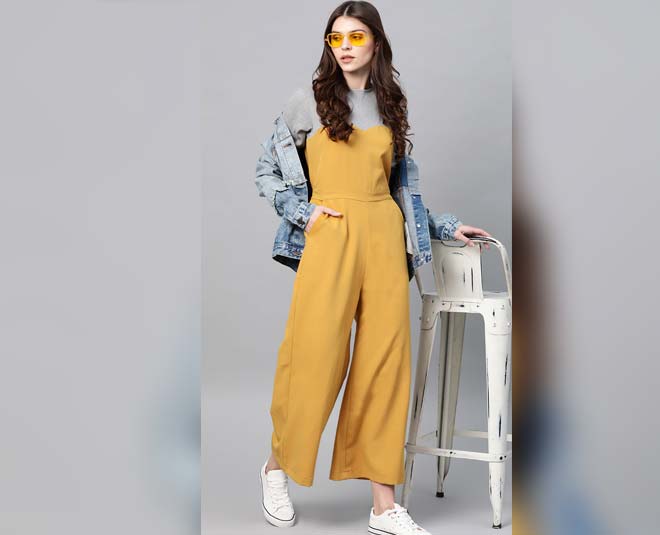 All those jumpsuit lovers out there would love this colour combo indeed. Here you can wear a blue denim jacket and grey footwear or jewellery or another combination would be a grey denim jacket.
3Grey Skirt With A Long Top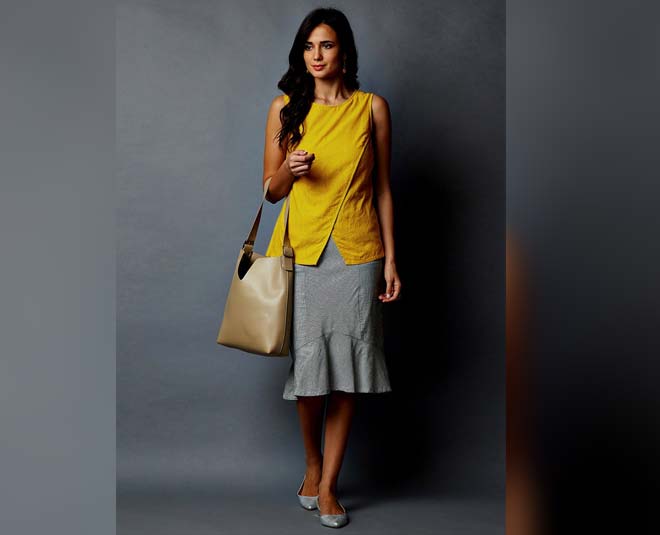 This is basic but you can make it look different by pairing a grey number with an A-symmetrical yellow top indeed. What plays a major role is the shade of yellow that you opt for eventually.
4Yellow Blazer With A Grey Skirt
A classic, semi-formal look indeed! Wear a grey fitted skirt like this pencil skirt, a white spaghetti top paired with a yellow blazer and you are sure to make heads turn.
5Grey, Yellow Suit
I loved this look flaunted by Ridhi Dogra last Diwali and I stand by it. It looks perfect for any occasion be it a Diwali card party, a mehendi, or a lunch somewhere nice. You can dress it up or dress it down with your jewellery and makeup.
6Yellow Suit With Grey Accessories
Stunning is the word when you team it right. You can always flaunt a yellow kurta set and balance it out with grey jewellery. These earrings speak volumes on Deepika who adopted brown-tinted makeup.
7Yellow Crop Top With Grey Jeans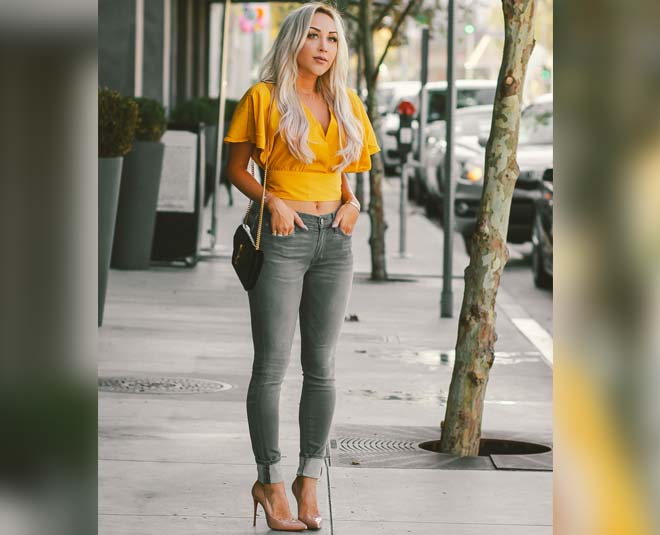 If you are comfortable with crop tops then this colour combination in the form of grey jeans and yellow crop top are ultimate for the summer blues!
8Lehenga Set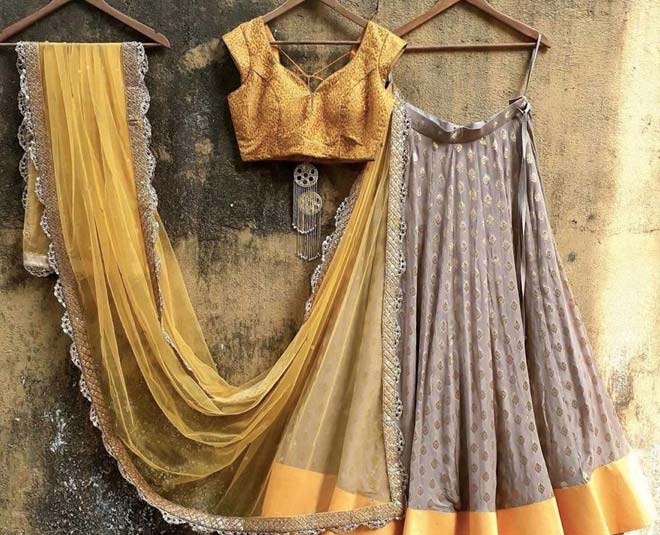 You could either go for a grey lehenga with a yellow blouse and dupatta or a grey lehenga and blouse with a yellow dupatta. Wear silver or diamond finish jewellery to give it a fancy look.
9Sharara Set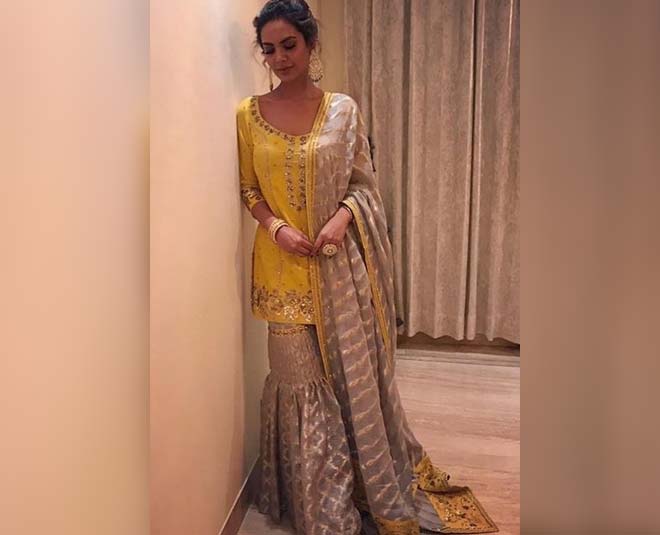 If you have an event to attend then a sharara set in grey and yellow would look lovely and so different as people very rarely expect this colour combination.
10Saree With Strappy Blouse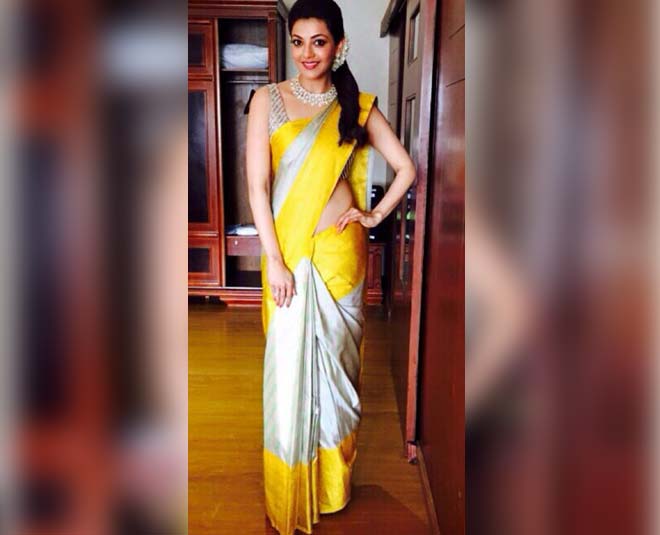 Go for the grey and yellow saree kill with a yellow strappy blouse and silver jewellery. Make a nice chic hairstyle and do not forget to wear heels.