If you want to make an impact at the red carpet, then go for the power colour, red. This colour will surely make you stand out. So, when in doubt, go for a red gown. Read on for some inspiration from our ladies of tinsel town.
1Aishwarya Rai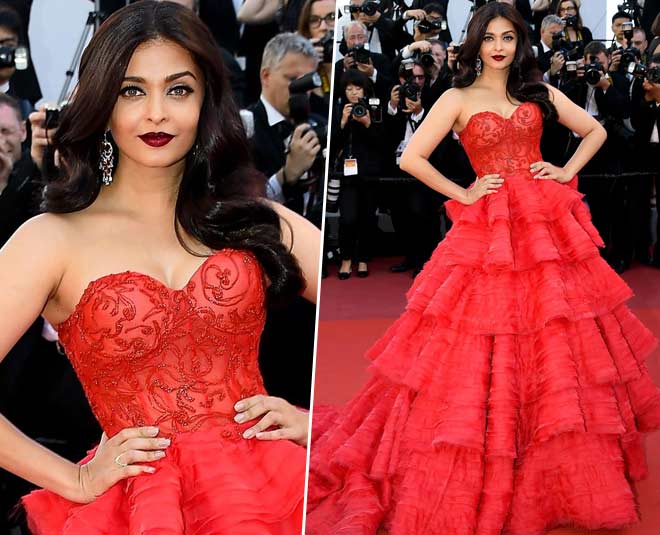 Aishwarya Rai wore an off-shoulder gown at the Cannes festival. The top half is sheer with beautiful red embroidery and the bottom half is puffed with ruffles in layers. She has perfectly styled her hair and her makeup was on point with a bold lipstick.
2Alia Bhatt
Alia Bhatt wore an over the top red gown. Her gown was sleeveless and has roses all over it. She skipped accessories with her lovely gown. She kept her hair straight to maintain a balance and went for bold makeup.
3Deepika Padukone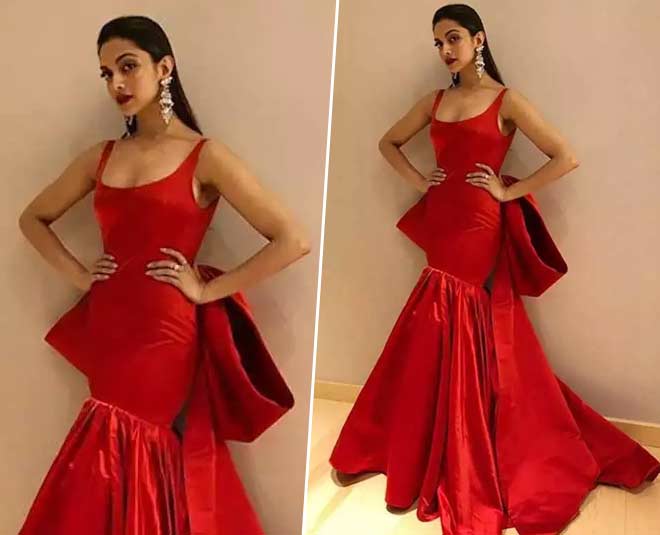 Deepika Padukone wore a beautiful red satin gown. Her sleeveless gown had a mermaid cut and a huge bow at the back. She gave her hair a wet loo and accessorised with statement earrings.
4Katrina Kaif
Another look from the Cannes Film Festival where Katrina Kaif is stunning everyone in her net gown. She has added a narrow belt on the waist to give more structure to her mermaid cut gown.
5Mouni Roy
Sequin has been the trend for quite some time and Mouni Roy is pulling it off with ease. Her red sequined gown has a plunging neckline and a trail at the bottom. She is looking smoking hot in this attire.
6Shanaya Kapoor
Shanaya Kapoor had her princess moment at the Le Bal in this gorgeous red gown. She has everything in her gown, from flowers to plunging neckline to ruffles. With this OTT outfit, she kept the other elements subtle.
7Sonakshi Sinha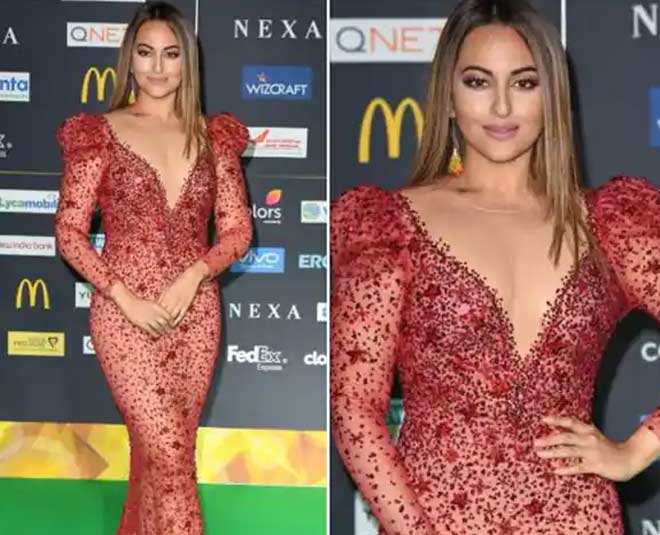 Sonakshi Sinha is wearing a sheer nude gown with intricate red work all over it. Her gown has a plunging neckline and mutton leg sleeves. This is the most unique look from the whole list and the most difficult to carry. However, Sonkahi carries it with utmost style.
8Sonam Kapoor
Sonam kapoor is wearing an off-shoulder red gown. Her gown is quite simple but her unique sleeves totally steal the show. She has teamed up this gown with a pair of heels and golden hoops.
9Tapsee Pannu
Tapsee is wearing a simple red gown but is looking fabulous. Her satin gown has an off-shoulder neckline. Along with the outfit, her lips are also red. The thing I love the most is her hair accessory. She really is looking effortlessly gorgeous.
10Uravshi Rautela
Urvashi Rautela's red gown is really the definition of exaggeration. Her humongous gown is extremely beautiful and we all just want one for ourselves.