Christmas is just around the corner and we are filled with the festive spirit. We are decorating our Christmas trees, buying gifts and most importantly choosing the best outfit. If you are still looking for an outfit for the Christmas party then you have landed on the right page. Here are 10 celebrity outfits you can take inspiration from.
1Shraddha Kapoor
Wear a red jumpsuit just like Shraddha Kapoor. In order to tone down the bright colour, add neutral accessories like nude heels and gold hoops. Also, go for minimal makeup in order to make your outfit stand out. The best part about a jumpsuit is that you can enjoy the event without worrying about any wardrobe malfunctions.
2Sara Ali Khan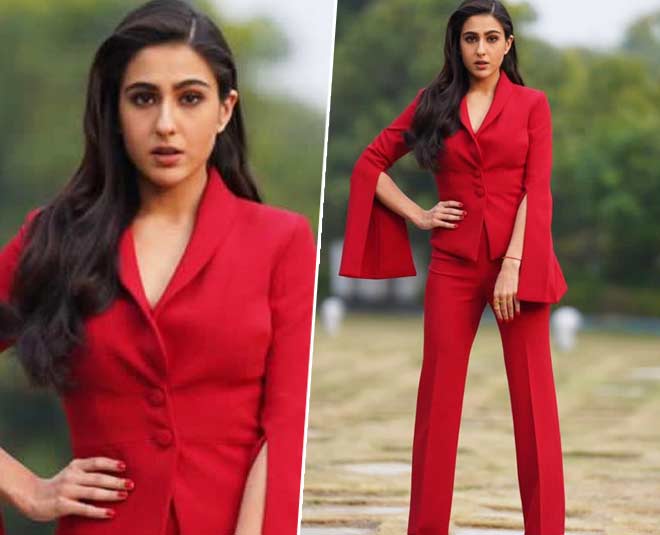 Wear a red pantsuit just like and walk in like a boss lady. You can get a customised pantsuit according to your liking and enhance your look with accessories. Again, go light on makeup in order to make your attire standout.
3Manushi Chillar
As Christmas falls in the winter season, there is nothing better than wearing a red sweater dress. This will make you look stylish and keep you warm at the same time. And obviously, how can we not wear our favourite boots with the attire.
4Kiara Advani
Co-ord sets are quite in trend at this moment. You can go for a red co-ord set for your Christmas party. It can be of any style. Just remember to keep the rest of the look simple as the bright red colour is already too much for the eyes.
5Kareena Kapoor
If you want to be the talk of the town, then wear a blingy red dress just like our style queen Kareena Kapoor Khan. Be the trendsetter with this outfit. However, don't play much with the other aspects of your look otherwise you might spoil the whole look.
6Janhvi Kapoor
Wear a red coat dress just like Jahnvi Kapoor and stand out at the event. This is surely a dress but will keep you warm and will obviously, will make you look the most stylish at the party. Remember, to wear a chic pair of heels with the outfit.
7Jacqueline Fernandez
If you don't want an all red outfit, then just go for red bottoms and pair it up with a white coloured shirt or blouse. The white and red combination is always popular during Christmas. This time, you can go a bit heavy on the makeup and hair but not too much.
8Hina Khan
Wear an all black outfit just like Hina Khan and add the Christmas touch by layering it with something red. Hina has layered her outfit with a red blazer but you can opt for a jacket or even a muffler. This is the best option if you make plans at the last moment.
9Anushka Sen
Can't find any red clothing item in your wardrobe? Fret not, because you can wear a simple black or white outfit and add a touch of red with your footwear.
10Ananya Pandey
If your Christmas celebration is going to be a small affair, then you can go for a comfy sweater in shades of red just like Ananya Pandey. Team it up with a pair of jeans and add a few trendy accessories to complete the look and you are good to go.