We Indian women can't do without some great blouses. They go with our traditional lehengas, sarees, and even with a couple of Indo-western attires. Hence, the design matters a lot. It should be something that compliments one's figure, alongside enhancing the complete appearance.
If you are looking for perfect blouse designs, which can make your arms look slimmer, we are here to help. A few style tips can change your fashion game, and make others sit and take notes. Read on to know how five simple tips can make your arms look naturally slimmer.
Three-Fourth Sleeves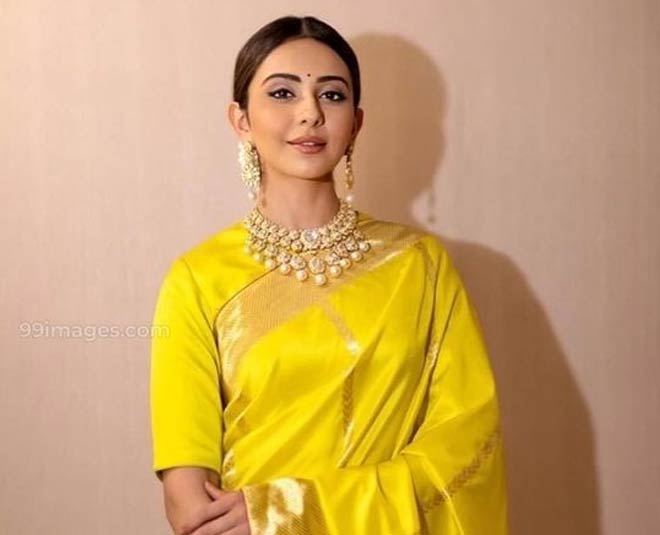 If you want to play safe with your blouse design and looking for something simple and subtle, go for the ¾ sleeve length. Anything less will make the arms look bulkier. But, with a three-fourth sleeve, you will create an illusion of longer, slimmer arms. Try to add a slim border towards the end. The onlooker will start looking from the above to the end, and the little border detailing will hold their minds. This will keep them from thinking about any other factor. Make sure the design is not elaborate, just a simple pop of colour will do.
Puff Sleeves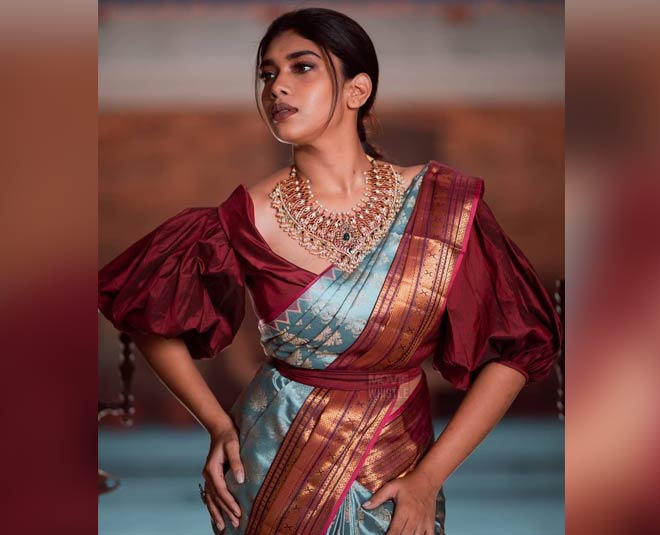 For a little extra drama and glamour, go for puff sleeves blouses. They are super cute and add more style to one's appearance. However, make sure that the puff sleeves are not too tight and short. Otherwise, the sleeves will look plump and heavy. The cuff of the sleeves should be loose, whereas the puff itself should be made with a decent amount of fabric. Unless there is no bulb shape forming on your arm with the puff sleeve, the arm will look plumped.
Dark Hues
When it comes to fashion, colours play a huge role in making couture stand out. There is a lot of thought that goes behind deciding the hue of an attire, mostly in big fashion houses. To slay in your ethnic wear and to make your arm look slimmer, always invest in dark hues. This is simple science, the less light your blouse will reflect, the slimmer your arms will look. We are not saying to just stick to dark colours, the key is to play around with dark and light tones well. You can keep the bodice light in shade and keep the sleeves dark to make them look toned and slim.
Avoid Heavy Embroidery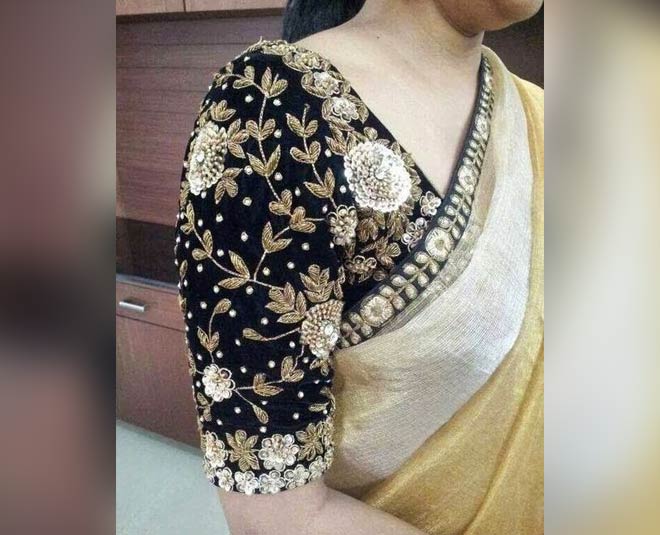 There is hardly anyone, who doesn't like intricate embroidery work on clothes. They automatically happen to enhance the beauty of any garment, especially the bridal couture. However, there is a small drawback if you are struggling to make your arms look slimmer. The heavy embellishments give that larger-than-life illusion, hence, also making a body part look heavier than it already is. That's why it won't be wise to opt for embroidered pieces when it comes to the blouse.
Don't Miss: These Stunning Bridal Blouses With Plunging Necklines Are Ruling The Current Wedding Season
Play With Patterns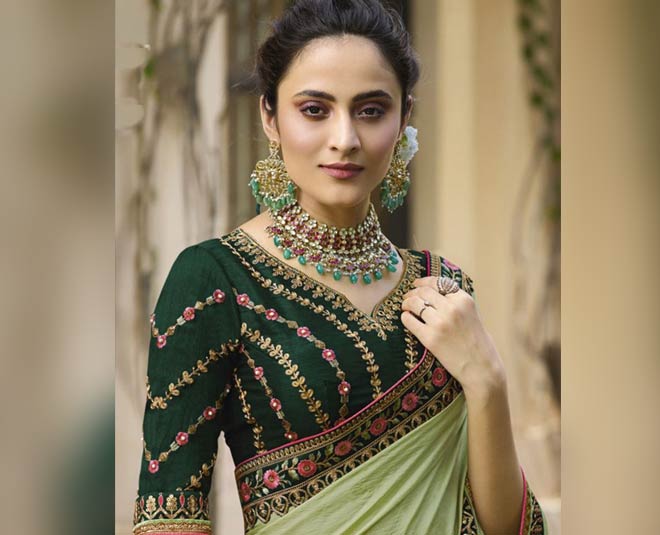 Who says fashion has to be plain and boring for people trying to look toned through their clothes! Some patterns can help you up to your fashion game, without making you compromise on your set style. Go for vertical patterns. Anything that will make you roll your eyeballs from up to down, instead of left to right will make the arms look slimmer. V patterns are one of the best options, as they make the outfits look squeezed and trimmed.
Don't Miss: 5 Striking Bridal Blouse Designs For Plus Size Girls
Do let us know if these tips helped you to get that perfect blouse by commenting on our Facebook page. Stay tuned to HerZindagi for more such stories.