When it comes to Indian fashion there are a few names which need no introduction and one of them is Anita Dongre. Known for her textural interplay, an exquisite design form and striking colour schemes, Anita has lured a number of brides with her lehengas. Known as one of the most commercially successful designers in India, she is a retail success and has ventured in the international market too.
So just in case, you were looking for some solid bridal fashion cues, we have Anita Dongre answering a number of questions just for you.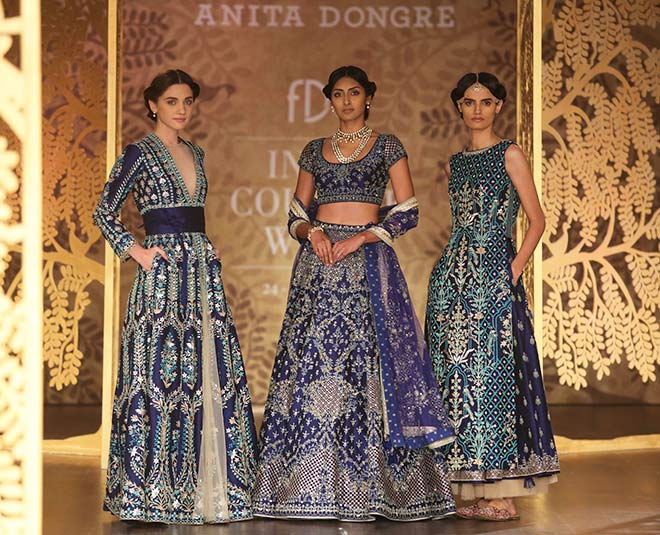 Image courtesy: Anita Dongre
Besides reds, oranges, and pinks what colours can modern brides experiment with?
A.D: Apart from the traditional red and pinks, emerald green is a lovely colour for brides this season. But more than following trends, I feel brides must follow their hearts and wear what makes them feel special.
Lehenga and sari being the traditional choices, what other options do brides have today in terms of experimenting with a new silhouette?
A.D: Contemporary silhouettes like floor-length embellished tabards, glorious gowns, and hand embroidered dresses is safe experimenting. We have also introduced obi belts, fully embroidered jackets and frills to the couture line to add a flavour of youthfulness to the collection.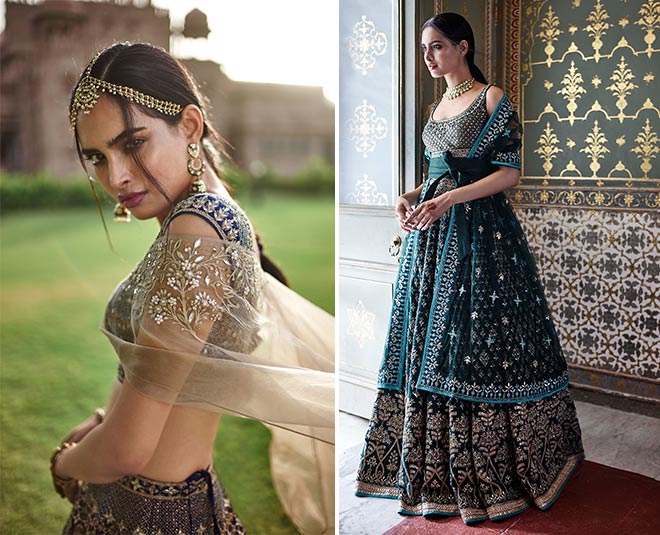 Image courtesy: Anita Dongre
From you recent couture collection, what are some apt pieces for functions such as
A.D:
Mehendi/ Sangeet – opt for a vibrant coloured lehenga
Cocktail – Evening gown
Wedding Ceremony – pastel coloured lehenga with minimal makeup and jewellery
Reception – maroon or blue lehenga choli or a saree would be a good idea.
Today it is all about making the right fashion choices. What should women keep in mind when editing their bridal trousseau?
A.D: My bridal trousseaus are designed keeping in mind what the modern Indian woman seeks – elegance, style, and comfort. A versatile ensemble that allows her to enjoy her own wedding as much as everyone else does. Which is why all my bridal wear is light-weight, while also being versatile enough to be worn on numerous other occasions, and not getting stashed away after one use.
Any suggestions for a "no-fuss" bride?
A.D: Simply follow your heart—wear something that compliments your personality and makes you feel comfortable. Keep jewellery and makeup to a minimal and avoid wearing garments that weigh down your persona.