One thing we know about fashion is that it keeps on changing. While some trends pass really soon, others stay for the longest of time. We took a trip down the memory lane and found out some of the 90s Bollywood fashion trends that have continued to dominate our style choices. From fashionistas to ace designers, everyone loves exuding glamour in the 90s-inspired couture, to date. And we say why not when the fabric is comfy and the design is sleek, there is no possible reason to toss off a classic piece away. We curated a list of such statement pieces that helped our moms to ooze oomph and can enhance your dress sense.
Denim Jacket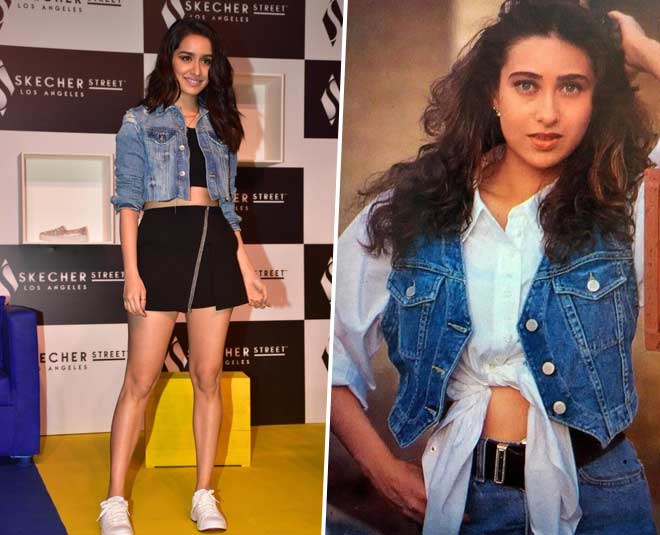 It won't be wrong to say that denim jackets have ultimately become a wardrobe essential. The classic denim jacket became highly popular with stars like Urmila Matondkar and Karisma Kapoor sporting them in films and for the magazine cover shoots. And now, there's hardly any actress, who we have not spotted in a denim jacket, be it Alia or Kareena Kapoor Khan. It looks stunning clubbed with a simple dress, skirt, Indo-western gowns, or anything and everything for that matter. It is so much loved by us that even brides have lately started wearing it with their jodas for wedding photoshoots.
Pastel Dungarees
Cute, elegant, stylish, and most importantly comfortable dungarees are literal love! Who doesn't remember Kajol wearing the most amazing sets of dungarees in Kuch Kuch Hota Hai, I guess everyone! The fashion trend is still very much relevant. While the denim dungarees have their own fan following, pastel shades give a subtle feminine touch to this piece. It did disappear for a while, but since 2018 every clothing brand has introduced various types of dungarees, some are distressed, others are colour blocked. The good thing is you can pick your favourite style from the vast collection.
Don't Miss: Birthday Special: Times Neha Dhupia Flaunted Her Love For Comfort Wear
Crop Tops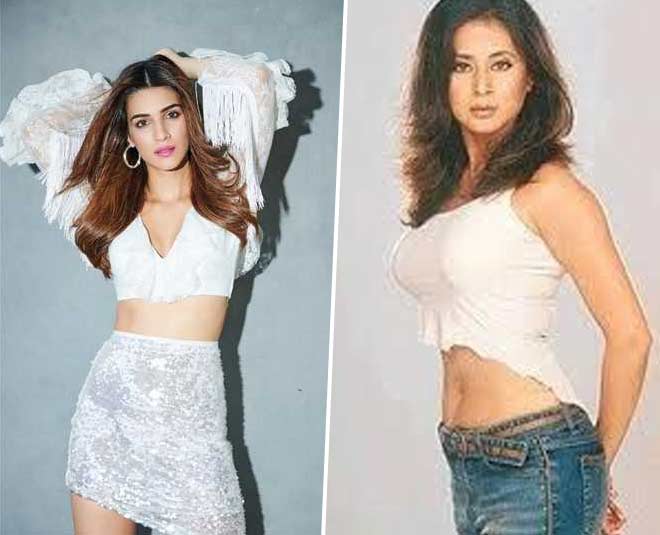 Each one of us has at least one crop top in our closets. Not only Bollywood, crop tops even ruled Hollywood, with pop stars flaunting their toned abs in it. Shilpa Shetty, Juhi Chawla, Rani Mukherjee, Aishwarya Rai, Karisma Kapoor, and all the other leading ladies from the 90s made a major mark in the era in it. This trend never actually passed from the sight, instead, it kept coming with better modifications. Nowadays, floral see-through crop tops are drawing the attention of the fashionistas.
Polka Dots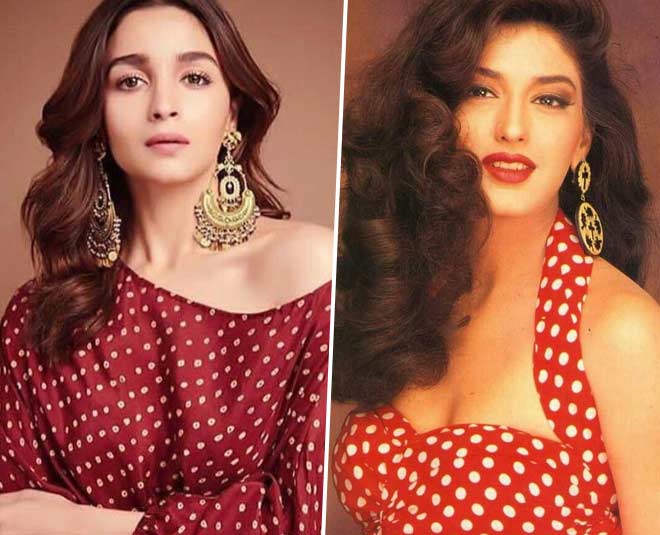 Polka dot is not something that became popular in the 90s, the era of its recognition dates way back. It was veteran actress Dimple Kapadia, who made headlines for wearing a white polka dot shirt in her film Bobby. Thereafter, several other actresses were clicked in polka dots. It is one of the most versatile prints that suit all the body types. You just need to be careful about choosing the right size and density of the dots. Nowadays, you will see actresses like Deepika Padukone and Priyanka Chopra wearing polka dot gowns and sarees at events and shows.
Don't Miss: Soak In The Royal Vibes With Sabyasachi's Latest Wedding Lehenga Blouse Collection
Chokers
Accessories can add a glam factor to any outfit. Just with the help of the right elegant pieces, you can turn your office ensemble into a funky party attire. One such jewellery is a neck choker. Rani Mukherjee was seen wearing it in her flick, Bichhoo. The trend did retire for a while, but in 2017 and 2018 it again became everyone's favourite. Now in 2020, we are witnessing some serious upgrade to chokers. There are charm necklace chokers, metal chokers, pearl chokers, and much more to pick from.
If you liked this article, do comment on our Facebook page. Stay tuned to HerZindagi to read more updates.