Actor Swara Bhasker, who has always been very vocal about political and social issues, tied the knot with political activist and Samajwadi Party leader Fahad Ahmed on February 16, 2023. She shared pictures of their court marriage on social media.
"Three cheers for the #SpecialMarriageAct (despite notice period etc.) At least it exists & gives love a chance… The right to love, the right to choose your life partner, the right to marry, the right to agency these should not be a privilege. @FahadZirarAhmad ✨✨✨♥️♥️♥️"
So blessed to be supported and cheered by the love of family and friends like family! Wore my mother's sari & her jewellery.. made @FahadZirarAhmad wear colour :) and we registered under the #SpecialMarriageAct
Now to prep for shehnaii-wala shaadi ♥️✨@theUdayBpic.twitter.com/YwLS5ARbj4

— Swara Bhasker (@ReallySwara) February 17, 2023
Sharing a video that has glimpses of their love story, from where it began and how it went, Bhasker announced the news of their marriage on social media.
"Sometimes you search far & wide for something that was right next to you all along. We were looking for love, but we found friendship first. And then we found each other! Welcome to my heart @FahadZirarAhmad. It's chaotic but it's yours! ♥️✨🧿" wrote Bhasker. While Ahmed shared the same and wrote, "I never knew chaos can be so beautiful ❤️ Thank you for holding my hand love @ReallySwara 😘😘"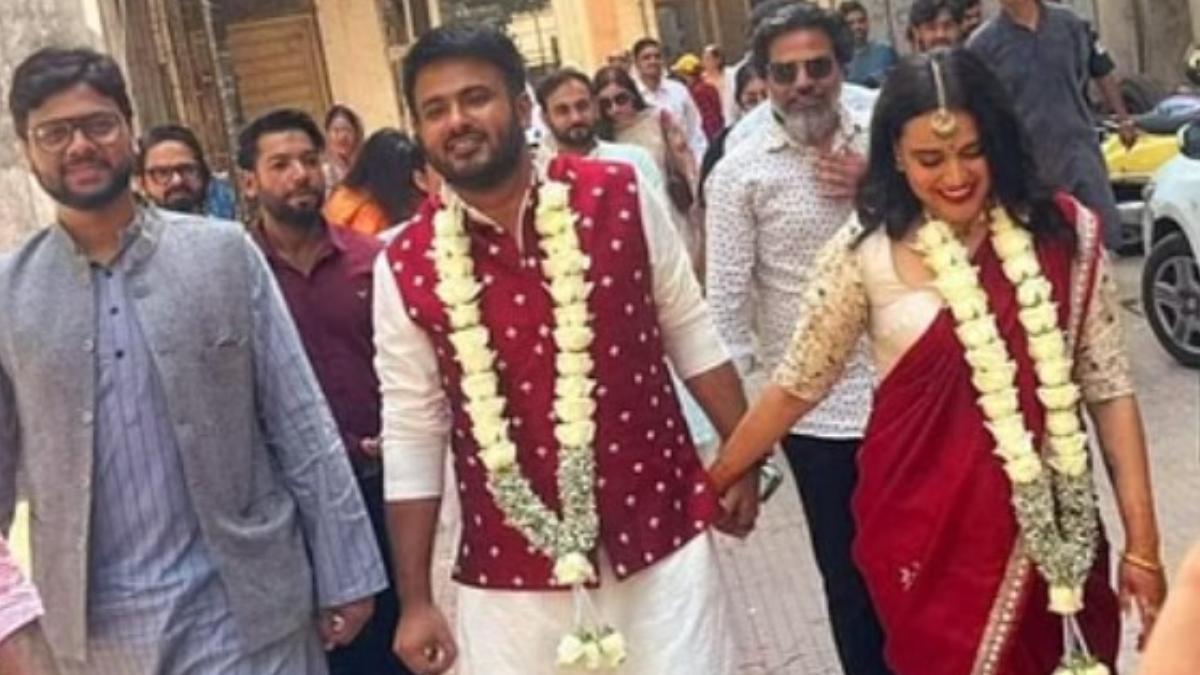 Don't Miss: A Love Letter To Tabu: The Enduring Magic She Brings To Her Characters
The video begins with introducing Ahmed and glimpses from protests he attended, his speeches, questions he has asked the government, and being detained at a rally. Bhasker introduced herself in the video as an actor and a "Twitter pest" with glimpses of her participating in the 2020 anti-CAA protests. "Obviously it began at a protest," a still in the video read.
The video further featured their "first selfie" which is also at a protest, "an admiring gaze that went unrecognised" at an event regarding the same, a book gifted to Ahmed by Bhasker. "For Ahmed, ummid mein, sesh mein ladai mein saath (in hope, in anger, in battle together)," read the note in the book.
I never knew chaos can be so beautiful ❤️

Thank you for holding my hand love @ReallySwara 😘😘 https://t.co/ivKVsZrMyx

— Fahad Ahmad (@FahadZirarAhmad) February 16, 2023
The video also has screenshots of the couple's WhatsApp conversations. In March 2020, as Ahmed invited Bhasker to his sister's wedding, she replied that she won't be able to come this time, but she will definitely attend his wedding, oblivious to the fact that it will be their wedding.
Further, there are screenshots of their video calls, cats, selfies, and the marriage office's picture from January 6, 2023 when they submitted their court papers in white tee shirts and denims. That is when they began their journey "towards forever", as per the video.
Don't Miss: Ishaan Khatter: From Beyond The Clouds To A Suitable Boy, He Is Here To Stay
More than a month later, on February 16, they exchanged garlands. Bhasker donned a maroon saree and maang-tika and Ahmed wore a white kurta set paired with a maroon waistcoat.
Did you like this article ?