Indian billionaire businessman Anand Mahindra tweeted about a young woman with a video of her practicing an ancient form of Indian martial arts. He wrote, "WARNING: Do NOT get in this young woman's way! And Kalaripayattu needs to be given a significantly greater share of the limelight in our sporting priorities. This can—and will— catch the world's attention," on his social media handle.
However, it turns out that the child in the video is actually a 9-year-old boy named Neelakandan Nair. We spoke to the instructor of the Ekaveera Kalaripayattu Academy in Kerala, where Master Neelakandan learns the martial arts, verified the details, and further spoke to us about the interest of girls in this ancient art form. So, if you wondering what Kalaripayattu is then read on and find out everything about martial art.
What Is Kalaripayattu?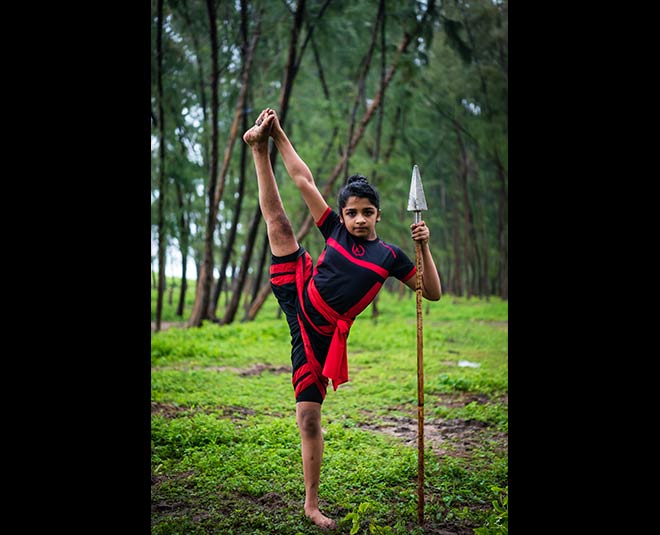 (Image Credits: Ekaveera Kalaripayattu Academy)
Also known as Kalari, this martial art form revived in modern-day Kerala and dates back to over 3000 years ago, and needless to say, it has a very long-standing history in Indian martial arts. This martial art form is also mentioned in the Vaddakan Pattukal, a series of ballads written over the Malabar region of Kerala.
Which describes the martial art designed for the ancient battlefield. In fact, 'Kalari' means 'battlefield', and this combative technique is not only exclusive to India but there are many who still keep this ancient art form alive across the world, after undergoing formal training for the same.
History Of Kalaripayattu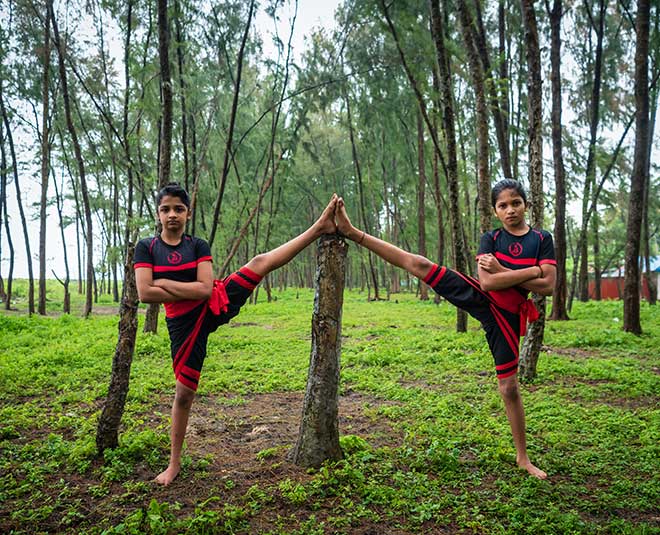 (Image Credits: Ekaveera Kalaripayattu Academy)
Kalaripayattu also gains a lot of inspiration from Hinduism in terms of practices, rituals, and philosophies, etc. Not only that but this art form is also known to be based upon medical treatments and concepts found in Ayurveda. The trained professionals of this martial art have a good knowledge of the pressure points of the human body along with techniques from Ayurveda and Yoga.
This martial arts is taught in accordance with the famous Indian guru-shishya system. Coming to who can do this martial art form, even in the ancient times, the warriors of Kerala of all castes practiced this art form along with the women in the society. Women, to date, are seen undergoing training for this ancient martial art and this technique is gaining a lot of popularity amongst youngsters too.
Don't miss: Inspiring Warrior Women Of India You Must Know About
Mr. HariKrishnan S In Exclusive Conversation With Her Zindagi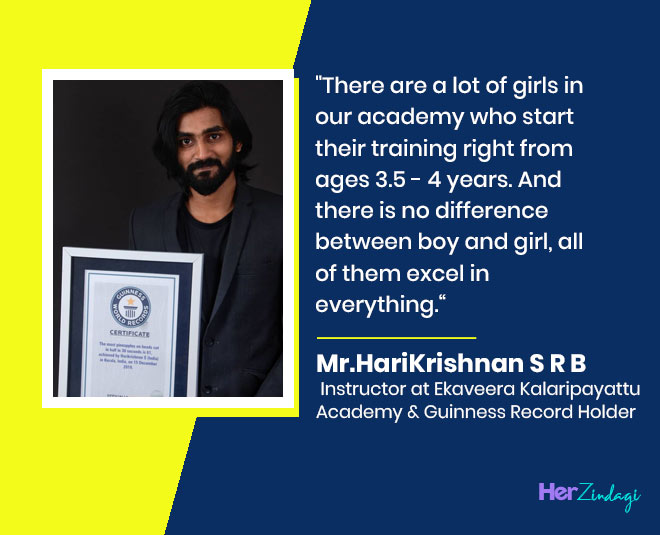 Hz was in an exclusive conversation with Kalaripayattu instructor at Ekaveera Academy, Mr. HariKrishnan, who himself happens to be a Guinness record holder. He told us about Neelakandan Nair, a 9-year-old boy who holds a world record for the most backward walkover in 30 minutes, and about the martial art as well. He said, "Kalaripayattu is the mother of martial arts and it helps to support the body's flexibility, immunity and helps in maintaining good health."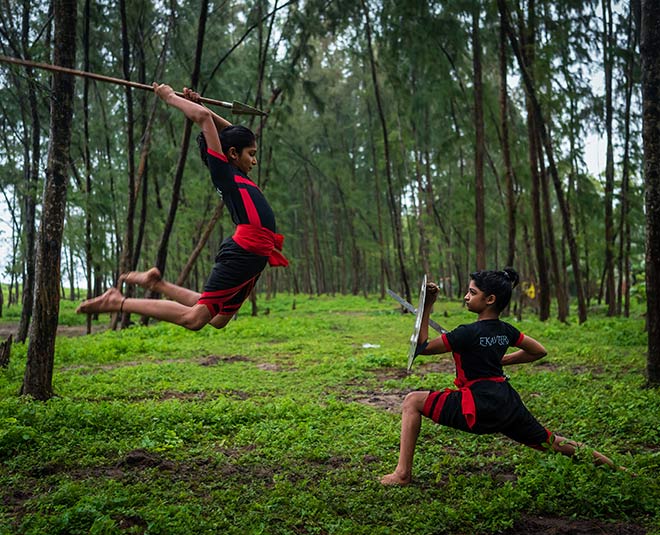 (Image Credits: Ekaveera Kalaripayattu Academy)
Talking about the girls in the academy Mr. Harikrishnan added, "There are a lot of girls in our academy who start their training right from ages 3.5 - 4 years. And there is no difference between boys and girls, all of them excel in everything. "
Taking the conversation forward he also explained, "Due to the Pandemic and the flood there have lately not been many students, but this martial art is so popular in Kerala that professionals, dancers, and trainers from foreign countries come here to learn this ancient technique. The academy trains around 600 students with a mixed ratio of girls and boys."
Don't miss: Females Of The Past Who Made It Easier To Be A Woman Today
Since this martial art form was initially started without any restriction on women, parents should send their daughters to learn this martial art and be flag bearers of Indian traditional martial arts. If you liked reading this article then stay tuned to Her Zindagi for more such pieces.
Did you like this article ?