After those heavy-duty parties like card parties during Diwali, we tend to drink a bit too much alcohol sometimes and then regret it the next day thanks to the ugly hangovers. So here are some foods and drinks that will help you deal with it.
Soup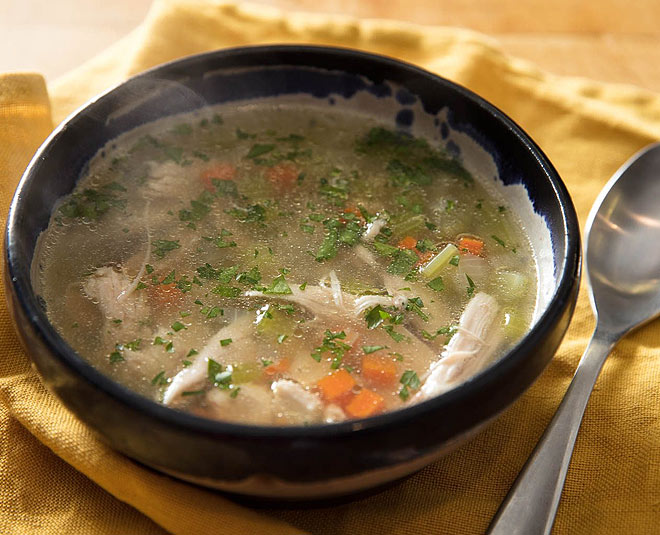 Nothing canbeat a comforting bowl of yummy chicken soup made by your mother. A bowl seriously helps as it can help replenish the sodium and water levels.
Anti-Hangover Drinks
This is an anti-hangover drink pack which the brand claims, helps in liver protection, reduces the nausea, cramps and uneasiness. It contains Curcumin which is a bio-active from turmeric. Buy DOT SHOT - Healthy Habit for Detoxed Body and Refresh mornings an Anti Hangover Drink Pack of 4 and a Free Multi Utility Cover- Fresh Stock for Rs 325, here.
Cereals
Go for some oatmeal or other cereals. Even museli would work. If you like oatmeal then that too is good as it has healthy nutrients like calcium, magnesium, iron and vitamin B. Buy Kellogg's Muesli Crunchy Fruit and Nut, 500g for Rs 249, here.
Spread Honey On Your Toast
For instant energy, take a cracker or a whole wheat toast and spread some honey them. Buy Organica Organic Forest Honey, 400g for Rs 299, here.
Don't Miss: Health Benefits Of Honey That Will Change Your Life For Good
Drink Lots Of Water
Before sleeping have a lot of water. Sip on it slowly and if your stomach cannot take it then have some ice chips.
What Not To Have
No Greasy Food
Stay away from greasy, fried foods as that irritates the stomach. What we recommend is that you eat some pizza or taco or even a burger before alcohol goes in your stomach as that slows down the absorption of alcohol into your bloodstream and this would help a bit in lessening the hangover in the morning.
No Acidic Drinks
Do not have orange juice after the night out. It is citrus which can irritate the stomach.