When it comes to the Ambanis, everything is larger than life. Ambani weddings are extravagant and we have witnessed two of them in the past. Mukesh Ambani and Nita Ambani's children, Akash Ambani and Isha Ambani tied the knot in the past and their weddings were like no other!
The good news is that we might see another Ambani tie the knot in the coming year. Reportedly, Anil Ambani and Tina Ambani's son Jai Anmol Ambani, who recently turned 30 has found his soulmate.
Jai Anmol Ambani Engaged?
On the occasion of Anmol Ambani's birthday, his friend Armaan Jain took to his Instagram handle and sharing a picture of Anmol and his soulmate, Krisha Shah, wrote, "Congratulations @KYZAAA12 and Krisha! Love you both!". Armaan Jain is Kareena Kapoor and Ranbir Kapoor's cousin. He is an actor and an assistant director in Bollywood.
@KYZAAA12 is believed to be Anmol Ambani's official handle on Instagram and is followed by Tina Ambani's official Instagram ID.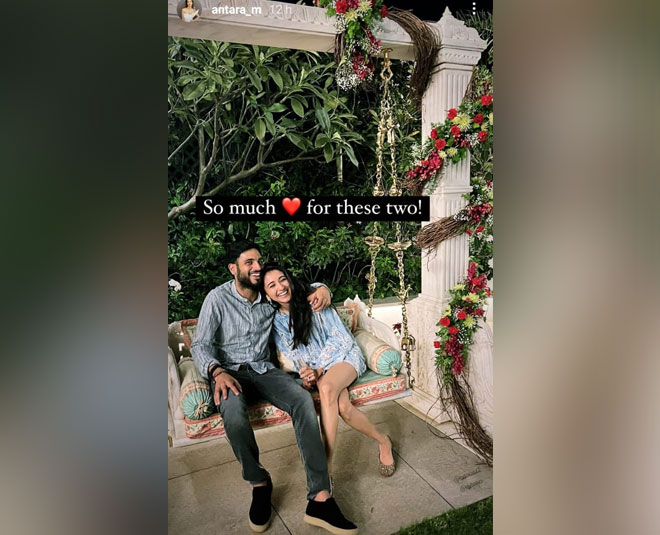 Actor Mohit Marwah's wife, Antara Motiwala Marwah too shared a picture of Anmol Ambani and Krisha Shah and captioned it, "So much love for these two!"
Did Anmol Ambani Propose To Krisha Shah On His Birthday?
Well, with the pictures shared on the official handles of Armaan Jain and Antara Marwah, it looks like it was an intimate proposal. Interestingly, it was Anmol Ambani's 30th birthday yesterday and we wonder if he had planned it all for this special day.
Tina Ambani, the only member of the Ambani clan who is quite active on Instagram too hasn't shared any update on son Jai Anmol Ambani's engagement. Last, she shared some pictures with Anmol Ambani, Anshul Ambani and Anil Ambani and shared an emotional note on her elder son's 30th birthday. She wrote, "You brought new purpose into our lives and showed us the meaning of unconditional love. You light up our lives every single day and we love beyond measure! May the year ahead be the best one yet, with joys both personal and professional. Happy milestone birthday son, so so proud of you. ❤❤❤ #30."
We can't wait for an official statement from the family on the same.
Earlier, in the year 2018, Anand Piramal too had proposed to Isha Ambani at a temple in Mahabaleshwar in Maharashtra. The two had a private party to celebrate the proposal. Later, Isha Ambani and Anand Piramal got engaged in Lake Como in the same year. It was a hush hush affair with only close family in attendance. We wonder if Anmol Ambani and Krisha Shah have similar plans. What do you think?
Don't Miss: See Pics: Lawn Area, Temple, Study Room, Here Is How Tina And Anil Ambani's House Look From Inside
When Anmol Ambani Made Headlines Earlier This Year
Director of Reliance Capital, 30-year-old Jai Anmol Ambani has always been the one from the clan who stays away from the limelight. However, earlier this year, he made headlines for voicing his opinion on COVID-19, masks and the pandemic in general. He took to his Twitter handle and wrote, "Professional 'actors' can continue shooting their films. Professional 'cricketers' can play their sport late into the night. Professional 'politicians' can continue their rallies with masses of people. But YOUR business or work is not ESSENTIAL. Still don't get it?"
That's not all, Anmol Ambani lashed out at COVID-19 curbs with multiple tweets. He also tweeted, "It's a vicious cycle. Endless 'variants', endless 'boosters'. Reject the cult of Scientism before it's too late, cause unfortunately this is just the beginning. The only thing that is mutating is the lie. Take your mind, power and sovereignty back. Use discernment."
Don't Miss: Isha Ambani To Jai Anshul Ambani, How Educated Are The Ambanis?
On the occasion of his birthday, Anmol A Ambani tweeted, "You are pure love. Shed the illusions. See the same purity in everyone. Beyond the layers of conditioning and programming - yes, it's hard to do but keep trying - quiet the mind, open the heart and keep expanding."
Anil Ambani and Tina Ambani were last spotted at Prithvi Akash Ambani's birthday. It was Akash Ambani and Shloka Mehta Ambani's son, Prithvi Akash Ambani's first birthday. It was celebrated in Jamnagar with close friends and family in attendance.
Coming back to Anmol Ambani's pictures with Krisha Shah doing rounds on social media, do you think the Ambanis will release an official statement soon? Share your thoughts with us on our Facebook page. For more updates on this story, stay tuned!