Lunar And Solar Eclipse Are Happening Within 15 Days, Know Which Signs Can Have Negative Effect
The solar and lunar eclipse is falling within 15 days. Let us know what influence they will have on the zodiac signs and which signs should be on the lookout.
After the longest lunar eclipse of the century that took place on Kartik Purnima, now the last solar eclipse of the year is occuring, which occurs in the month of Aghan, on December 4. Even if this solar eclipse will not be seen in India or if the Sutak period is not observed here, it will have an impact on the world. The last lunar eclipse of the year occurred in Taurus and the Kritika constellation, so this eclipse will have the greatest impact on those born under this sign and constellation.
Several changes will be observed during the solar eclipse on 4 december. Let us know from the famous astrologer Saurabh Tripathi ji of Madhya Pradesh about which zodiac signs can have negative effects due to the lunar and solar eclipse falling within 15 days and for which zodiac signs it will bring auspicious signs.
What Will Be The Effect Of Lunar Eclipse And Solar Eclipse On Zodiac Signs?
Jyotishacharya Saurabh Tripathi ji says that these two eclipses falling in such a short interval can be a sign of a big astronomical event and it will also affect the zodiac according to astrological calculations. This eclipse will prove to be very auspicious for the people of Scorpio zodiac as the path of progress will open in their career. It is an auspicious time for those who are waiting for an increase in their salary. During this time your salary can increase a lot. Not only this, this period will prove to be very favorable for the people doing business. There will be changes in the conditions during the eclipse and it will affect the zodiac signs as well as the weather. The effect of the short interval between the two eclipses can be seen in the form of seasonal changes.
Aries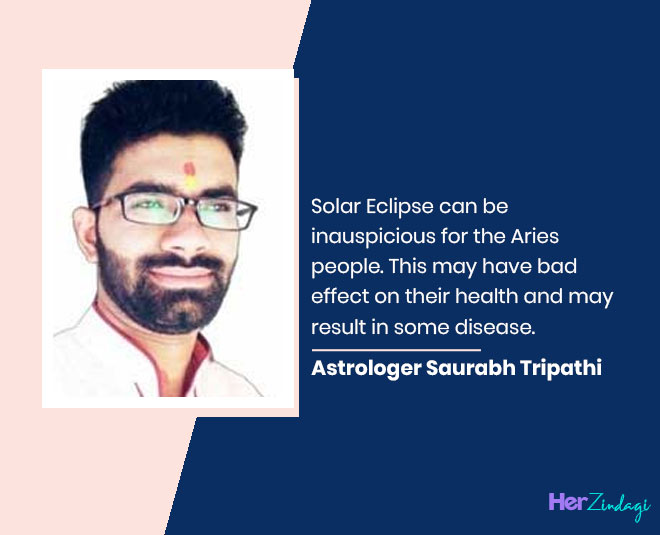 Solar Eclipse can be inauspicious for the Aries people. This may have a bad effect on their health and it's effect may result in some disease. People of this zodiac can be the victim of some accident too.
Cancer
For the people of Cancer zodiac, a situation of dispute may arise with anyone. That's why you should be very careful while talking.
Libra
Libra sign people have to take special care of their health due to the presence of these two eclipses together.
Don't miss: Surya Grahan 2021: Last Solar Eclipse Of The Year Effects On Zodiac Signs
Scorpio
The effect of the Sun and Lunar eclipse will also be seen on the people of Scorpio zodiac. You may have to face stress due to the effects of the eclipse. You may feel restless or confused due to stress.
Sagittarius
For the Sagittarius people, the solar eclipse will bring unnecessary rush. Expenses are likely to increase during this period. You will have to work hard to complete your tasks. There is also a possibility of traveling for you in the coming time.
Pisces
For the people of Pisces zodiac sign, a situation of debt can be created without any meaning. There may be no stability in the mind and the mind will be disturbed. You need to be careful while driving.
Don't miss: December 2021: Monthly Tarot Card Reading For All Sun Signs
Some zodiac signs will get inauspicious results due to the short interval of solar eclipse and lunar eclipse, while it will have a good effect on some zodiac signs. Overall, it will bring mixed effects, so make further plans accordingly while being alert.
If you liked this article, then do share it and stay connected to HerZindagi for more.