If you are a working mother trying hard to strike a balance between work and home, you have landed on the right page. The life of a working isn't an easy one, the pressure is tad too much and sometimes it takes over their physical and mental health completely.
Last week, I invited blogger and photographer, Shweta Tanwar Mukherjee to be one of the guest speakers on our Instagram special live - HZ Women of the month where we celebrate the journey of women achievers.
My conversation with Shweta Tanwar Mukherjee revolved around the challenges of being a working mother, achieving an equal space for working women in a household, self care and more. Excerpts.
Acing All Roles
Shweta Tanwar Mukherjee is a working mother, photographer, blogger and entrepreneur. There are many feathers in her cap. I asked her what was her mantra to ace all her roles to the T. She shared, "Playing these roles has always been a part of me. Ofcourse with motherhood it becomes a lot more challenging because you are taking care of a child but then I think good planning helps a lot, you have to plan your day. Self motivation is is the key, nobody will come to you and motivate you, you have to motivate yourself if you wish to achieve some goals or objectives or reach some space in the game. Also, I think support from the family is very important. If they are not supporting you, sit and have a conversation with them and make them understand, fight for it."
Unrealistic Expectations From Working Mothers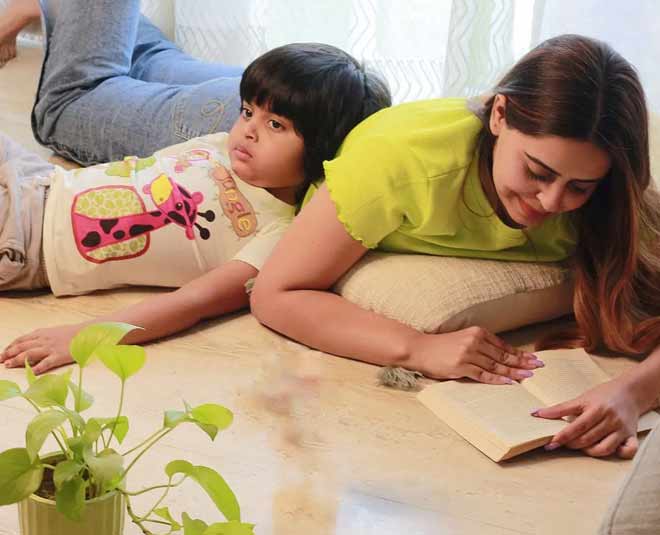 When we talk of being a working mother, women have been conditioned to believe that they need to strike a balance between their work, child care duties and household chores but that's not the case with men. I asked the mom blogger what contributes to these unrealistic expectations from women and when will they come to an end.
Shweta Tanwar Mukherjee said, "I think we have come a long way from our previous generation in that space. Today, men are a little more understanding, they no longer believe in those patrichal society norms. When we talk of equal spaces, it will take time and it has to start from our homes. We can't change the society in one go, we have to constantly make small little changes and these changes have to start from home. That's when we might see a bigger change in overall society."
"My husband loves to cook so my son sees him in the kitchen and its a big change, it never really happened earlier. We only used to see our mothers cooking in the kitchen. I want my son to learn cooking because its a life skill. Parents today have to really teach their children gender neutral concepts, they should uderstand that nothing is specific to a gender."
Equal Space For Working Women
When a man is working, he is the breadwinner and that's about it. However, women haven't been able to achieve such an equal space. I asked Shweta Tanwar if she sees it changing in the coming time.
Shweta Tanwar said, "If a woman has a good job she can probably go out and work while the man can take care of the home and the children. It is there in the society today but it is not accepted that well. We should stop judging others. If a woman is going out to work and the man is taking care of the household, it is supremely okay."
"Now I think is coming the time where we are breaking the stereotypes, coming out and talking about it all. It is important to normalise it," she added.
Don't Miss: HZ Women Of The Month: Popular Illustrator Payal Sharma On Age-Shaming, Consent & More
Glorifying Self Sacrifice
There are a lot of women who do it all for their families - they take care of their household, children, finances even if they are under much stress because they feel they have to sacrifice it all for their families. Earlier this year when the second wave hit India, a photo of a woman cooking on oxygen support went viral. I asked Shweta Tanwar if it was high time women should stop glorifying self sacrifice.
She said, "I was really furious to see that. I wanted to ask if they are not capable enough to let a patient take rest. That's basic. This is why I feel it is very important for me to teach my kids to pick their clothes, cook food. Mothers should ask for help, they should not glorify for sure that you are making sacrifices. If I do it now, I am blocking the way for the coming generations. For such things, we need to fight, put our voice forward. We are not super women, we just want to be a regular woman who wants some care, rest and sleep just like any human."
Don't Miss: Here Is How Women Can Maintain A Healthy Work Life Balance
If you missed watching this Instagram live, you can watch it here -
View this post on Instagram
Self Care Tips For Working Mothers
It is very important that working mothers practise self care. However, they often miss on it due to their hectic work schedules. I asked Shweta Tanwar if she could suggest some quick self care tips. She said, "Doing some face massage and meditation, just de-stressing yourself is very important. Whenever you are a little stressed out, follow a little sprituality like chant or listen to good music, relax yourself. It is very important for your body and mind to actually take rest. All these self care activities will help you bounce back to your routine after reviving yourself."
Tell us your thoughts on this Instagram live on our Facebook page. For more such exclusive interviews, stay tuned!