Indian weddings are all about elaborate customs and traditions. That's the beauty of weddings in India! Be it a Hindu wedding or a Muslim wedding, there are a host of wedding traditions that take place. Here is the story of Mizna Gul Siddiqui and Nadeem who got married in a traditional Muslim wedding setting. The bride took us back through her wedding journey and shared everything, right from what went into selecting her outfits to her favourite wedding ritual. Read on.
Different Wedding Functions And Planning
There were 4 functions altogether.
- Maiyoon (Haldi)
- Mehndi
- Nikkah
- Reception
Haldi was the first one in the row which is commonly known as Maiyoon in Muslim tradition. It's one such big fat function in which all the ladies from bride's & groom's side participate and apply Uptan (haldi) as shagun on brides face. Maiyoon is pretty upscale as it consists of ladies' dholki night and lush dinner. For Maiyoon, my dress was all decided because my nani designed it for me.
Growing up I always wanted to be a bride that too a traditional one so, my grandmother picked a yellow gharara with one heavy Kurti consisting of a pure mixture of old and new designs. The reason I asked her to do it because I wanted to go walk down the memory lane to feel all those emotions that I felt while growing up. That dress is a memory of her for me it's like she's holding me up in her arms whenever I pull in off. Mehndi was a personal affair only my immense family were there.
Nikkah is the day when the couple says Qubool Hai, it's a big day not only for the bride and groom but also for two families as they unite from that very moment. I almost research for like 8 months just to get that one perfect dress for "The Day" I wanted it in red no other color, also never wanted it to be too over the top. I still remember roaming in the lanes of Chandni Chowk along with my in-laws and rejecting all the dresses because that wasn't my exact choice. I finalized the Lehnga two months before which was too late as per the vendors, it was the entire handwork and they wanted more time to make it but after so much struggle somehow I convinced them to make it on time.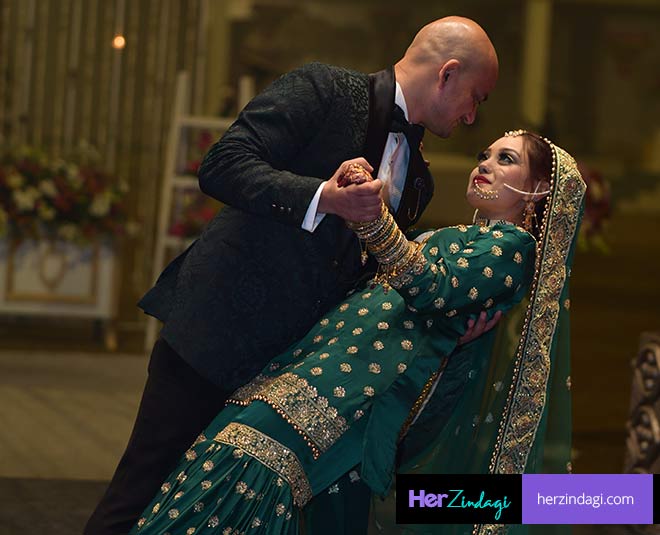 I want to share with you that Reception is a grand function in Muslim tradition because it's a party hosted by the groom for the bride, and to announce that they've commenced a new phase of their life. I wore a green gharara on my reception which was picked up by my mother-in-law obviously she finalized it after checking with and it's one of the most favorite dresses that I've.
Don't Miss: HZ Exclusive: When Real Marathi Bride's Traditional Maharashtrian Wedding Dream Came True!
Deciding The Wedding Look
It took me almost a year to decide all the looks. I never went with the flow I discussed every look with my mom & in-laws by sharing numerous pictures just to make sure that nothing falls apart on my big day!
Piece Of Advice For Brides To Be On Planning
I did not overlook anything maybe because I was planing for it for a very long period of time, it is also because few things were very clear in my mind. A piece of advice from my end for all the upcoming brides is please book your hairstylists wisely this is a very minor thing but brides do take it for granted and they end up having a bad hairstyle on their special day, so please look out girls!
Don't Miss: When Love Conquers All: Real Bride Shares The Highs & Lows Of Her Interfaith Wedding
On Why The Couple Didn't Opt For Colour Coordination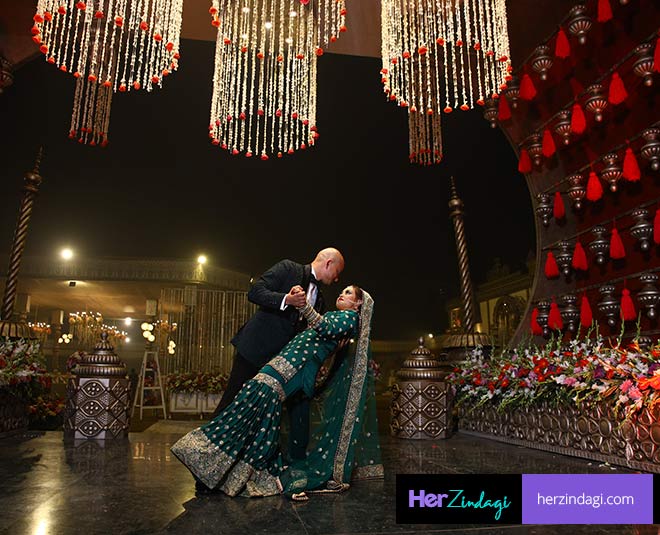 Actually, we never discussed our outfits with each other because we wanted it be a secret for one another, we just knew the colors but on both days we were so well co-ordinated like for once everyone thought that we've shopped together.
Wedding Shopping
I can't explain in words how hectic it was, always full of pressure and leaving one or another thing on the shopping list. I kept my wedding trousseau all sorted with the help of a check-list in which my friends and my mom helped me a lot. The most basic thing that i kept in mind was whether I'm going to put this dress on or not because the moment one starts to shop for a wedding trousseau everything looks like an essential, also I didn't keep too many heavy dresses just picked few stylish ones which were not that heavy so I can wear them in future.
Wedding Theme
It wasn't themed, but you can say it was a pure traditional Muslim wedding. Initially, we both wanted a very private event but later we realised that this isn't going to come back and it is our moment so Nadeem decided to have a grand reception like he really wanted to express his happiness about getting married and wanted to make me happy as well, in his words he wanted me to feel like a princess who's going to walk the aisle and he really made it. My Nikkah location and decoration was done by my father, he really made it till the very end and on the other side my husband was going bananas like hopping from one location to another, he spent almost 2 months finalizing, rejected almost 10-20 decoration and catering ideas because we didn't want it to be a basic one! The venue was all his & my father's effort.
Most Loved Wedding Tradition
Obviously, it has to be my "Qubool Hai" ritual My Uncle came to me as the first witness of our Nikkah and I still remember I was sitting in parda and he read the nikkah nama loud and clear to me and asked, "Kya Apko Nikkah Qubool Hai" for which I replied, "Qubool Hai" for three times then busted into tears of joy that finally I'm married to this amazing man. This one moment I'm going to cherish all through my life.
Tips To Get Beautiful Pictures On Wedding Day
There's a list for this but here are a few of them-
- Hire a good Photographer and do proper research about them right before hiring one.
- Be yourself, smile as much as you can, express that you're happy.
- Give as many shots to the photographers as you can.
Advice For Brides Getting Married During Pandemic
Those fretting not having enough opportunity to shop or have the big fat wedding of their dreams! Don't get yourself too worked up thinking about having a big fat wedding make it a moment to remember with your partner not with the guests and everyone because he's going to be there with you for the rest of your life, so cherish it spend on your wedding attire and get beautiful pictures in a private affair.
Favourite Memory Of The Wedding Day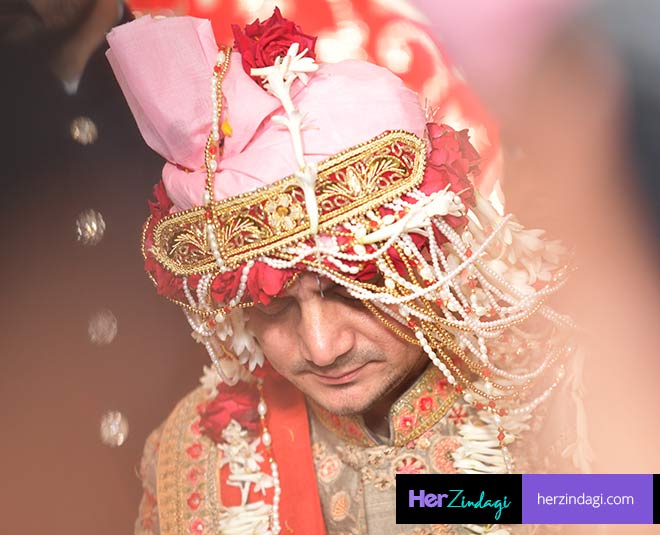 11. What is that one memory of your wedding day that is going to stay with you forever?
A text message from my husband right before our nikkah that says "It's your day, shine as bright as you can and I'm going to keep you happy forever and ever"

We hope you enjoyed reading this real bride story. For more such stories, stay tuned!