It's that time of the year - Raksha Bandhan is on August 3. And similarly, so is the annual frantic scramble - between brothers and sisters, to find the best rakhi gifts for their siblings, to show each other that they truly love them. Caught up in the scramble, but think there's no way out?
Fret not - there's still time to prove that you're a caring sibling! Here are some of the unique gifting options for this Rakhi.
Here are some quirky options that you could invest in and surprise your brother on Rakhsha bandhan.
A Superhero-Themed Gift Hamper
Image courtesy: bigsmall.in
A gifting option for sisters, to brothers. Yes, your brother is bored of the dry fruit gift hamper you give him every year. Yes, he already has enough deodorants and pens. Yes, he'd appreciate something less generic this time. For your superhero-like brother, what would be more appropriate than a superhero-themed gift hamper, with merchandise of his favorite superhero?
Be it a Batman Rakhi Gift Set, or a Harry Potter one - make your brother cherish his Rakhi gift for long.
Appeal To The Wanderlusting Soul In Your Brother
If your brother likes to chart the paths less charted in his free time, then there is nothing better than a travel-themed gift for your travel-crazy brother. Perhaps a travel journal, to keep him company and take record of his travels. Or an interactive scratch world map - to help him keep track of where he's been, and what's next on his list. Find your brother a unique rakhi gift, or a traveller gift set - and he'll remember you on all his journeys!
For The True Gym Freak Brothers
Does your brother always spend his free time in the gym? Is he constantly working out, working on his muscles and his abs? If so, this is the perfect Rakhi Gift Set for him, a loving way of appreciating his dedication to his body. The gift set includes a Gym Bro Rakhi, a Muscle Coffee Mug and a Dumbbell Water Bottle.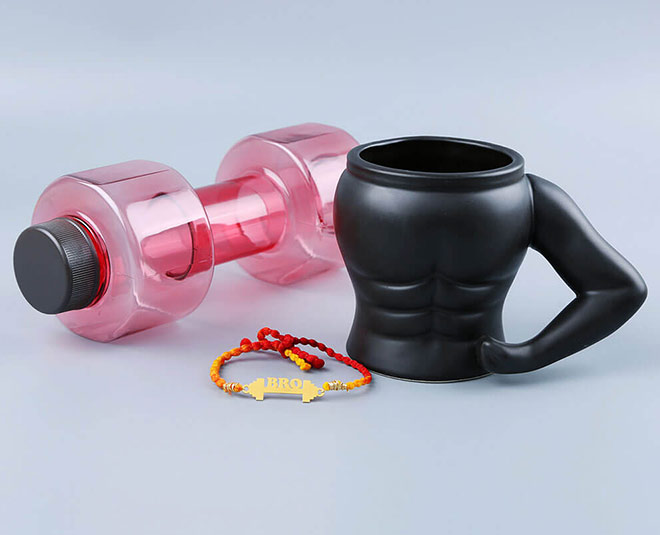 Image courtesy: bigsmall.in
Of course, Raksha Bandhan requires the process of tying a Rakhi. Your brother has always let his brawn do the talking, it's only fair that you tie him a worthy Rakhi, not any generic Rakhi with a boring old design. Tie him the Gym Bro Rakhi, a Rakhi with a dumbbell design - personalized to his interests and sure to leave him in elation.
True fitness freaks don't work out only in the gym - they work out wherever they go. As he seeks hydration from his toils, the Dumbbell Water Bottle will aid him in not just that - but also help him do light workouts, whenever he needs - be it at work, at home or on the go. When he's sipping his coffee, it's not fair he does that out of an ordinary mug, either. Have him sip out of a mug with just as much brawn as him with the Muscle Coffee Mug.
For The Football Fan
Image courtesy: bigsmall.in

Invest in an intricately crafted glass mug which is in the shape of a foot with a football stud at its bottom. The perfect gift for a football lover. He can have any sort of beverage in the glass, be it beer, a soft drink, juice or milk.
Let him feel the exhilarating feeling of being on the ball and going for the goal, each time he takes a sip from this mug!