Humanity Shall Survive! Places, People Offering Cooked Food For COVID Patients
If you are a COVID 19 patient, home quarantined and looking for food options then here is a list of where all you can order from which will be updated as and when we get more information.
The current situation of India amid the pandemic is one we will never forget. People are dying, we have a shortage of beds and oxygen, the panic is inevitable and justified. Yes, the only precaution we could have taken was to wear a mask and maintain social distancing and that defying attitude has brought us to this stage. If you are a patient or you know someone who has fallen prey to COVID 19 and is under home quarantine then food might be an issue for you considering the sealing. So here is a list of some places and some really good samaritans who have started providing simple home-cooked meal specifically for people quarantined. Take a look.
Zomato App
Food apps have become a common phenomenon and many have become dependent on these apps for a regular supply of cooked meals. But amid COVID 19, we have Zomato app which has decided to launch a new emergency delivery feature that is meant to help patients get cooked meals on a priority basis.
Deepinder Goyal, CEO of Zomato, tweeted on his account which was then shared by the app that "Users can now check the emergency delivery feature when they checkout their order."
Today, along with thousands of our restaurant partners, we just rolled out a "priority delivery for covid emergencies'' feature on the Zomato app. This feature will allow our customers to mark *This order is related to a COVID-19 emergency* option during checkout. (1/4) pic.twitter.com/BxmBF02PnS — Deepinder Goyal (@deepigoyal) April 21, 2021
This feature is to give priority to the emergency situations, and it prompts the restaurant to prepare the order on urgent basis. Zomato will ensure faster rider assignment and has put in dedicated customer support for the same. The CEO shared that a number of restaurants have pledged to prioritise these orders in their kitchen. "All deliveries to such customers will be contactless by default to ensure the safety of our riders, and subsequent customers. Needless to say, all customers should opt in for contactless deliveries right now," wrote Deepinder Goyal in his tweet.
Langar Sewa
View this post on Instagram
The Delhi Sikh Gurdwara Management Committee is working to get the Covid affected families, the Langar Sewa.
Contact for Langar helpline:
S. Balbir Singh 9811914050

S. Sukhwinder Singh 9810183038

S. Kashmir Singh 9953086923

S. Amardeep Singh 9312621855

S. Dilbag Singh 8437491803
Om Kitchen
Their service is available in Delhi/NCR and offers organic and home-style food. Although it is an upscale option but you can always give it a try if quality and flavour is major for you.
Home Bytes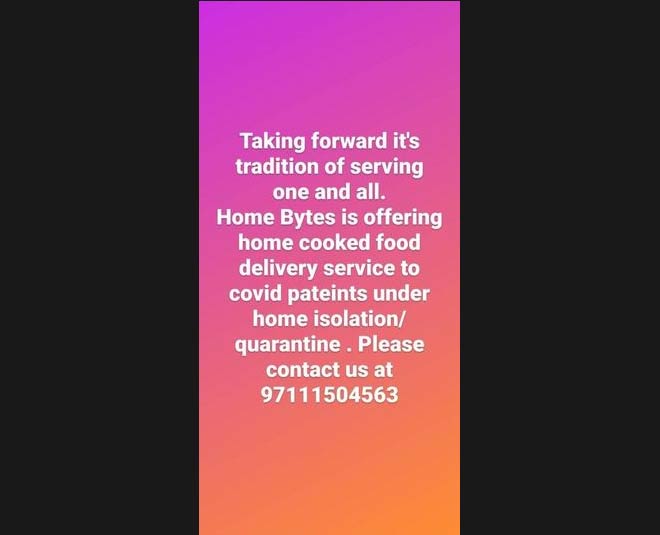 Not just homemade food you can also get customised dabba here. Check out their Facebook Page for their menu or contact them directly. They offer budget meals and are based out of Paschim Vihar.
Krishna Tiffin Service
These folks serve in Rohini and Pitampura and is a great vegetarian option on a budget. The food is healthy and their prices are pocket friendly so that should not be an issue.
JustMyRoots
If any family requires Food on a daily basis, please reach out at no
+91 8384030811 , +918800581637 ,+918800581647 for COVID MEALS.
JustMyRoots has signed up with with Kitchens in Delhi NCR

One can order from the website : https://t.co/RoeK2afHqQ
Lunch & dinner/Lunch/Dinner — Delhi NCR Volunteer for Corona Crisis (@CasesGurgaon) April 14, 2021
This website had partnered with kitchens in Delhi NCR, and are offering Covid meals for families who are under quarantine and are out of options. Get daily lunch and dinner meal plans from this place.
Updated List ByChef Saransh Goila
Chef Saransh Goila has shared a list of COVID meal providers across India on Twitter which mentions the provider's contact details, the area and meal hours. The list is beingupdated regularly and it right now has 12 states and 25 cities with over 250 service providers. Click on this link
This list is for Covid meal providers for patients who can't cook or docs who need daily meals is across India. The list will keep updating every 30-60 mins and all you have to do is make sure a Covid patient in your community isn't going hungry. Share!https://t.co/0DeP6Bvb3kpic.twitter.com/yCjnMiPQjM — Saransh Goila (@SaranshGoila) April 19, 2021
Ishri's Kitchen
The are in Vikaspuri and the meals begin at Rs 100 only. They deliver both lunch and dinner, and breakfast at request. They also take weekly subscriptions at request. The meals are delivered via Swiggy Genie. They have veg food which can be made without onion and garlic for Jain meals. It includes 1 sabzi, curry, dal, rice, pickle and 2 rotis. For more information, call 9971911253
Mama's Cookhouse
They deliver in Punjabi Bagh and Paschim vihar with their food starting at Rs 150 and provide both lunch and dinner. Place your order by a day in advance for lunch orders. They also take daily, weekly or monthly orders. The delivery is on their own. They have vegetarian and non vegetarian meal options. Meals include Dry vegetable sabzi, 4 rotis, curry, dal, rice and salad. Their menu is decided on a daily basis. For more information, call 9711167475
Help out as many people as you can, we all need to work together. Stay tuned to HerZindagi for a more updated list as and when we get more information on such places and even people who are helping out the citizens.